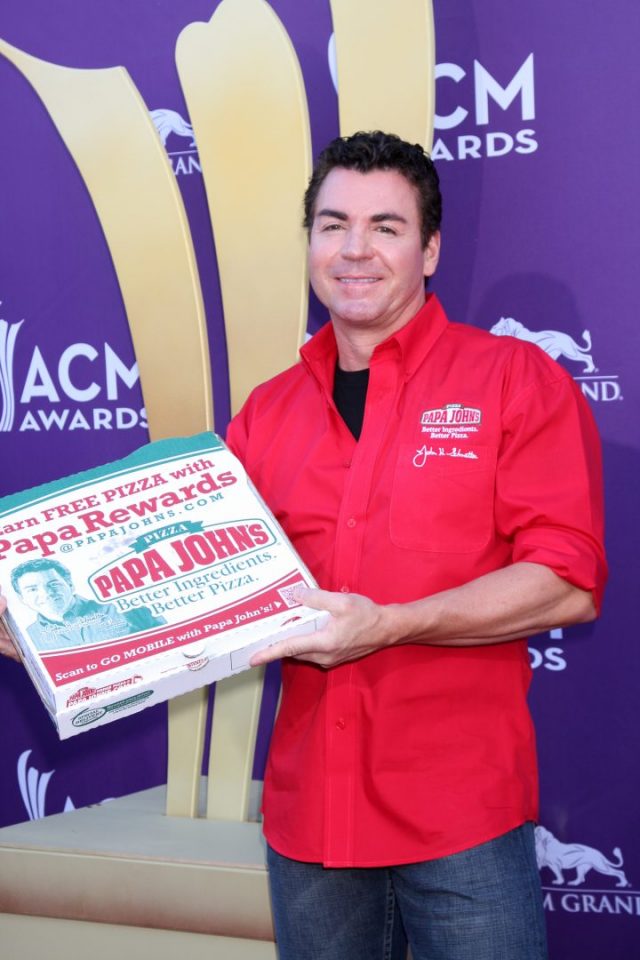 It is hard for most people to fathom how a self-made billionaire like Papa Johns' founder John H. Schnatter could possibly be pressured into saying anything he didn't want to. But that is the excuse the business baron is passing along today for uttering the derogatory word during a conference call.
The 56-year-old former chairman and CEO of the pizza behemoth told Louisville radio station WHAS this is how he got unceremoniously ousted as chairman of the company he started in 1984 in the back of his father's failing bar in Indiana:
"The agency was promoting that vocabulary […] And I made it real clear: 'Listen, we're not gonna go there. We're not gonna talk about this,'" Schnatter told Kentucky's WHAS. "They pushed me and it upset me, and I just said, 'Listen, other people have used that word. I don't, and will not use that word and people at Papa John's don't use that.' And that was the comment. But they actually wanted to get into that vocabulary, and I said absolutely not."
Schnatter is saying that he only used the n-word because he was — get this — trying to distance himself from the real White racists who use the word shamelessly. Try to digest that one.
In a second interview with Kentucky's WLKY, Schnatter accused the marketing agency of actually trying to blackmail him after he was pushed use the N-word on the phone.
"They wanted $6M to make it go away. I'm like, 'I'm not paying you $6M,'" he told the radio station. "And they made it pretty clear […] the words were 'If I don't get my (bleep) money, I'm going to bury the founder,' said one of the executives. So, I'm not for sale. They can take the $6M and whatever, they're not getting it. So, yeah they tried to extort us and we held firm. They took what I said and they ran to Forbes and Forbes printed it and it went viral."
This is the type of rhetoric that far-right conservative conspiracy theorists eat up eagerly, that some left-wing organization or company set a trap and successfully ensnared a hardcore Donald Trump supporter.
As rolling out previously reported, Schnatter resigned as chairman of Papa John's board of directors last week. He had already stepped down as company CEO in November following his nonsensical criticisms of NFL brass for not stopping national anthem protests.
In related news, CEO Steve Ritchie sent a letter to customers ensuring them that Papa Johns will work to "regain trust" with its customers after the latest controversy.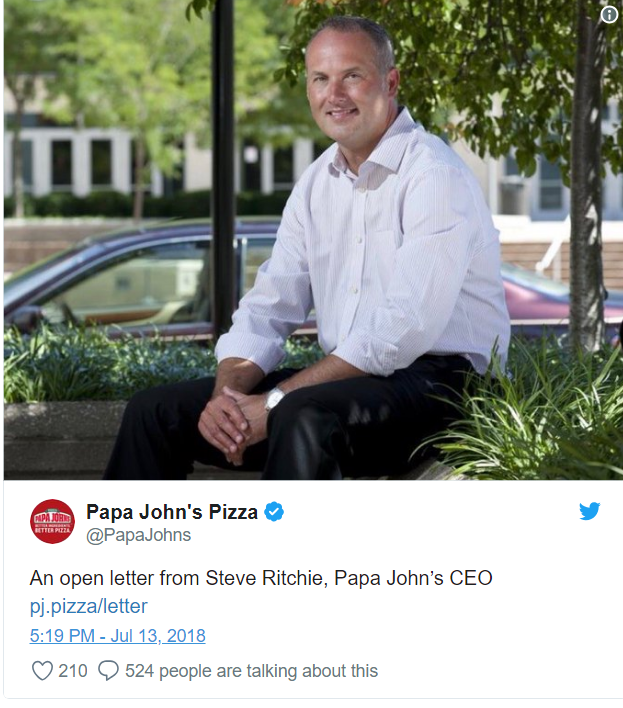 This is Ritchie's Twitter letter in full:
Papa John's is not an individual. Papa John's is a pizza company with 120,000 corporate and franchise team members around the world. Our employees represent all walks of life, and we are committed to fostering an inclusive and equitable workplace for all. Racism and any insensitive language, no matter what the context simply cannot – and will not – be tolerated at any level of our company.
The Board of Directors of Papa John's accepted Mr. Schnatter's resignation as Chairman of the Board earlier this week. It has also been decided he will no longer be in any of the advertising or marketing materials associated with the brand.
This decision is the first of several key steps to rebuild trust from the inside-out. We will be engaging a broad set of stakeholders to chart a course forward that demonstrates our commitment to diversity, equity and inclusion.
First, we will identify and retain an independent and outside expert to audit all of our existing processes, policies and systems related to diversity and inclusion, supplier engagement and Papa John's culture. As part of that process, we will establish a process for communicating progress against transparent goals to everyone in our Papa John's family.
The entire senior management team will also be visiting key locations across the country and hold listening sessions with employees in our stores to talk about what they are seeing and give them a platform to voice their concerns. To follow-up, we will initiate two-way conversations to invite ongoing feedback from employees and franchisees to ensure that their voices are heard.
I will personally be leading this effort because there is nothing more important for Papa John's right now. We want to regain trust, though I know we need to earn it. We will demonstrate that a diverse and inclusive culture exists at Papa John's through our deeds and actions.
Steve Ritchie | CEO Papa John's, International