Singer Azealia Banks has developed a reputation in pop culture as a certified keyboard ganster, where she has intentionally started verbal warfare with virtually every relevant urban artist. And because folks think she intentionally uses beefs to remain relevant — as she is known more for her outbursts than her music — some can't help but evoke the famous Mike Tyson quote:
"Everyone has a plan 'till they get punched in the mouth." 
Banks got hit in the mouth this past week. Twice. In rapid succession.
The first time Banks was left reeling on the ropes after appearing on the Nick Cannon show "Wild 'N Out." Agreeing to go on the program to promote her new single, Banks was reduced to tears, as rolling out reported, after she felt ambushed with scathing jokes about her on live TV.
But even as Banks, 27, iced down her bruised ego from the episode, talk show queen Wendy Williams, 53, lacerated Banks even more when she criticized her well-documented "anger" issues as well as her penchant for starting beefs with a wide assortment of entertainers including T.I. and Beyoncé.
And that's when Banks went volcanic on the TV personality. On InstaStories, Banks wished death upon the sickly Williams for having the audacity to shame Banks: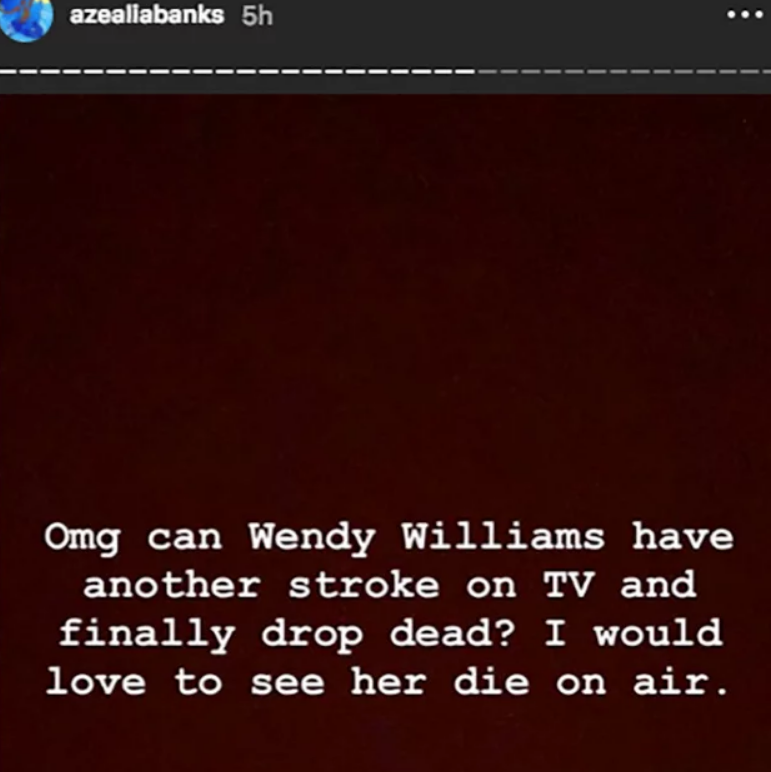 Fans remember that Williams collapsed and passed out on the air a few months ago, just prior to taking a three-week medical moratorium where she was diagnosed with Graves' disease.
According to WomensHealth.gov, Graves' disease is an "autoimmune disease that damages the thyroid gland" and impacts women much more frequently than men. Symptoms include "bulging eyes, inexplicable weight loss, and a faster metabolism." The publication goes on to say the disease can cause "osteoporosis, heart problems, and problems getting pregnant and (problems) during pregnancy" if left untreated.
Therefore, many fans were shocked that Banks would wish another major medical malady, and even death, on Williams.
Seems Banks' rage at Williams emanates from the talk show host's failure to sympathize with Banks' plight of fighting the colorism issue. The rapper once admitted that she tried bleaching her skin, according to HollywoodLife.com, and she also tweeted that "men, in general, despise dark skinned women."
As such, Banks believes she was bullied on "Wildin' Out" because of her dark hue.
"They planned this – hit me on short notice, told me I didn't have to participate in the c*** a** freestyle battles," she said of her traumatic experience on the show hosted by Cannon, 37, before she zeroed in on him. "If I were to make fun of Nick Cannon for having lupus, for being weak and sickly… if I made a joke that said he would be dead by the end of the year… Then Azealia Banks is the bad guy… Right?' she posted.
Williams broached the topic on her show, giving kudos to Azealia for being a smart woman, but also deriding her for being unable to manage her anger, which often shoots out of her like a discharged bullet.
On the show, Williams added that "A lot of times people would rather work with second best who's not so angry than first best. And I'm not familiar with her music. I'm just familiar with her anger."
Do you think Banks went too far with her malediction on Williams?