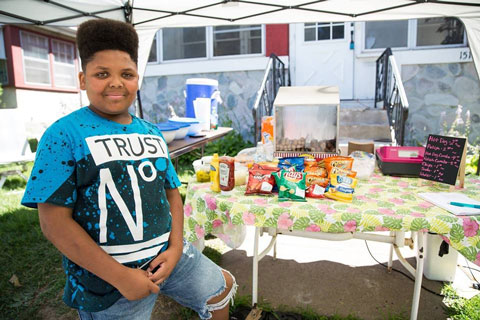 Back in 2016, Jaequan Faulkner, 13, found a hot dog machine in his uncle's basement. The budding young entrepreneur decided he was going to sell hot dogs. He named his business Mr. Faulkner's Old-Fashioned Hot Dogs, and he didn't do it every day, just once in awhile to earn extra cash and because he liked it. However, in today's heated racial climate of calling the police on every little thing a person of color does, someone took issue with his actions. According to the Minneapolis Star Tribune, someone reported Jaequan's hotdog stand to the health department.
The 13-year-old soon found himself confronted by an inspector from the Minneapolis Health Department, who looked at the young man's neat display of chips, drinks and choice of polish sausages and hot dogs. But instead of telling Jaequan to shut his hot dog stand down for good, the inspector decided to tell the young man how to make his stand legal. The staff made sure he had the knowledge of proper food handling and safety methods and equipment such as thermometers, food containers, and other materials. Jaequan's stand was inspected again and it passed as a food cart. To add icing to the cake, staff members then chipped in and paid the $87 permit fee needed to operate for 10 days at a temporary location.
When news of the story spread through the community, officials at the Northside Economic Opportunity Network (NEON) reached out to the young man. Now the permits needed for Mr. Faulkner's Old-Fashioned Hot Dogs are being sponsored. One such sponsor is the Minneapolis Police Department, who allowed Jaequan to set up outside and paid the $87 permit fee to encourage the young man's business savvy.
"I like having my own business," stated Jaequan. "I like letting people know just because I'm young doesn't mean I can't do anything."
His Facebook page, Mr. Faulkner's Old-Fashioned Hot Dogs, states he will be at the station July 30-Aug. 6. If you are a Minneapolis resident, now is the time to support this young man and say "not today colonizer" to the person who tried to shut him down.