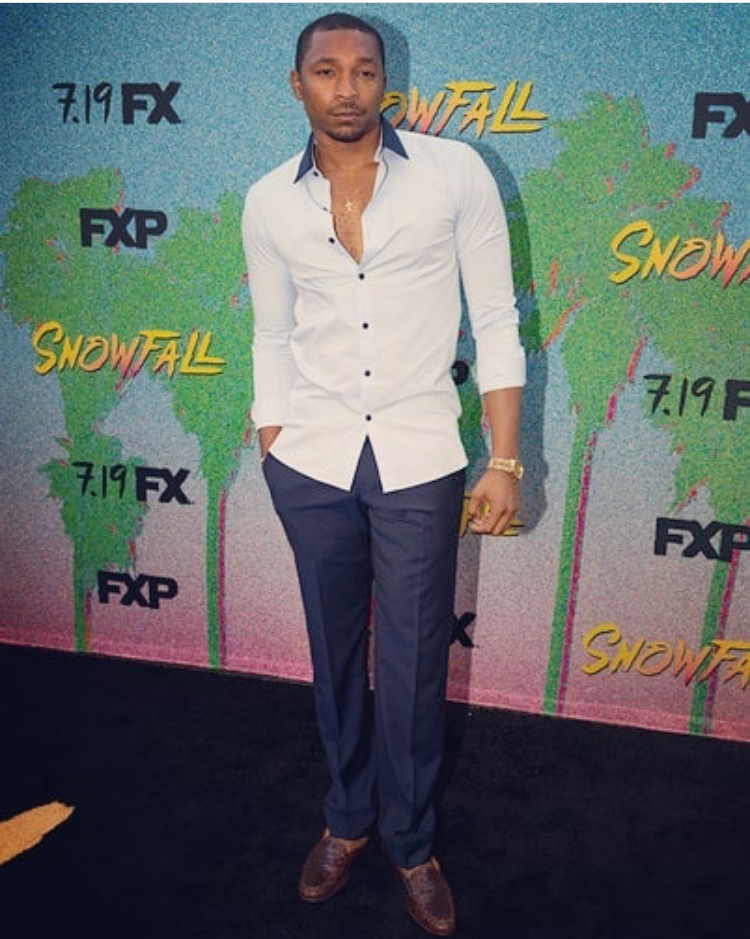 TV screens are about to get hotter than July with the season 2 premiere of the FX's, "Snowfall." The gritty series captures the birth and explosion of crack cocaine in South Central, Los Angeles. An ensemble cast of characters portrays an intricate web of drugs, corruption, power and violence. Malcolm Mays plays the emotional yet suave Kevin Hamilton. He is one-third of a crew of childhood friends exploring the spoils of street pharmacy in the early '80s.
Rolling out spoke with the multitalented actor, who is also a writer, director and musician. The 28-year-old South Central native was meant to portray Kevin because he has insight into the city's culture. He exudes a maturity that is refreshing and retrospective. "I am a product of that era. It's an honor to represent where I came from," he said.
Mays' convincing performance is a natural sign of his fate. "Originally, I auditioned to play Franklin," he revealed. "John [Singleton] and Eric [Amadio] decided to go in a different direction.. I'm just glad they chose me to be a part of the show."
Singleton, one of the masterminds behind "Snowfall," is a mentor to Mays, who acknowledges the legendary filmmaker's indelible influence.  "John is a savant. He's authentic. He knows exactly how to frame the story that needs to be told," Mays said with humble admiration.
He was discreet when he described what viewers can expect from the second season. His character, Kevin, is known as the "fun guy" of the crew, but his indulgence last season made us wonder if he's going to convert from dealer to addict. "I can't tell you that. You have to keep watching and see," Mays said. "There will be several alliances made this season. … Some will be surprising."
Along with his role in "Snowfall," Mays is writing and producing the upcoming film, Flint, in collaboration with Overbrook Entertainment. He is also developing a project with Warner Bros.
Season 2 of "Snowfall" premieres Thursday, July 19, at 10 p.m. (Eastern) on FX. Watch the official trailer below.
https://youtube.com/watch?v=goUlKkY2ATM
Mays describes his brand of R&B as "street gospel, like Chico DeBarge."  Check out his edgy yet insightful EP, Confessions of a Lost Angel.
https://soundcloud.com/malcolmmays/sets/confessions-of-a-lost-angel