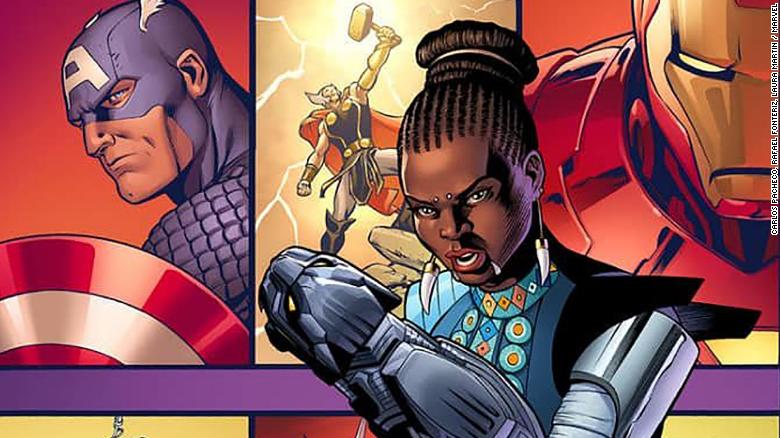 The colossal international success of Black Panther is spawning comic book spin-offs. The highly-anticipated transition of the Wakanda empire to king T'Challa's little sister, Shuri, is slated for October, Marvel Comics announced. The character Shuri was played in the movie by charismatic actress Letitia Wright, 24, who also reprised the role in Avengers: Infinity War. 
The comic book series will focus on Shuri's journey in the face of a harrowing event: T'Challa has been tragically lost on a mission in space, leaving a potentially calamitous void in leadership back in Wakanda. Shuri, who is happiest walled off alone in a lab and surrounded by gadgets of her own creation, has to now choose between taking over leadership of the kingdom, or risking Wakanda's destruction.
This compelling battle within herself will come to life via Afro-futurist author Nnedi Okorafor with the aid of Eisner-nominated artist Leonardo Romero. Okorafor is an award-winning Nigerian-American writer who is known for her novel Who Fears Death, which earned her multiple award nominations and a World Fantasy Award for Best Novel and is also set to become an HBO series.
Okorafor has already contributed to the Black Panther comic with issues of Black Panther: Long Live The King, which followed a storyline penned by acclaimed journalist and author Ta-Nehisi Coates. In June, the first of a three-issue series featuring the Dora Milaje (Wakanda's warrior women) paired with other Marvel Comic Universe heroes, Wakanda Forever: The Amazing Spider-Man! – also penned by Okorafor – was released.
Okorafor said she is beyond excited to bring Shuri's individual character to the forefront.
"[Shuri is] an African young woman of genius level intelligence who is obsessed with technology and has traveled spiritually so far into the past that she's seen Wakanda before it was Wakanda. The Ancestors call her Ancient Future. And she's super ambitious. What do I love about her? Alllll that and more," Okorafor tells Bustle via email. "She's a character in the Marvel Universe who really sings to me."
Black Panther captured the imagination of most of the civilized world, hauling in an astounding $1.3B globally, including $700M in the United States alone, to become the third-highest grossing movie in American history, BoxOfficeMojo.com reports.