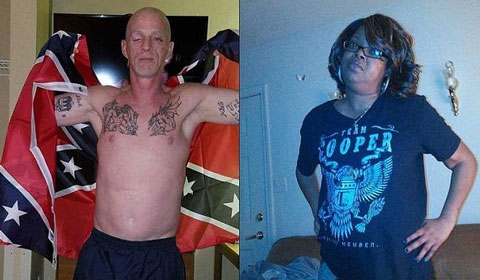 A Missouri family is in mourning after the murder of a beloved family member and mother. MeShon Cooper, 43, was a mother, who suffered from lupus and other major health issues. She worked for a Subway in Kansas City, Missouri, despite being eligible for disability. Earlier this month, she met a new friend by the name of Ronald Lee Kidwell, 47,
According to the Kansas City Star, not much is known about how the two met, but what is known is that they were total opposites. While Cooper was a loving mother who cared for her 25-year-old son, Kidwell was a monster according to his daughter. Kidwell would often take pictures draped in a Confederate flag, and proudly show his swastika tattoo; he would also brag about his membership in the KKK. According to his daughter Crystal Foster, her father was a monster and had threatened to kill her and her children if she ever dated or spoke to a person of color. His daughter further stated about her father, "He pretends to be 'colored people's' friends and then he harms them."
Kidwell and Cooper had been seeing each other for weeks, and a neighbor stated she last saw Cooper at Kidwell's home when he left to get beer and the two started talking. Later that day after Cooper left, Kidwell referred to her as a "Black bitch" to his neighbor.
On July 7, Cooper's car was found near Lykins Square Park in Kansas City and her family filed a missing person report. Two days later, Kidwell's neighbor stated that Kidwell asked her for a handsaw and trash bags. On July 14, investigators eventually went to Kidwell's house with a search warrant and according to a police report were meet with an overwhelming smell of bleach. Inside, they found the decomposing body of MeShon Cooper. Kidwell told investigators that he did kill her but it was in self defense. Police have stated that her body was badly beaten and had numerous stab wounds. Kidwell was charged with second-degree murder and has a bail of $1M.
This was not his first attack on a Black woman. In 2011, Kidwell was convicted of sexual assault for hitting a sleeping Black woman, forcing her to take off her clothes and raping her. He did not use a condom and told police that he was HIV positive. Despite the horrendous nature of this crime, he only served five years in prison. In court documents, he is referred to by the name of "One eye," a moniker he uses since he lost his eye when he was attacked by pit bulls at age 7.
The family of MeShon Cooper has now set up an GoFundMe page to help with expenses and the continuing care of her son.