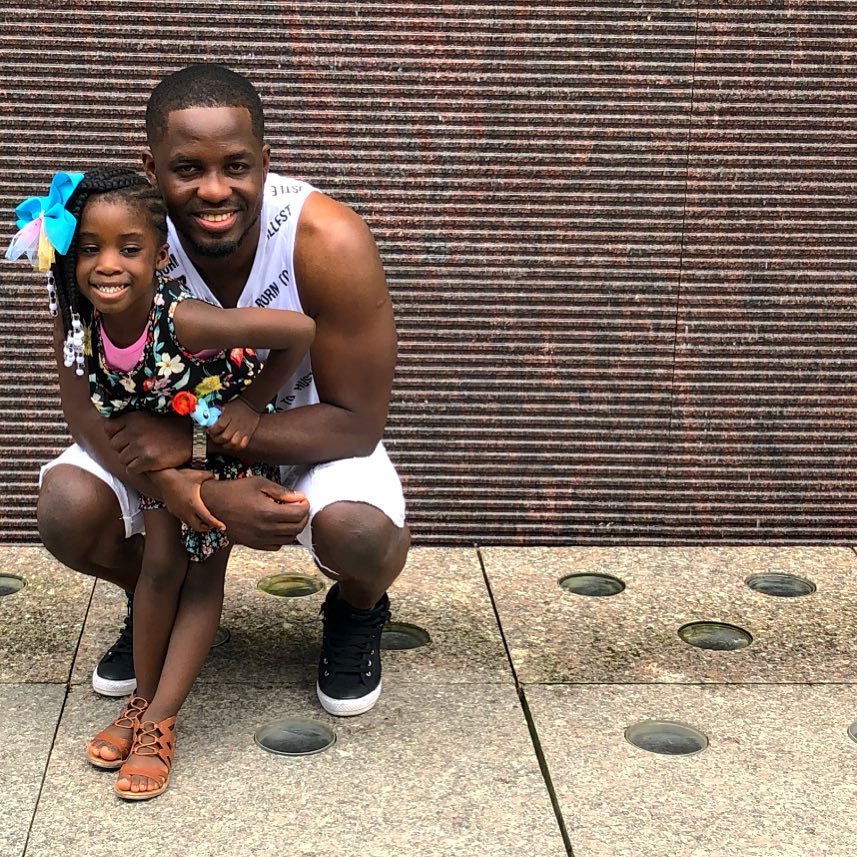 Daniel Moijueh Jr. is a community leader, entrepreneur, and father. A native of Sierra Leone, his family comes from the region where a decades-long civil war has been waged over blood diamonds.
Witnessing firsthand the damage that his homeland endured, Moijueh took it upon himself to redefine the diamond business. He is the founder of Moijey Fine Jewelry & Diamonds, a conflict-free diamond business in Silver Spring, Maryland.
Above everything else, Moijueh is a family man, caring for and teaching his daughter J.J. about being a global citizen. Rolling out spoke with Moijueh to learn more about how fatherhood has shaped him and how he is, in turn, molding his daughter.
What fatherhood experiences have taught you the most about yourself?
I have had many fatherhood experiences that have taught me a lot about myself. One of them was on my 28th birthday when I had to fly overnight across the country to be there for my daughter's premature birth. Having her in my arms and seeing this precious gift that God gave me on my birthday made me realize that I was not living for myself anymore. I was now living for her, and I would give my life for her. When I watch her interact with her peers or spend quality father-daughter time with her, I realize how alike we are. I want to give her everything I didn't have growing up. When I am with her or away from her, I am reminded of how protective I am of her.
What legacy are you leaving for your children and the children of your community?
The legacy I am leaving behind for my children is how to be a good human being. It is important that my children learn how to treat others with respect, courtesy and consideration. This world could be a tough place and, as a community, we must rely on each other's goodwill and positivity to serve each other's needs. I also want to teach them the importance of giving back to society. I started a company for my community, Moijey Fine Jewelry & Diamonds. We give back a percentage of our proceeds to a nonprofit that I founded, Beyond the Carat Foundation (www.beyondthecarat.org).  So whatever passion my daughter has, she needs to cultivate it. She also must demonstrate how she is a role model through her words and actions. I want her to be able to "walk the talk."
Why is it important to expose children to education and valuable skills?
Education is important because it is the foundation of the basic skills needed to be and do whatever you want in life. Education is important in my family because we value learning and we value teaching others. I respect education because, without it, I would not have gotten to where I am today. An education opens doors to opportunities that you may never have otherwise. It's up to you to make the most of your education.
From a father's perspective, what two books would you recommend every child read?
Letters to my Daughter: The Summer I Lost You…and Found Myself. This is a book of the letters I wrote to my daughter during the summer of 2017 when her mother refused to let me see her.
The Bible.
When it comes to protecting yourself at all times, physically and mentally, what would you tell your children?
I would tell my children to surround yourself with good people who have good energy and positive intentions. Do not place yourself around people who discourage you from accomplishing your dreams. Learn to identify people's intentions. There are some people who are fake, who say or do things but don't really have good intentions. Find people who you can trust to tell you the truth, even when it hurts.  I would also tell my children to pray for God's wisdom, guidance and protection at all times.
How does following your spiritual values help you in life?
Following my spiritual values has been my strength when I went through some of the toughest battles in my life — fighting in a war, coping with PTSD, losing loved ones, going through a divorce.  All these experiences made me realize how vulnerable I was and how powerless I felt. However, whenever I turned to God and allowed Him to be my source of strength and inspiration, I felt at peace and empowered. It also shapes the way I see the world and how I approach circumstances around me.
What advice would you give on being responsible for your own dreams?
It is important to be responsible for your own dreams because no one can dream about them for you. You can have ideas, but you have to be the one to execute them. I never turn down an opportunity. I always say, "Yes." As a businessman, an entrepreneur or a hustler, it is my responsibility to find a way to make that opportunity become a reality.  Never give up on anything just because it's hard. If it's yours, then own it.