If you have been trying to eat healthy lately with salads and you have been getting sick, it is not your meal choices but where you got your salad. A health alert was released covering at least two dozen products including beef, pork and poultry salad and wrap products that might be contaminated with the parasite cyclospora. The health alert is causing national concern because it is not being issued by the manufacturer, but by the USDA.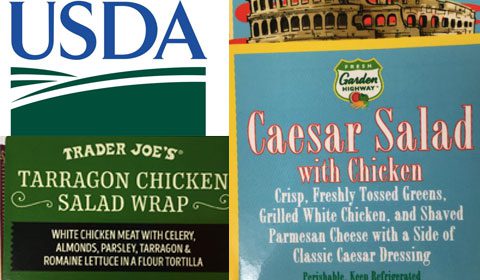 These salads and wraps were sold in popular stores that include Trader Joe's and Walgreen's and is also a national warning. The USDA alert states in part:
"The U.S. Department of Agriculture's Food Safety and Inspection Service (FSIS) is issuing a public health alert out of an abundance of caution due to concerns about contamination with Cyclospora. The beef, pork and poultry salad and wrap products were distributed by Caito Foods LLC, an Indianapolis, Ind. establishment. The beef, pork and poultry salad and wrap items were produced between July 15 to 18, 2018, with the either 'Best By,' 'Enjoy by,' 'Best if Sold By' or 'Sell By' dates ranging from July 18 through July 23, 2018. The products bear the establishment number "EST. 39985 or P-39985" inside or next to the USDA mark of inspection. These items were shipped to distribution centers nationwide."
According to FSIS and USDA officials, there have been cases of vomiting and "explosive" diarrhea a week or even more than a month after eating the contaminated product.
The complete list of products, product labels, the UPC code numbers and other identifying information can be found below: