Tyson Beckford blasts Kim Kardashian's 'plastic' body; she fires back
It looks like reality TV maven Kim Kardashian no longer allows herself to be dragged by her critics and haters, having clapped back on a number of celebrities recently when it comes to defending herself and her husband, the embattled rap savant Kanye West.
And she just fired off a few rounds at her latest detractor. Kardashian thought she was making a big splash with her latest risque look for her appearance on "Jimmy Kimmel Live" Tuesday afternoon in New York. Most people were probably feeling the fashion statement she was flossing, but there was one celebrity who didn't like it, and he had no problem alerting the public of his sentiments.
Supermodel Tyson Beckford, 47, who is best known for his work with Ralph Lauren's Polo menswear, decided to hop onto social media to judge Kardashian's look, claiming it wasn't exactly his speed. He didn't stop there, though, saysing that her hips looked fake and that the plastic surgeon "f***** up" because her hips aren't evenly proportioned.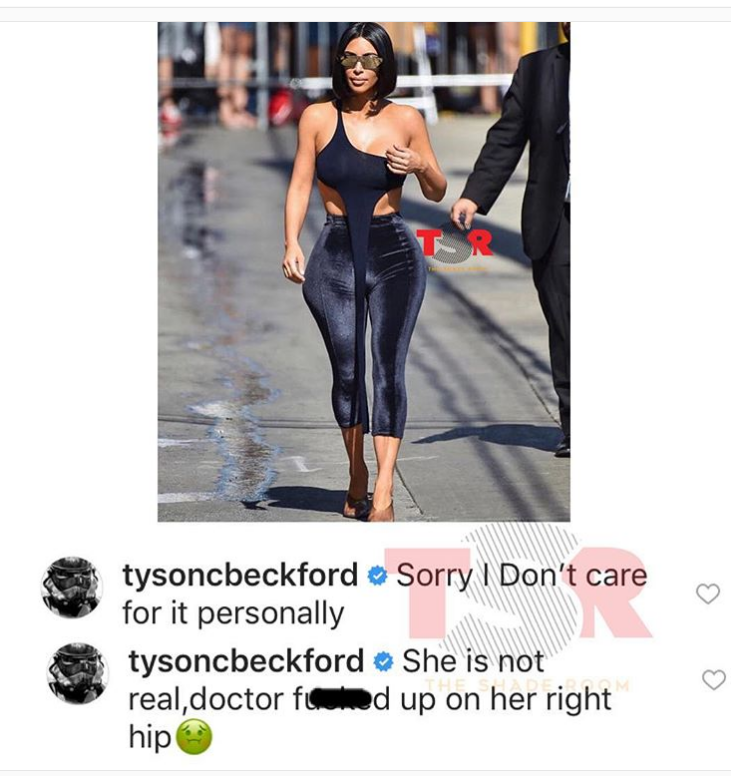 "Sorry, I don't care for it, personally," he said in a now-deleted Instagram post that was screenshot by the likes of The Shade Room.
"She is not real, doctor f*cked up on her right hip."
Kardashian's body does seems to be incongruous but that may be due to the fact that she was in mid-stride when the photo was snapped.
Kardashian was clearly not going to let Beckford's shade go unanswered. She made a not-so-subtle challenge to his sexuality when she fired back with this heat-seeking missile.
"Sis we all know why you don't care for it."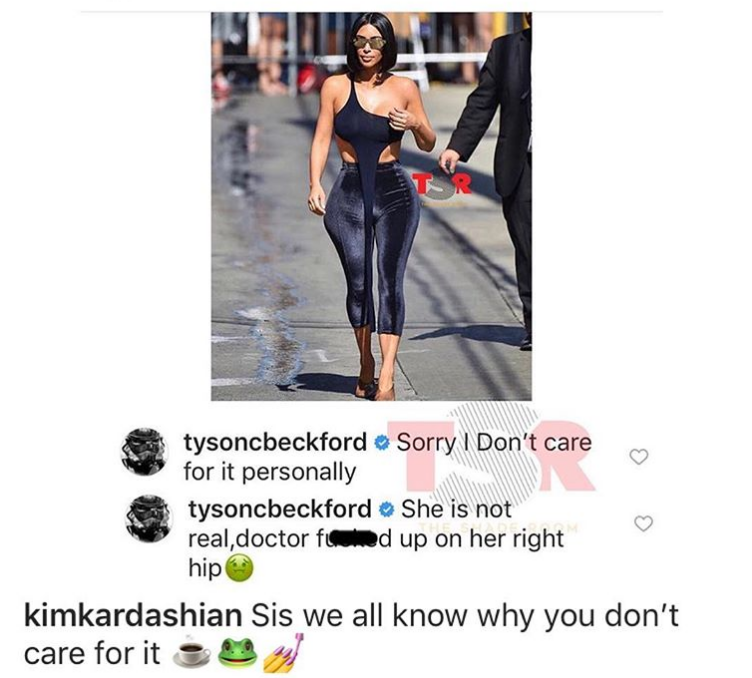 Ouch.
Those two definitely seem to have some low-level beef that could emanate from some past interaction that folks don't know about.
What do you make of this latest entertainment dust up?