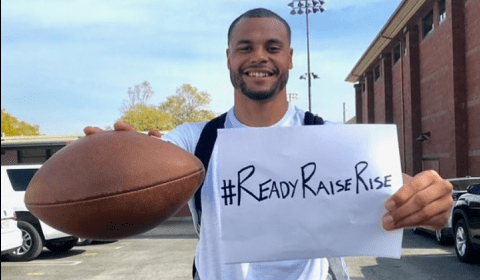 Dallas Cowboys quarterback Dak Prescott has been on the receiving end of a lot of enemy fire after he said it wasn't appropriate to kneel during the national anthem as a way to protest police brutality and judicial inequality. However, the backlash spilled off from social media as an artist created a mural of Prescott in the "sunken place."
According to the Fort Worth Star-Telegram, artist Trey Wilder used eight spray cans and "produced a six-foot-high, ten-foot-wide mural" that depicted Dallas Cowboys quarterback Dak Prescott in the iconic image from Jordan Peele's Academy Award-winning horror film Get Out.
The mural took Wilde three hours to complete and is in downtown Atlanta.
"Honestly, I know he's a superstar, but I'm not scared of Dak Prescott," Wilder said. "But like in the movie, maybe [the piece] will be a flash for him. I think, with that platform, it was just weird how he dismissed the whole situation, especially being a Black man himself."
P
Prescott has responded to the mural as well, telling the Star-Telegram, "Everybody has their own opinion. It is what it is. When I made my statements on the anthem, I knew there would be backlash. No surprises."
Prescott says he has no regrets about his original statement that set off a nationwide debate.
"As I said, I made my statement. I stand by what I said. I just said some people may have misunderstood it or whatever. I feel strongly about what I said. And it is what it is."
Check out that initial press conference on the first day of NFL training camp below: