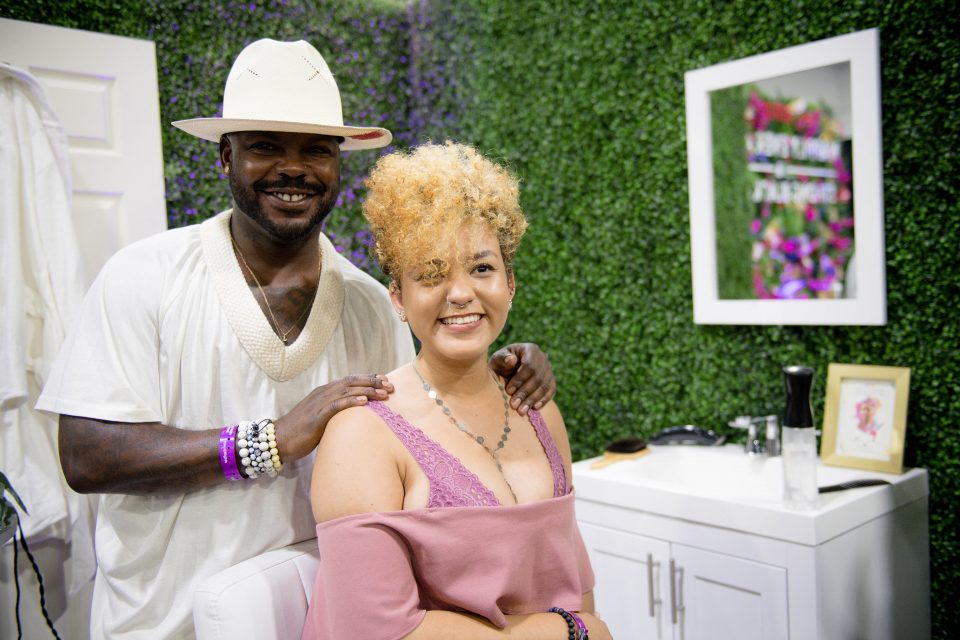 Larry Sims is a hairstylist who has handcrafted some of the hot looks from your favorite celebrities. From Gabrielle Union to Kerry Washinton, Sims really knows how to slay. The stylist is most recently known for the big chop that he did on Sanaa Lathan. The star decided to bravely cut off her hair for her new Netflix film, "Nappily Ever After." Sims shared that despite being offered alternatives such as wigs and weaves to avoid having to cut it all off, Lathan wanted the haircut.
We recently caught up with the celebrity stylist at the 2018 Bronner Bros. International Beauty Show where he was stationed at a floral-inspired "Nappily Ever After" booth. The Cut Life and Strong Black Lead teamed up to take over the iconic hair show in preparation for the new film. "Nappily Ever After," which comes out on Netflix on Sept. 21, 2018, is all about growth and the true meaning of hair. The Cut Life hosted a contest to celebrate the new movie and selected a lucky winner to experience Sims' big chop skills.
Durann Dungee was the big winner and she was excited to receive a life-changing haircut by the famed celebrity hairstylist to the stars. Crowds gathered as an eager Dungee was getting her live big chop. As pieces of her long blonde hair fell to the ground, her stylish short cut was coming to life. After Sims completed his process, he revealed the magic moment when Dungee would see her brand new look. As she turned to look in the mirror, her jaw dropped and her hands clutched her face in amazement. She began to get emotional and embraced the stylist, loving her fabulous new look.
You can watch the full big chop by celebrity stylist Larry Sims by clicking the link here.