Cardi B fans are suddenly alarmed. The Bronx, New York-born beauty was seen kicking it recently with the Kardashian-Jenner clan in Calabasas, California, and that has some of her fans very concerned. They think her career might be in jeopardy if she allows that family to get their tentacles in her business.
Cardi B, born Belcalis Marlenis Almanzar, 25, was seen on social media Saturday sandwiched between reality queen Kim Kardashian West and momager and matriarch Kris Jenner in suburban Los Angeles. During the visit, the "Bartier Cardi" lyricist was almost giddy in this caption on the photo with them:
"Im [sic] officially apart of the rich people club!! I'm not poor anymore mwaaaaahahahaha!! P.s I'm selling one of @krisjenner [sic] napkins on eBay!!"
https://www.instagram.com/p/BmFZqvZlilX/?utm_source=ig_embed&utm_campaign=embed_video_watch_again
Moreover, Kardashian gave Cardi a tour of the mansion she shares with husband Kanye West and their three children, and West even got in on the fun and took part in the video joke.
The "Bodak Yellow" rapper's fans are admonishing Cardi B to be careful kicking it with the Kardashians. Some people really believe the Kardashians are witches and think the "Kardashian curse" is real.
Check out fans' responses to Cardi's post on Twitter and Instagram: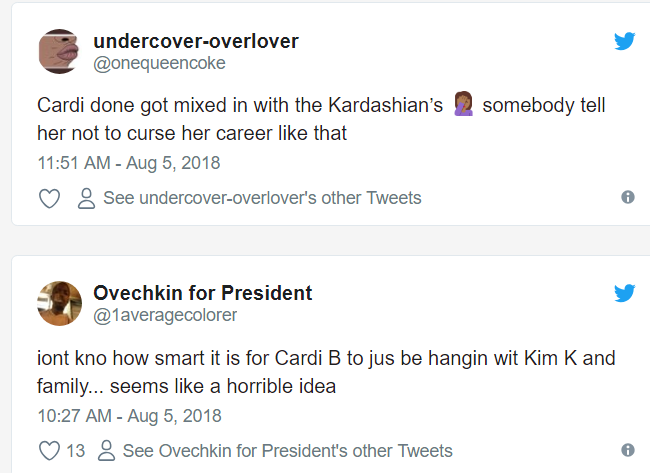 ando_570 warned Cardi B: "Gtfo there cardi theyre witches."
Another, ksz1104, added: "You could find a better crew to hang with IJS, watch out before they start to steal your accent and brand it their own…"
goldtutz says "D— riding the same gender can never end right"
devrocks21@chocolate.shawty says "they the ones staying relevant by being in your company @iamcardib."
lana_miller18 takes them all apart, saying "Finally your in your natural habitat of talentless leaches of society 🤷‍♀️."
wendy_bird10 says "because she's IT right now. They can't handle that and want to make sure they (steal) her light."
gen_of_eve adds "Nooooo! Don't drink the kool aid, Cardi!"