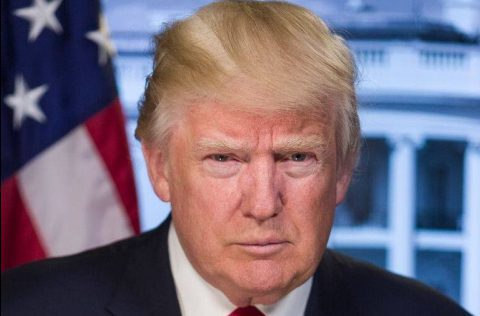 As Donald Trump continues to gratuitously hammer away at athletes like Colin Kaepernick and LeBron James, someone continues to take a sledgehammer to his star on the Walk of Fame in West Hollywood, California.
The city of West Hollywood, a relatively new city that was incorporated in 1984 and is sandwiched between Beverly Hills and Los Angeles, has unanimously voted to obliterate Donald Trump's Walk of Fame star since someone has done their best to completely demolish it with a pickax.
Trump's star has been defaced at regular intervals since he became president of the United States. The latest person to decimate the star, Austin Mikel Clay, reportedly turned himself in the day after the July 25 incident, according to the Los Angeles County District Attorney's Office, the Los Angeles Times reports.
Clay, 24, is a Los Angeles resident and will be arraigned next week on a felony count of vandalism. He was released on $20K bond and faces up to three years in prison if convicted.
The West Hollywood City Council said their vote was more "symbolic" than binding since they have no jurisdiction over the popular tourist attraction. They assured the public that political orientation did not inform the council's decision.
"The West Hollywood City Council did not pass the resolution because Donald Trump is a conservative or a Republican. Earning a star on the Hollywood Walk of Fame is an honor. When one belittles and attacks minorities, immigrants, Muslims, people with disabilities or women — the honor no longer exists," West Hollywood Mayor John Duran told CNN.
This move to erase Trump's star is admittedly unprecedented, which Trump, 72, mostly earned from his popular reality shows "The Apprentice" and "Celebrity Apprentice."
"Never have we intruded into our neighboring city's business like this. But the circumstances compelled us to make an exception to the rule," Duran added.
The Hollywood Walk of Fame is controlled by the Hollywood Chamber of Commerce and its president said that the request will be taken into consideration.
"Once we receive a communication from the city of West Hollywood, it will be referred to our executive committee for consideration at their next meeting. As of now, there are no plans to remove any stars from the Hollywood Walk of Fame," President Leron Gubler said.