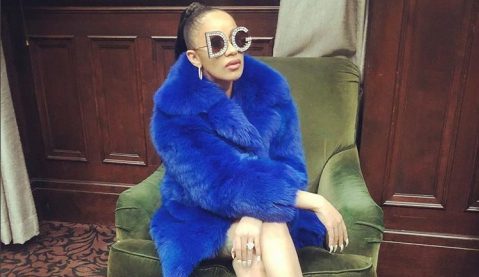 Cardi B plans to release new music next month.
The "Bodak Yellow" hitmaker is planning to unveil at least five new tracks on Sept. 1, which didn't make her debut album, Invasion Of Privacy.
In an Instagram live post earlier this week, she said, "There's about five songs that I was supposed to put on 'Invasion Of Privacy' but they didn't fit and make sense. So I'm gonna put it on this project that I really want to put out on September 1st, but I'm missing like four or five songs."
However, she confessed she might not meet that deadline, as she's got a lot on her plate in the coming weeks.
She added: "I got four or five songs I gotta finish for this project and I got like six features I still got to do [for other artists]."
Cardi B returned to work late last month, just three weeks after giving birth to her daughter Kulture, whom she has with her husband Offset.
She shared at the time: "Work. Today I'm going to finally step out and hit the studio. Cook up some new music for yaa (sic)"
It comes after the 25-year-old rapper previously said she was worried that her career would be over now that she's a mother.
She explained: "A lot of successful women have kids, and a lot of successful artists have kids, but not at the peak of their career. [When I told people]. It was like, 'You can't do this. This might f**k up your career.'"