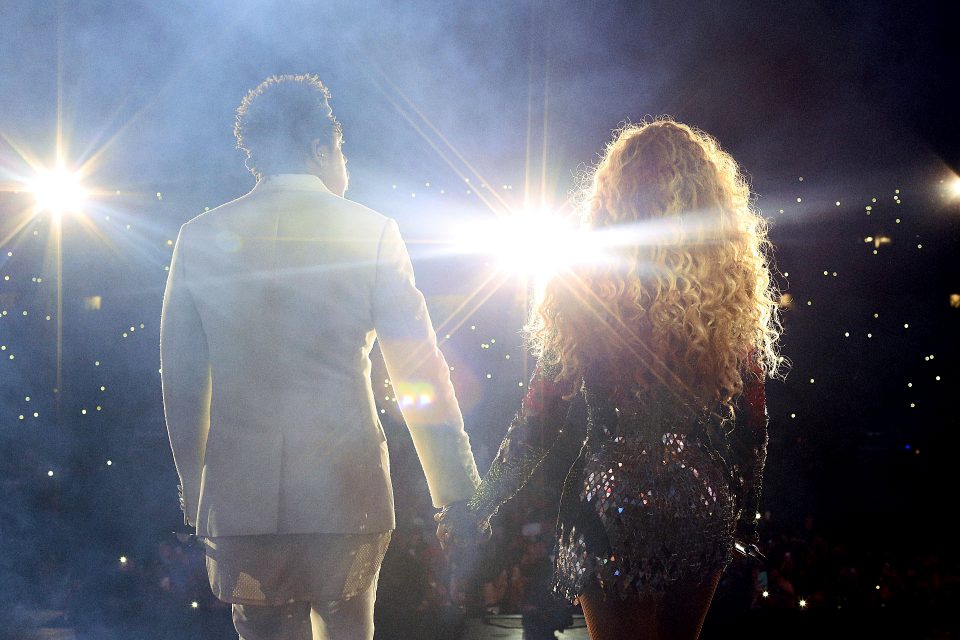 Beyoncé and Jay-Z are the Holy Grail of the music industry. Last night, the church of Bey and Jay was in session as fans attended OTR II, at Detroit's Ford Field. Beyoncé started the night by dedicating the show to the ailing Queen of Soul, Aretha Franklin. DJ Khaled, who primed the crowd for the couple's set, played Franklin's "Respect," which received the audience's rousing approval. Bey also gave a shout-out to gospel icons The Clark Sisters, who, like Franklin, are Detroit natives. A quick appearance from Offset and Quavo of Migos fueled some fans' anticipation of the Aubrey and the Three Migos tour hitting Detroit later this week.
It was impossible not to fall drunk in love with the power couple's synergy as they performed all of their duets and a bevy of their solo hits. The rumors about King Bey carrying baby No. 4 were snatched away by her tight waist. If she is pregnant, either she's in the early stages of her pregnancy or she has some A1 undergarments.
Bonnie and Clyde 2.0 commanded a massive stage complete with illuminated moving walkways, parallel staircases, mobile platforms, pyrotechnics and a Hollywood Squares-like structure containing their live band and dancers. All of this was set against the backdrop of a huge screen showing various video montages. Some scenes were an intimate view of the couple's sensual trysts and family life with their three children. Other scenes portrayed their interpretation of the 1973 African cinematic classic, Touki Bouki, a story about a young couple on the run from scheming and stealing.
The audience was privy to the intense energy that surrounds the atmosphere whenever Bey and Jay come together. Their reverence for each other was apparent as they executed their performance with precision and style. Sequins and bling were the fashionable themes as each of them donned multiple costume changes.
The "Crazy in Love" singer gave the crowd some of her favorite anthems including "Diva," "Flawless" and a slowed-down version of "Naughty Girl." Heavy with references to African and Caribbean culture, Jay-Z's "Run This Town" also boasted a reggae interpolation.
Over the past year, the couple has made strategic moves to shape the narrative about their relationship. And it's almost believable until you hear Beyoncé sing "Resentment," an underground hit from 2006's B'Day. Her ability to emote frustration, anger and redemption was not lost on the crowd. Although this song came before her public revelation about Jay's infidelity on Lemonade, it remains apropos.
In between the baby weight-dropping dance routines, Jay-Z kept his place as one of the GOATs of the game by spitting with ease on some of his older jams like "On To The Next One," "Song Cry," "U Don't Know," "Big Pimpin'," "Dirt Off Your Shoulders" and "Forever Young." His renditions of the Kanye West tinged "N—as in Paris" and "Clique" were a bit strange without Yeezy, but nonetheless hyped.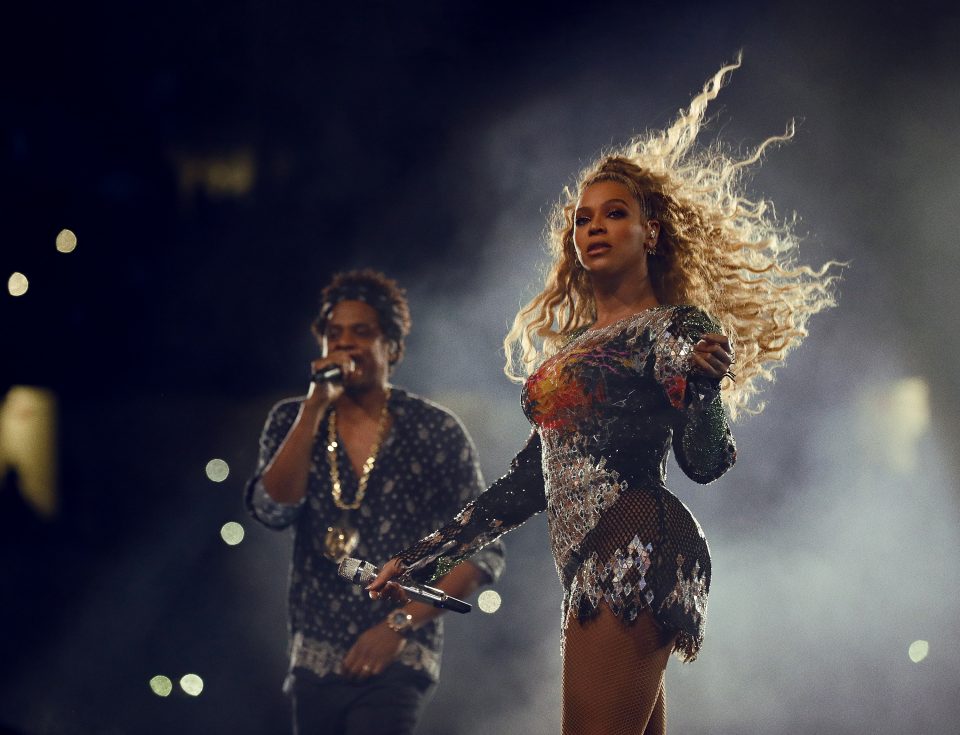 On the defiant "99 Problems," Hov rapped as mugshots of activists and artists shone on the screen behind him. Notable images included Angela Davis, the Rev. Jesse Jackson, 50 Cent, Diddy, David Bowie and Left Eye.
One fan, who has seen Bey and Jay before noted that Bey's energy was low during the concert. If that was the case, it was hard to tell because the "Formation" creator and her dancers impressed the crowd with their frenetic moves. The physicality continued on a segue to "Run The World."  Beyoncé's facial expressions were fierce as she dominated like a boss with no mercy. She still ain't "Sorry" for being bold and raw.
Known for showing love to their fellow artists, the night featured a stirring performance from opening act Chloe and Halle, who are signed to Beyoncé's record label, Parkwood Entertainment. A mid-show breakdown of O.T. Genasis' "Everybody Mad," transformed the crowd into a crunk mindset.
From their latest release Everything is Love, Bey and Jay delivered "Nice," "Summer," "Black Effect," and closed their epic spectacle with the rafter-shaking "Apes–t."
After more than two hours onstage, The Carters left the crowd wanting to be on the run with them to the next tour stop. Kudos to their music and creative directors for helping them to convey a consummate view of their individual and collective artistry. Their transparency about the issues in their relationship and choice to use their platforms to address politics while rebuking racism fortifies their fan base.