If anyone has conquered the philosophy of turning haters into motivators and more importantly bad press into money in the bank, it's Safaree Samuels, also known as Nicki Minaj's ex-boyfriend. After their longstanding relationship ended, Minaj's fans assumed her ex would fade into obscurity because he'd been in her shadow for years, unable to get his own music career off the ground. Safaree was obviously heartbroken when Minaj immediately moved on with Meek Mill, but instead of fading into the background,  Safaree resurfaced with a spot on "Love & Hip Hop Hollywood," playing the fly NY guy in Hollywood to the hilt and soon his swag completely erased the Minaj breakup from viewers' minds.
The breakup proved to be the best thing for Safaree's career and it jump-started a pattern of the Jamaican hot boy flipping negative press into profitable hype for himself. Earlier this year Safaree was the victim of a nude leak. Ironically, what would've proved negative for many ended up garnering Safaree even more attention with the ladies and made him a hot topic for weeks after the alleged leak.
Recently, Safaree and his ex resorted to old habits of bashing each other on social media. Minaj attempted to embarrass Safaree by blasting him for getting hairline surgery. Black Twitter enjoyed the two going back and forth but Safaree ended the verbal war by wishing Minaj and her new album well.
The day following Minaj's allegations, Safaree posted a tweet sharing he woke up to a book deal offer for over half a million dollars and a possible endorsement deal from the Hair Club for men.
Later that afternoon, Safaree returned to Twitter to share that he earned $30K in less than 24 hours on referrals to the doctor who "fixed" his hairline. He thanked his ex and, of course, everyone who enjoyed her exposure of his hairline issues.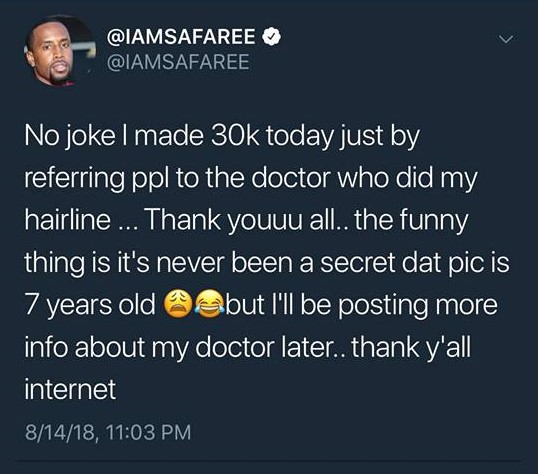 Once thing is for sure, Safaree has mastered the ability to turn negativity into paydays for himself. He turned his break up into an opportunity to become a top reality star on one of the biggest reality franchises on television. His nude leak transitioned him into a sex symbol overnight and his hairline surgery has made him a paid brand ambassador. If anyone has a gift for turning sour lemons into country sweet iced lemonade it's Safaree Samuels. Perhaps he'll write a book explaining his philosophy, until then we'll continue to watch his story play out.