Detroit pays tribute to the 'Queen of Soul'
Aretha Franklin was a brilliant mind with an outspoken voice, as internationally known for her unmatched musical talents as her unapologetic Blackness and bold fashion statements.
On Thursday, Aug. 16, the world lost a musical icon, but Detroit celebrated the rich legacy of one of its own. Auntie Ree-Ree, as some Detroiters affectionately called her, was a national treasure with a soul-stirring voice gifted by the gods. But, to the citizens of Detroit, she was family.
Countless Detroit natives stopped to share their favorite memories of the "Queen of Soul" or to decorate the doors outside of her childhood church home, New Bethel Baptist in Detroit, with flowers, signs and balloons. It was a testament to how much Motown adored the iconic "Natural Woman."
Franklin once revealed to the Detroit Free Press how much she loved the camaraderie she felt in her beloved Motor City. A riveting force of nature, who was as fiercely protective of loved ones as she was of the city that raised her, the "Chain of Fools" singer never once left Detroit behind. In fact, her final moments were spent at her Detroit home surrounded by close friends and family.
"My roots are there. The church is there. My family is there," Franklin said.
Former ESPN "Sportscenter" (SC6) anchor Jemele Hill likened the revolutionary songbird to "Detroit's heartbeat" with a "voice of living history" capable of moving one former U.S. president to tears.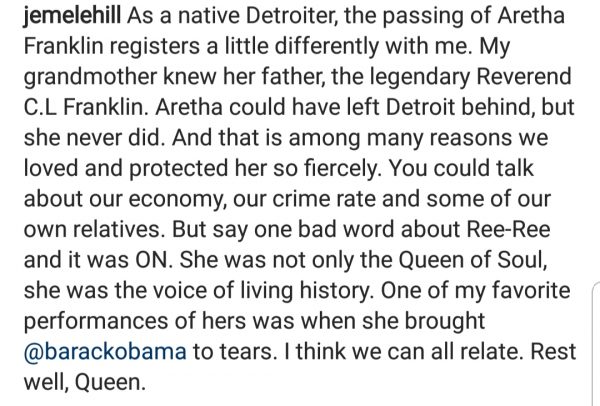 Shortly after Franklin succumbed to an aggressive form of pancreatic cancer, Detroit landmarks, including the Fox Theater, The Fillmore/State Theater and Comerica Park, lit up with one single word befitting of her majesty's royal mantra — Respect.
Senior ESPN entertainment columnist Kelley L. Carter fondly remembers receiving praise from Franklin for her work on the Emmy Award-winning documentary "Respect," marking the 40th anniversary of the accomplished hitmaker's chart-topping single of the same name.
"That project taught me a lot. And in some ways, it solidified the work I try to do now," Carter wrote in a touching tribute published on ESPN's "Undefeated" website highlighting the Queen of Soul's social impact and musical legacy. "Music isn't just music. Entertainment isn't just entertaining. Not always. And Franklin did more than just layer delicious sounds over mouth-watering melodies. It was activism. And it was important."
Born in Nashville, Tennessee, but adopted as a native of Detroit at the age of 4, the "Freeway of Love" songstress' path to stardom was imminent. During Franklin's teenage years, her powerful, stand-alone vocals took center stage while touring with her legendary father, the Rev. C.L. Franklin's gospel revue. By age 18, the future Rock n' Roll Hall of Famer inked a deal with Columbia Records that would pave the way to a historically successful and yet, at times, a tumultuous career in the entertainment industry.
Although she opted out of signing with a then-fledgling Motown Records, Franklin was just as synonymous with the "Motown sound" as The Jackson Five, The Temptations, and her lifelong friends Smokey Robinson and Stevie Wonder. Her incomparable powerhouse voice melded together her gospel roots with her classical and jazz music upbringing while transcending the R&B genre that jump-started her six-decade-long career and ultimately inspired generations.
Elijah O'Connor, a Detroit-born R&B crooner and an ex-contestant on "The Four," took to Twitter to give thanks to the legendary diva for her "teaching and mentorship."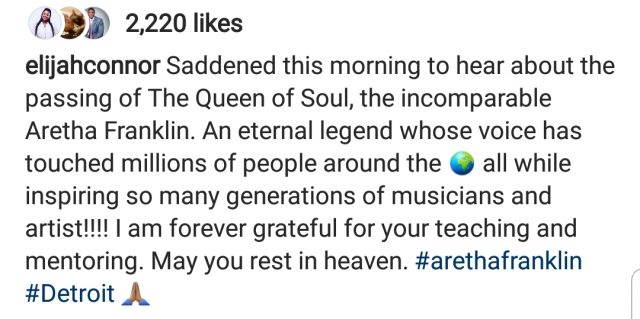 To those fortunate enough to be graced with the 18-time Grammy Award winner 's commanding presence and larger-than-life persona, just meeting her was an honor. Detroit's resident Don, rapper Big Sean, posted an endearing dedication on Instagram sharing his unforgettable encounter with the Motown legend.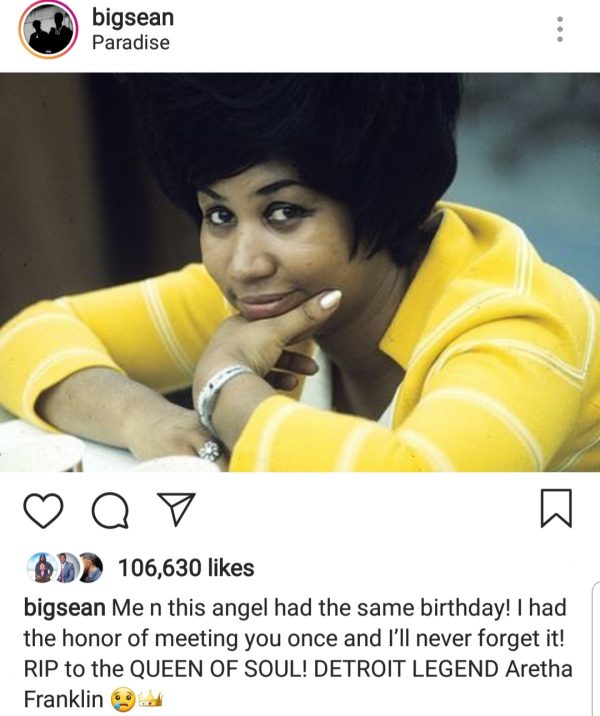 Check out more touching tributes to the unrivaled "Queen of Soul" from Detroiters across the Twittersphere, Instagram and Facebook below:
— Celebrity house DJ @brucebailey on Facebook
— Award-winning Detroit filmmaker @qasimbasir ("Mooz-lum," "Destined") on Facebook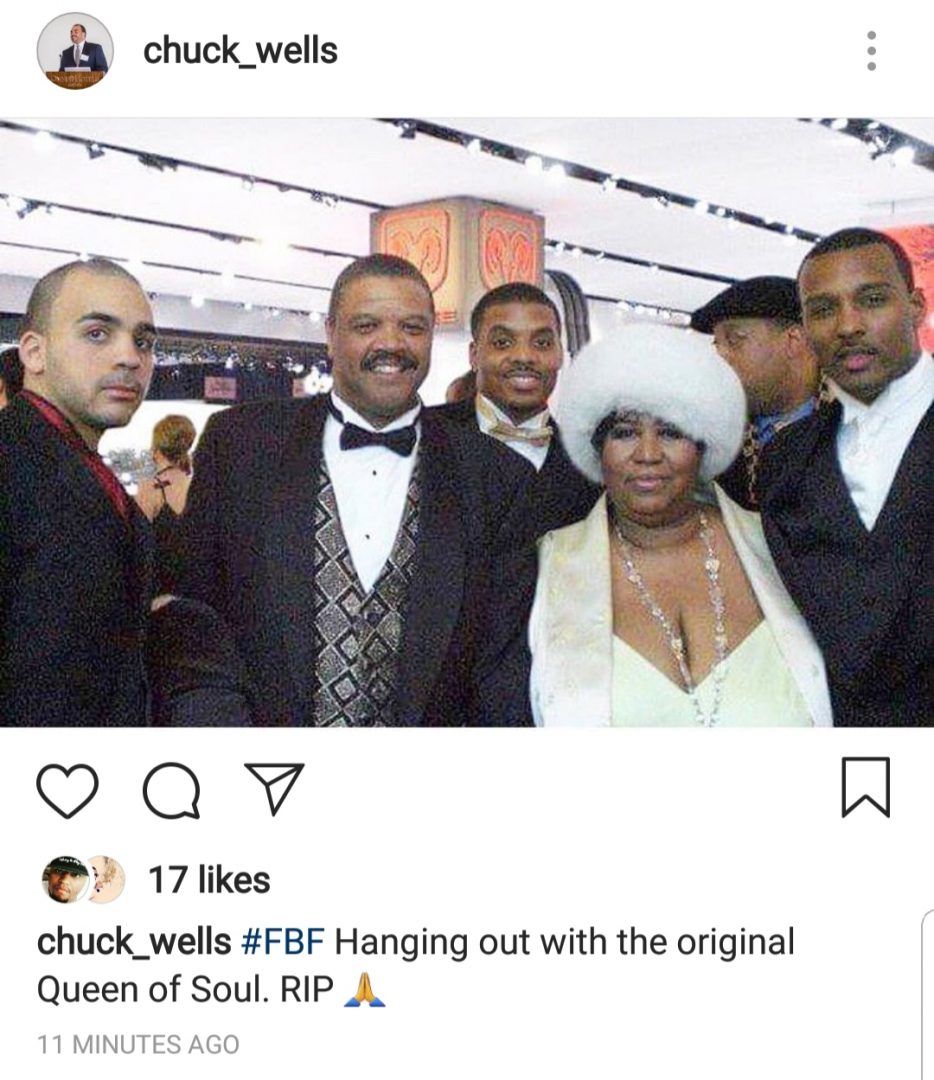 — @chuck_wells on Instagram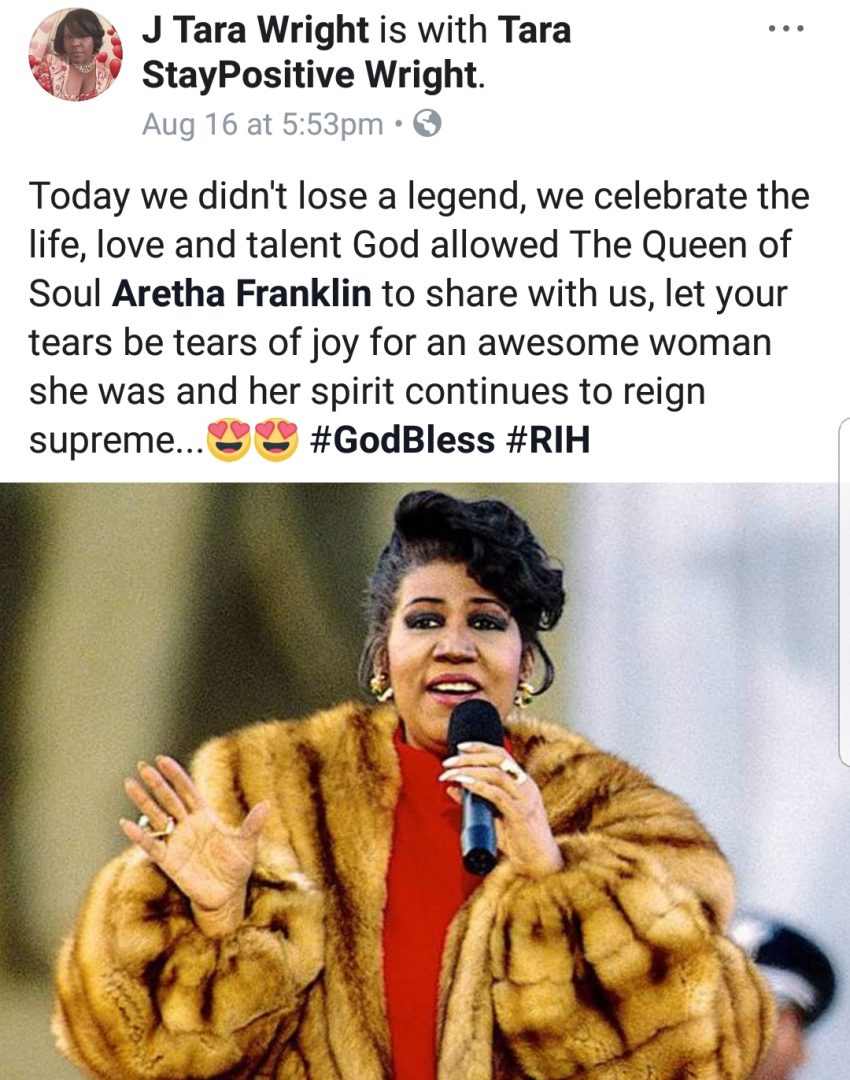 — J Tara Wright on Facebook