ESPN refuses to televise the national anthem during 'Monday Night Football'
One way to deal with the never-ending national anthem protest controversy in the NFL, which refuses to go away regardless of NFL machinations and presidential condemnation and right-wing vilification, is to actually not deal with it at all.
That is what ESPN has decided to do when it comes to its "Monday Night Football" telecasts.
Newly-minted ESPN president Jimmy Pitaro, who replaced John Skipper after his abrupt departure, told the national media on the vast campus in Bristol, Connecticut that he informed the National Football League offices in New York that ESPN decided not to show the national anthem for the foreseeable future.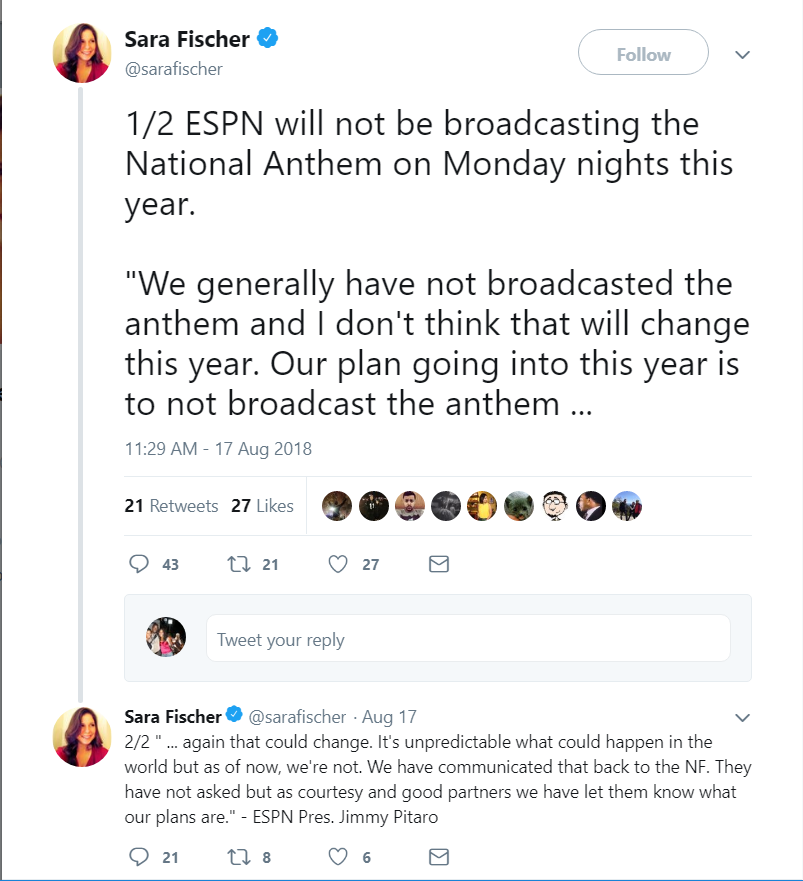 This is an interesting stance taken by ESPN, which is known for its willingness to cover and explore the intersections of sports, politics and race across its various mediums and platforms, and much to the chagrin of the far-right wing of the country.
ESPN reportedly forks over approximately $2B per season for the exclusive rights to televise "Monday Night Football." Subsequently, the sports media behemoth wants to minimize any controversies that would prevent them from recouping their substantial investment and turning a profit.
The constant protests by players have been a stone-in-the-shoes of NFL executives and owners since 2016 when former San Francisco quarterback Colin Kaepernick sat, and then knelt, in a silent form of protest of police brutality and racial injustices.
In related news, when Miami Dolphins wide receiver Kenny Stills took a knee during the anthem prior to a preseason game last week, he told the Palm Beach Post what has to take place for him to stand at attention during the playing of the "Star-Spangled Banner":
"What would it take? It would take a lot," he said. "But I think a good first step for us as a league would be acknowledging what they're doing to Colin Kaepernick and Eric Reid. You can't say as a league that you support the players and the protest and then blackball the players that initially started the protest."