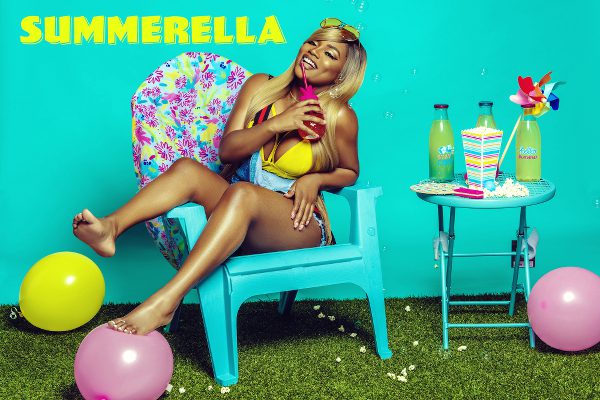 You may know Summer Boissiere, better known as Summerella, from Vine where she amassed a cult-like following of 1.5 million before Vine was shut down. Since 2013, Summerella has transitioned into a social media celebrity and has successfully used her platforms to share her musical talents with the world.
With close to five million followers across social media platforms, Summerella is using her reach to align herself for personal and business success.
Rolling out had the opportunity to discuss social media fame, her new EP First Day of Summer, and what is next with Summerella.
When did you get your start in music and how have you evolved?  
I got my start singing professionally by posting a freestyle song on an old app called Vine. The supporters were adamant about me making it into a "real song," so my mom helped me pull everything together and we reordered it. I named it "11 Something" because I actually did the freestyle at 11 something that night. Lol! It peaked at #24 on Billboard Top 100 R&B and went to #4 on the iTunes pop chart. Since then, I've put numerous songs together and just recently released my first EP entitled First Day Of Summer, which was released on my birthday, July 18. It peaked at #2 on the R&B iTunes chart.
What role does social media play in your career as an artist?
To me, social media plays a big role. It is the main vehicle in how most
millennials communicate
, share and find information. For me as an artist it is a means of sharing pieces of myself and my music with fans.
Tell us about your new album and what we can expect.  
I'm so excited about this project, because I put my heart and soul into each song. I describe it as a tribute to the '
90's R&B artists
with an updated swag. My producer, Atlanta's own PolowDaDon, and owner of Zone 4 Production company, was really chill and supportive with helping me get the songs together. Polow has really been teaching me, along with my manager/mom Kymberley Boissiere, about the business part of music entertainment.
Chris King, my studio engineer, was super awesome and made me feel really chill while recording. I really did have some dope producers like #TheMidasMob ("You on You") and Tasha Catour ("Pretty Misses In The Trap") and many more who brought some fire to the EP, as well. I even discovered some dope producers off of YouTube. I love all my songs but "Communication" and "You on You" are my personal favorites.
My supporters, #RellaGang, have shown me so much love on it, and I can't wait to start touring to meet as many of them as possible. I've already started working on my next album and will be releasing it in about 45 to 60 days.  I'll be releasing some songs on SoundCloud and my YouTube channel as well while working on my album.
What's next for Summerella?
I love acting, specifically sketch comedy. I literally just finished a short movie called
The First Day Of Summer based on my EP with a dope storyline surrounding high school.
My team, Queens Court Empire and Zone 4, are keeping me busy. There are lots of things in store. Look out for my app, RELLAWORLD, which will have exclusive content, and all things pertaining to my music, touring, contests and my merchandise. Also, my lash line will be available soon. I'm just humbled by all the love and support and looking forward to helping encourage and motivate other young and older people to go for their dreams. They really can come true.