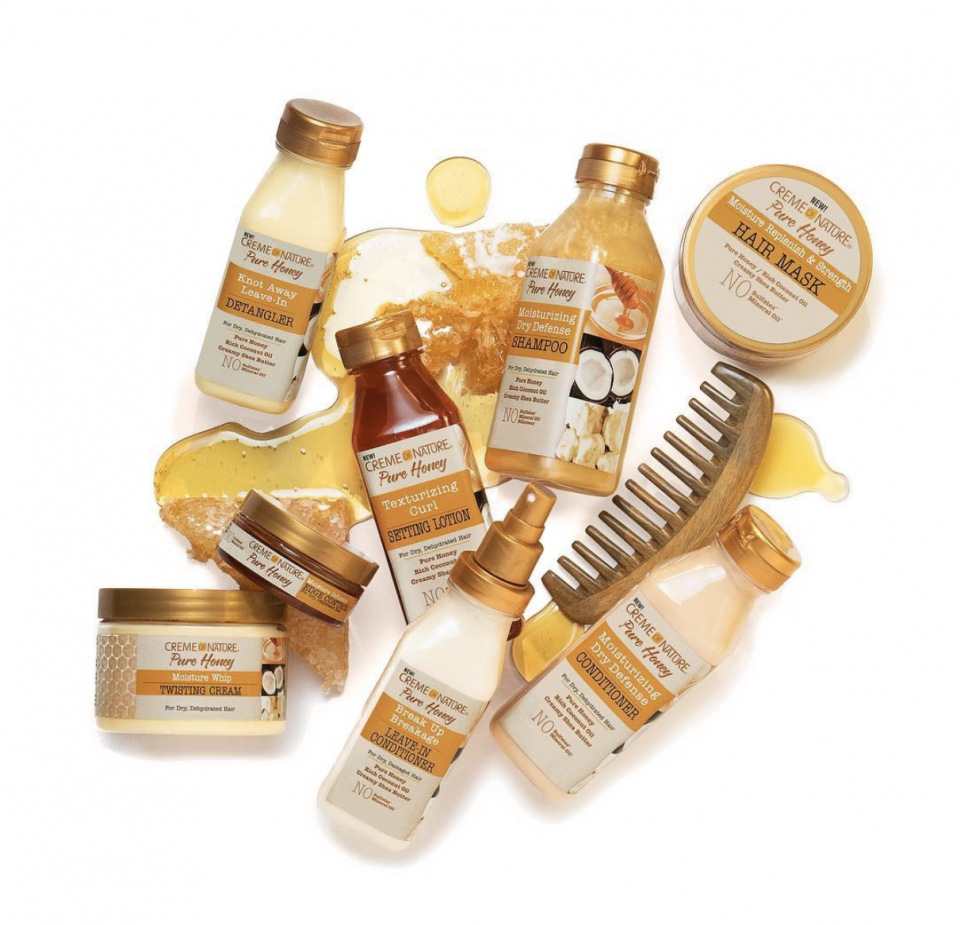 Creme of Nature has been a standing leader in the beauty industry. For years, they have been offering quality hair care products. Creme of Nature offers various product lines that cover every step of the hair care routine. When looking for shampoo, conditioners, or a leave-in, they have several options to choose from. The company just recently released its Pure Honey line. This line is all about versatility and functionality. The products are infused with a blend of pure honey, certified natural coconut oil and shea butter. Each of these ingredients is powerful by itself but together they create a moisturizing triple threat:
Honey is a natural humectant, meaning it holds on to moisture. It is also rich in vitamins, minerals, and antioxidants that help your hair retain moisture for a softer and smooth look and feel.
Coconut Oil is a leading ingredient that helps repair and restore the hair. Coconut oil softens hair and improves manageability.
Shea Butter is an amazing product that comes straight from Africa. It is known for its ability to transform dry hair and skin.
This collection was made to target all hair types. If you use this new line, you will be providing your hair with the essential moisture, softness, and smoothness it needs without weighing it down. The Creme of Nature Pure Honey line is comprised of a two-part system: hair care and styling.  This product line is made for people who suffer from dry and damaged hair. The hair care part of the line should be a part of everyone's hair routine, but the styling products can be chosen based on what you need for your hair type. If you are a wash-and-go or twist out type of girl, the Moisture Whip Twisting Cream will be perfect for you. If you like to rock the perm rod sets or flexi rods, the Texturizing Curl Setting Lotion will be a staple for your styling routine.
Hair Care
Moisturizing Dry Defense Shampoo
Moisturizing Dry Defense Conditioner
Breakup Breakage Leave-in Conditioner
Knot-Away Leave-in Detangler
Moisture Replenish and Strength Hair Mask
Styling
Moisture Whip Twisting Cream
Texturizing Curl Setting Lotion
Moisture Infusion Edge Control
All-in-all, the Creme of Nature Pure Honey line is a great choice for those who suffer from dry damaged hair. Along with the beneficial ingredients the line offers, it is also accessible and affordable. These products can be found at Walmart, CVS, Target, Amazon, Sally Beauty and other select retailers. The products retail for about $6-$10, depending on where you purchase.
You can click here to see my in-depth overview of the Creme of Nature Pure Honey product line.