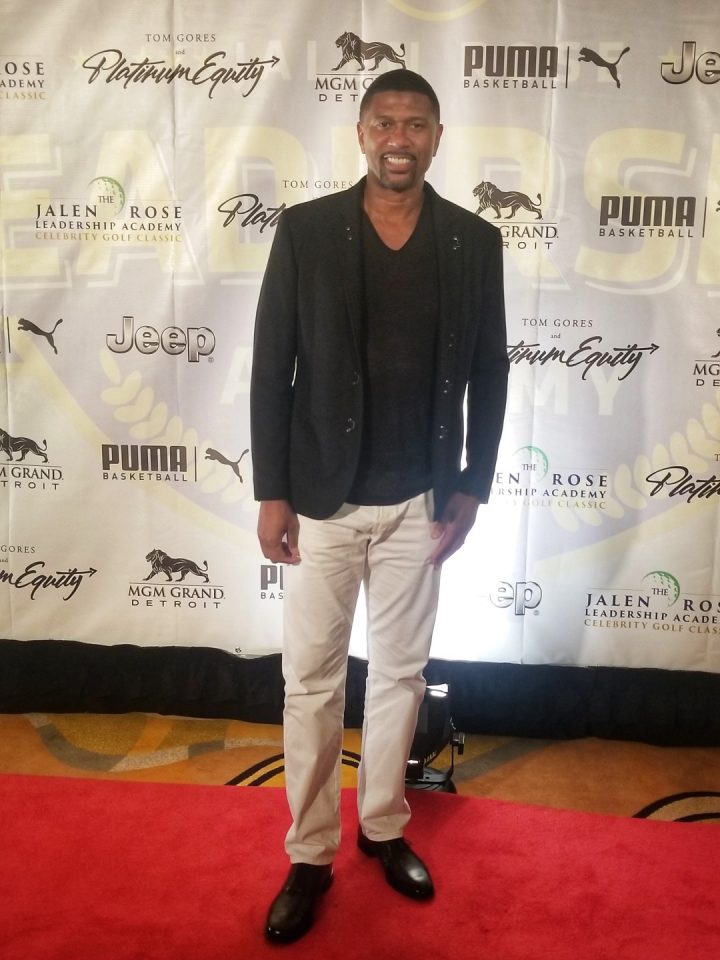 The Jalen Rose Leadership Academy red carpet gala kicked off a celebration of excellence in education on Sunday, Aug. 26. The event was set against the backdrop of MGM Grand Detroit's elegant ballroom and included a who's who of the Detroit sports world and local Detroit celebrities.
The star-studded evening, hosted by founder Jalen Rose, a former NBA star-turned-sports analyst for ABC and ESPN, was the opening event for the leadership academy's eighth annual celebrity golf classic fundraiser to benefit the Detroit public charter high school's mission to empower all scholars to develop the strength of character, skills, and knowledge needed to matriculate into, be great in, and graduate from college so that they have opportunities to be successful in the competitive world and to take care of themselves and the people that they love.
Since launching in September 2011, the tuition-free, open enrollment institution has welcomed the backing of corporate and community supporters as well as any individual equally invested in pushing ninth- through 12th-grade scholars toward a bright future.
Sports legends, local celebrities and JRLA staff alike walked the red carpet despite the sweltering heat in downtown Detroit to honor the Jalen Rose Leadership Academy's crowning achievement of a 96 percent graduation rate in 2018.
Custom-crafted cocktails flowed during the evening while Rose thanked enthusiastic attendees for their support. Brooklyn, New York, import DJ D Nice spun old-school R&B tunes and bass-heavy hip-hop that carried guests into the night, and the Detroit Pistons dance team kept the party rocking on the dance floor.
While thankful to those who have dedicated their time, money and resources to educate young people in Detroit, Rose also recalled the many challenges JRLA faced as a startup.
"The No. 1 challenge was financing," the University of Michigan basketball alum shared. "When I decided to found JRLA, I didn't have major corporations backing the school. I had to go out and recruit members of the board, [ask] people to donate and get the school authorized. When you're a charter school, you get zero funding for your facility, your athletics, extracurricular activities and for college success.
"The second challenge [involved] the people that wanted to compare public and charter [schools] to private schools and homeschooling. My goal was just to create a quality school to get kids educated in the community that I grew up in.
"Unfortunately, in an already underfunded school district, the quality of education is often governed by ZIP code. Fundraising efforts like the JRLA red carpet gala and the subsequent, sold-out charity golf outing held Monday, August 27, are necessary to fund the scholarships, technology, professional internships and the counseling support provided to students even after graduation."
The JRLA golf classic, sponsored by Detroit Pistons owner Tom Gores and global investment firm Platinum Equity, began as a mechanism to assist the school in its fundraising goals. Thanks to an all-star lineup of celebrity golfers, including NBA champion Ron Harper, former Detroit mayor and NBA Hall of Famer Dave Bing, and Rose's ESPN "Jalen and Jacoby" co-host David Jacoby, the Jalen Rose Leadership Academy has raised an estimated $2 million and counting.
Five years from now, Rose hopes to expand by bridging the widening educational opportunity gap to reach an even younger audience. Of course, a more technologically advanced, state of the art facility wouldn't hurt either.
"[In five years], we hopefully [will] have the potential to create a leadership school where we start to have sixth-graders, seventh-graders and eighth-graders. That way we reach kids earlier on, before the ninth grade," Rose said.
"I was fortunate about all the schools I went to, even though all of them are closed," he added. "One of the things that encouraged me to [open a school] is because in a city like Detroit, [we] will continue to build jails while closing schools. It's my hope that [JRLA] will continue to graduate young people at a high rate and produce functioning members of society that are disciplined, diligent and successful."
In between enjoying the gala's tasty dinner selections and delectable dessert bar, JRLA basketball coach Eugene North couldn't help but to share his enthusiasm for what the academy's accomplishments mean to him as the head of JRLA's basketball program.
"JRLA is my life," North said. "The support [you get at JRLA] is next to none. They promote the school as a family. There's a family atmosphere here with all hands on deck. Everyone is included. I truly enjoy the family environment there."
That same sense of family is one of the core values that the Jalen Rose Leadership Academy instills in its young scholars. As one of the most accomplished members of the Michigan Wolverines "Fab Five," Rose feels it's his duty to make education as cool as his college teammates did for "black shoes and black shorts."
To realize his dream of empowering Detroit youth and their families through education makes him thankful to be a part of an elite group of athletes starting to change the lives of kids everywhere.
"I'm proud of LeBron and Lamarr Woodley. [I'm also proud of] David Robinson and Kevin Johnson [who opened schools] before me. Andre Agassi has done it in Las Vegas. There have been a lot of people that have done it before me to lay the groundwork, and I'm just trying to do what I can to carry the baton," he said.
For a recap of the JRLA red carpet gala at MGM Grand Detroit follow the Jalen Rose Leadership Academy on its social media platforms — @jalenroseleadershipacademy on Instagram and @jlradetroit on Twitter.
For more information about the Jalen Rose Leadership Academy or to support its efforts, visit www.JRLADetroit.com.