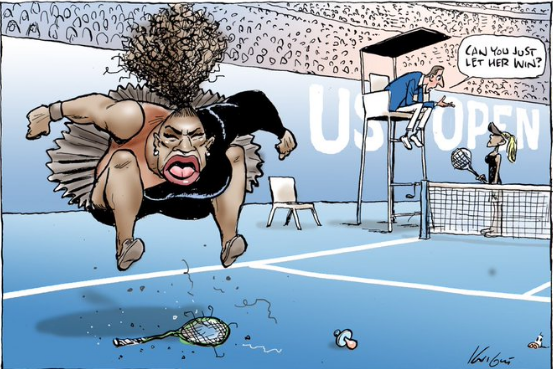 An Australian newspaper cartoonist is incurring the righteous wrath of the international community after he drew an image of Serena Williams as a monstrous, beastly looking figure in the aftermath of her bitter argument during the U.S. Open Grand Slam. 
Herald-Sun cartoonist Mark Knight's image shows a hulking, muscular, grotesque depiction of Williams stomping her racket into the ground after getting penalized for arguing a call. A discarded pacifier is spat out nearby as if Williams is a gigantic toddler throwing a tantrum. In the background, umpire Carlos Ramos says to her opponent, Naomi Osaka, "Can you just let her win?"
Knight's depiction of Williams is a startling reminder of the racist tropes that continue to plague Black women. Williams has repeatedly been a target of mean-spirited mocking of her physique, particularly of her ample derriere, throughout her historic career.
Furthermore, it underscores the resistance by the White status quo to Serena, 36, a Black woman and the sport's greatest attraction, who is also on the verge of breaking the all-time Grand Slam record held by Margaret Court at 24. Serena currently has 23 Slams, one ahead of Steffi Graf's 22 and five more than Martina Navratilova and Chris Evert — the latter three being the undisputed golden goddesses of the sport.
The Herald Sun remains defiant and resolutely supportive of its cartoonist:
The likes of ESPN's Jemele Hill and megastar author JK Rowling vehemently disagree, tweeting that the cartoon is perniciously racist.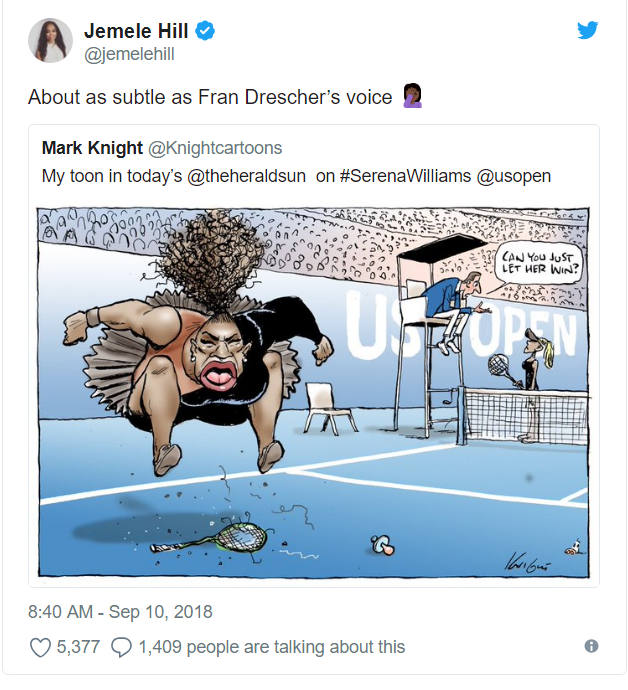 Many people agreed with Hill, including former NBA player Etan Thomas.
"It's 2018. How is this cartoon considered okay?" Thomas asked. "This is going back to the early Disney racist disgusting characterizations of Black people. Just dehumanizing. Then he made #NaomiOsaka into a white girl with blonde hair. This is not just an insult to #Serena but to all Black women."
This, one Twitter user said, is a throwback to slavery when Black women were treated like zoological curiosities.
"Are you a media company for white supremacists and racists only or do you want subscribers from diverse backgrounds?" one person asked. "@Knightcartoons cartoon is unfit for publication. Your support of this blatant racism is not acceptable."
Meanwhile, the heads of the Women's Tennis Association and the United States Tennis Association have both spoken out on Serena's behalf, calling out the unequal treatment that female athletes receive, especially when compared to men when arguing with umpires. USTA President Katrina Adams praised Williams for her "class" and "sportsmanship."
"We watch the guys do this all the time, they're badgering the umpire on the changeovers. Nothing happens. There's no equality. I think there has to be some consistency across the board. These are conversations that will be imposed in the next weeks," Adams said.
Check out responses by others outraged by the cartoonist's depiction of a sports legend.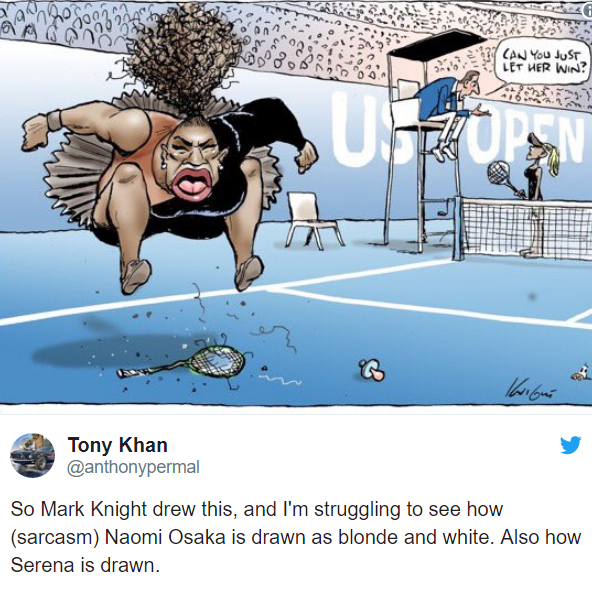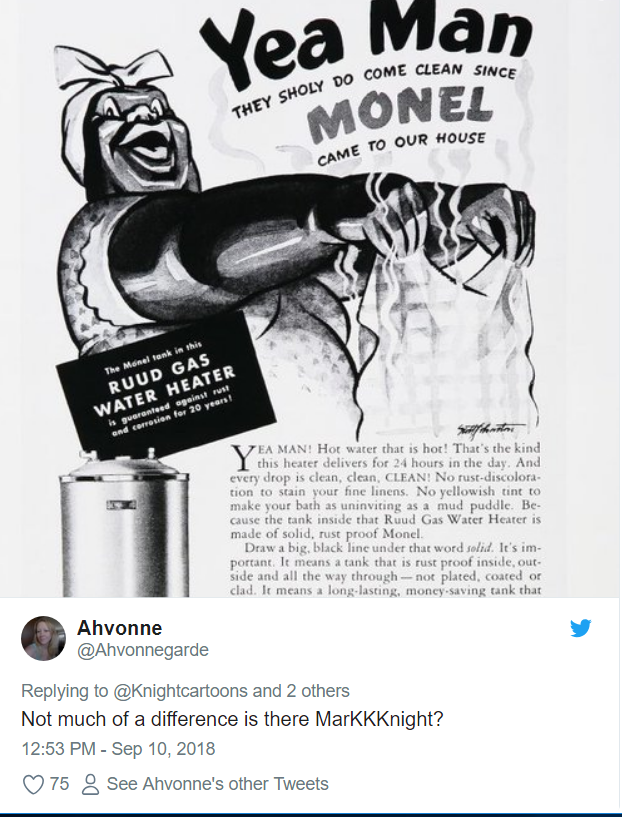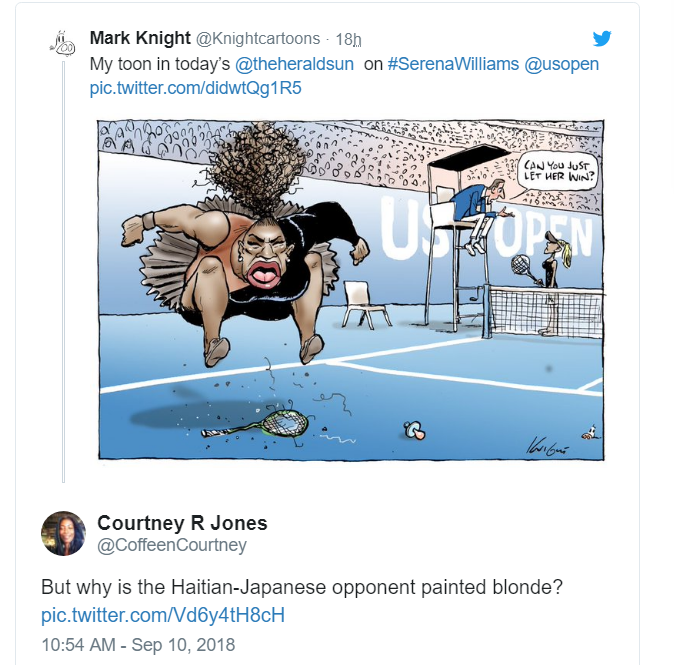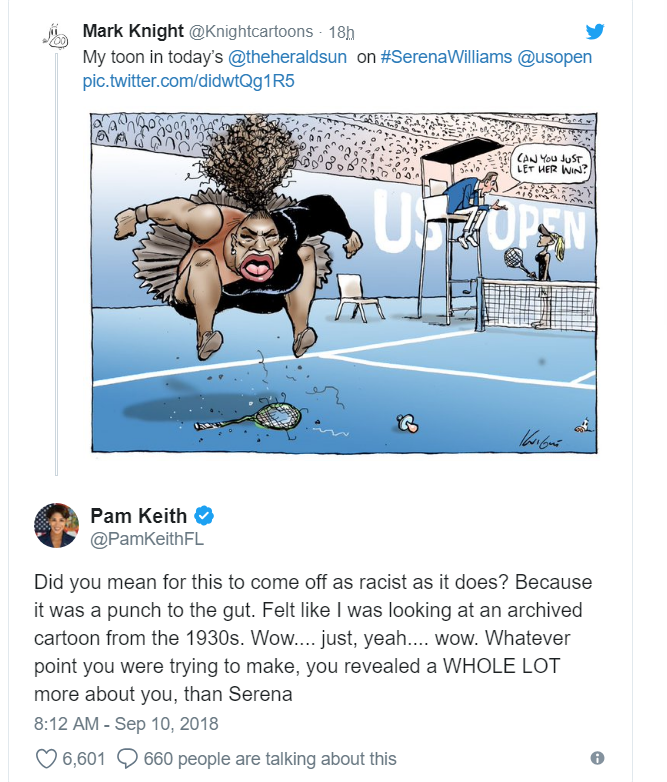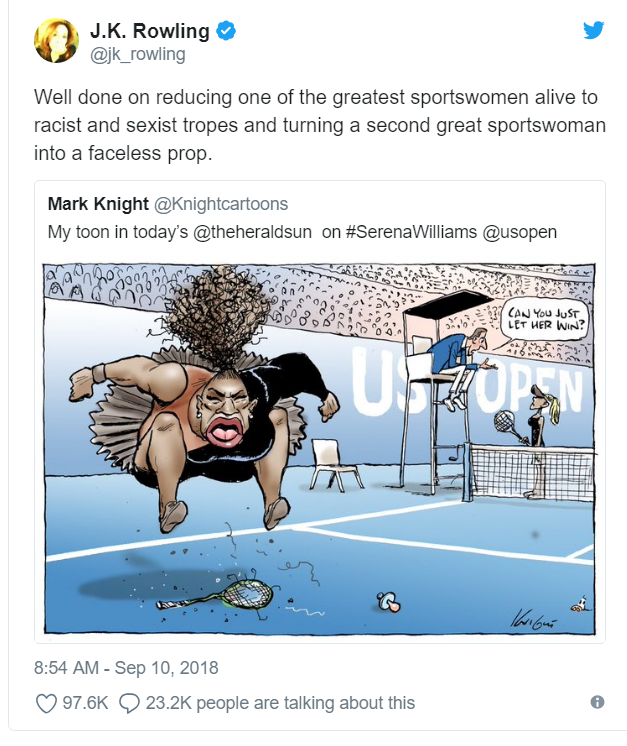 Here is a history of racist cartoons, as reported by Slate.com: