Quick, someone go check to make sure that Donald Trump hasn't collapsed. Nike stocks are at an all-time high.
Only 10 days after Trump gleefully tweeted that Nike was getting "absolutely killed with anger and boycotts" for audaciously using former quarterback Colin Kaepernick as the face of its "Just Do It" 30th anniversary campaign, the sports apparel behemoth's stock price closed at an all-time high on Thursday, Sept. 13, at $83.47, according to Bloomberg. 
Only a week after No. 45 asked what the company was thinking with its divisive decision, we think Trump has his answer from Nike and its legion of sneaker fans.
LeBron James, the NBA megastar and one of Nike's biggest endorsers who signed a lifetime contract with Nike a few years ago, was joyous over the news. It also looks like LeBron is throwing subtle shade at Trump, his political adversary, who criticized LeBron for calling Trump a divisive figure in America.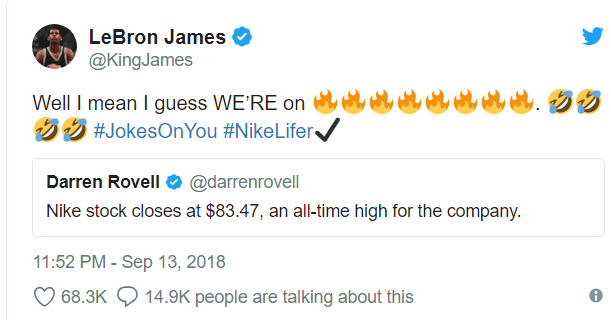 Things did not look good initially when the Kaepernick commercial came out and the righteous indignation was deafening. As Trump screamed foul from the top of the White House, many of his followers filmed themselves burning Nike apparel. Nike stocks dipped significantly on the New York Stock Exchange. Even the mayor of one Louisiana town tried to ban the gear from being sold at public facilities before he backed off that loud but hollow rhetoric.
Nike has since rebounded and then some, with the current price slightly besting the company's previous high of $83.00 from Wednesday and an earlier peak of $82.95 on Aug. 21, 2018.
Very few people could have prognosticated such a bounce back after Kaepernick tweeted out a two-minute video in which he narrates the stories of athletes who have beaten the odds and ends with the words, "It's only crazy until you do it," followed by "Just do it."
According to Bloomberg, the day after Labor Day, Nike purchases were 22 percent higher than the same day in 2017. Sales were 42 percent higher the following day with Thursday being 23 percent higher. Overall, the sales remained above 2017 levels all of last week.
The caveat, Bloomberg says, is that 10 days is much too short a period to determine if Kaepernick is responsible for the spike in Nike stock prices.