Just three days after putting Tiffany Haddish on high heat for allegedly being overrated and being unable to string two consecutive jokes together, superstar comedian Katt Williams squashed the beef with Haddish backstage at the Emmy Awards in Los Angeles.
In a series of photos taken with Haddish, the always volatile and equally hilarious Williams is seen bowing before Haddish. Williams, 46, took a knee before Haddish, 37, in an apparent guilty/make-up gesture.
Williams openly questioned Haddish's skill set and stand up comedy abilities during a scorching radio interview at V-103's "Frank and Wanda Morning Show" in Atlanta on Sept. 14. Williams also blasted the abilities of Kevin Hart, the co-star with Haddish in the upcoming comedy Night School, while also saying that Haddish was given opportunities in Hollywood because she married a white man and proclaimed publicly her desire to get with white men, particularly legendary actor Brad Pitt.
After the show, the Night School actress posted a series of pictures to her Instagram with her fellow Creative Arts Emmys winner, who both took home awards on Sept. 8 for guest roles. Haddish won Outstanding Guest Actress for hosting "Saturday Night Live," while Williams won for Best Guest Actor for playing Willie on Atlanta's "Alligator Man" episode.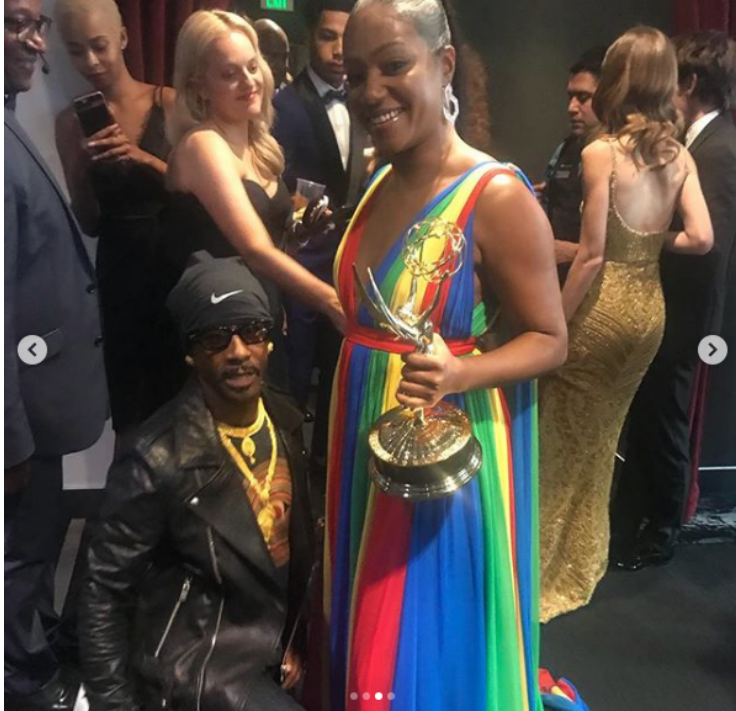 Despite the fact that Haddish won her Emmy for being funny, Williams basically said she is not.
"She's been doing comedy since she was 16. You can't tell me your favorite Tiffany Haddish joke," Katt had said on V-103. "Why? Because she ain't done a tour yet. She ain't done a special. She has not proven the ability to tell jokes, back to back for an hour," he said.
He took it even further, saying that anyone could have played her role in the $100M blockbuster comedy Girls Trip, which catapulted the former homeless Haddish to immediate international fame in 2017.
"Did you think she wrote Girls Trip, goofball? Or do you think that was already a script and they handed it to her? It's up to you whatever you want to believe," Katt said during the radio show. "They like her because she wants to sleep with a white man, that's why the only thing she said was, 'I want to give it to Brad Pitt.'"
Interestingly enough, Williams and Haddish co-starred in the 2014 film School Dance.
The video clip of Williams' radio interview went viral almost immediately. Later that day, Haddish responded with this note on her Twitter account: "It's official I made [email protected] talked about me and didn't have his facts right," she said. "#Iwin #sheready I look forward to seeing you on Monday Katt, when we pick up our Emmys. I just want to shower you with REAL Love cause you need it, and I Love you."
What do you make of Williams getting on one knee before Haddish and playing like he's wiping her feet? Was Williams being a hater by throwing shade at Haddish since she broke out as a mainstream star after their 2014 movie together and Williams did not?