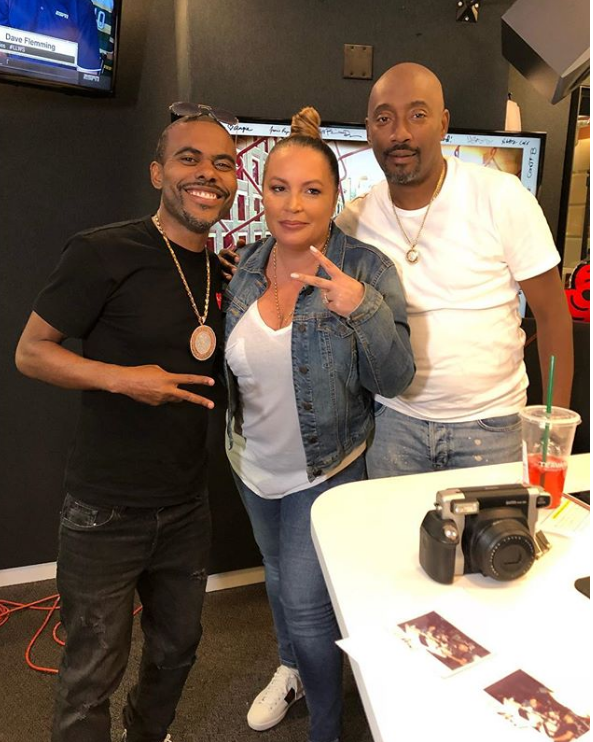 Ever wonder how trap music pioneer and hip-hop heavyweight T.I. was able to procure that sweet commercial for Chevrolet alongside legendary NASCAR racer Dale Earnhardt? Or how the King of the South got those mega branding opportunities with the likes of Martell Cognac, Coors Light and Heineken?
Those are the kinds of things that fall under the purview of Grand Hustle vice president Clay Evans, the man who is called the "hustle" in Grand Hustle. In addition to all of his other duties, such as dealing with managing shows, negotiations with T.I., brand management and overseeing the development of all artists at Grand Hustle, Evans also runs his own company, Rubicon Entertainment. In that capacity, Evans handles comic acts like Lil Duval, is a managing consultant for Travis Scott and manages tours for Scott and others such as the iconic rapper Big Boi.
You would think that someone associated with Tip would be born and bred in the ATL. But his journey in life began high up in the Buckeye State, in Cleveland, where he got his introduction to music from his mother.
Clay's lifelong love affair with music emanates from his mother taking him to concerts as a pubescent, where he was able to see the likes of Michael Jackson and Prince during their Thriller and Purple Rain days.
"It just came to me that I fell in love with music because my mother took me to concerts at a young age. She took me to see Michael Jackson and Prince and others at a very young age. And I didn't know it at the time [but] that would be where my passion for music came from," he says.
Evans began constructing his illustrious music career when he left Ohio and lived in London. That's where the former airman in the U.S. Air Force and burgeoning music aficionado started hosting parties in his barracks — the equivalent of college dorm rooms. He was so successful at it that he started planning and executing parties for the entire military base at the base club.
"With me being in the military, it just taught me discipline and direction," says Evans. "And in this game, you have to be disciplined and on time, paying attention to detail. And it helped me not just with music management but tour management."
Those character traits would serve him well as he worked at the famous Patchwerk Recording Studios, formerly owned by ex-Atlanta Falcon Bob Whitfield. It was there that he would make the fateful introduction to the young and hungry rap star born Clifford Harris Jr.
"The blessing is that when I started working with T.I., he wasn't a big star. He was just a young G with a dream," Clay recalls of the time that Tip guested on the record of one of his groups. And it was with T.I. that Evans began to earn the moniker "hustle."
"At that time, T.I. had just gotten a deal, and I was booking Tip myself in different cities. When he wasn't actually getting booked, I booked him into cities or situations that I created. I went to the venues. I created the radio buys. I hit the city and [would] promote him. That's officially why I call myself the 'hustle' in Grand Hustle," Evans says.
And when T.I. blew up, Evans was able to put his expertise into play and grow his own business, Rubicon, where he managed careers and touring with Tip and others, including Big Boi.
"It helped me evolve as a businessman and a person because I became more identifiable," he said of the time when Tip took off like a rocket and became internationally known. "The connections that I gained or the relationships that I gained, I had an opportunity outside the military to build into something. It gave me a platform on a wider scale. The blessing is that I was well traveled before I met T.I. I'd been around the world. This gave me a vehicle to travel around the world where I didn't have to pay for it."
Evans had to hustle and grind the old-fashioned way before the internet revolutionized virtually every aspect of life in America and the world.
"Back then we didn't have social media. We didn't have Instagram where we could just go on there and I could talk to an artist or talk to a company [and the company] could respond directly," Evans recalls. "Back then, I had to look at the back of the album cover, and if I saw a person's name five or six times on an album cover, I would identify who that person was, and most of those people were in New York at the time. I wasn't in New York."
Evans also encourages music industry aspirants to become very familiar with a couple of books that helped provide him with indispensable self-training about the music game.
"The best book I read was Everything You Need to Know About the Music Industry. And of course The Art of War. Those are the two books that gave me my platform for creation," Evans says.
In The Art of War, Evans learned that "the time to prepare for war is during the time of peace. I really believe that. Most people get into this music business when they have a hit record. But they weren't prepared for the success. They weren't prepared for the business side. … Those books go hand in hand for me. So, when ain't s— happening is when you should do the most studying," he says.
And, of course, Evans credits his military training for giving him his solid foundation. "Stay ready, and you don't have to get ready. That goes back to my deployment days where I always kept my bag packed. So when it's time to move, you move," he says.
Evans also offers music industry hopefuls a few pieces of advice when working their way into the game:
1. "Invest in yourself. Because if you don't invest in yourself, then how the f— do you think someone else is going to invest in you. You can't walk away from a situation if you don't have any negotiating power. Why was Dave Chappelle able to walk away from $60 million? Outside of those millions, he knew his worth. Money should not determine your worth, it should just add to your worth. That's just reality to me."
2. "Loyalty. Don't confuse loyalty with self-value. You can be loyal, but you can't forget your own worth."
Check Evans out at [email protected] or rubiconatl.