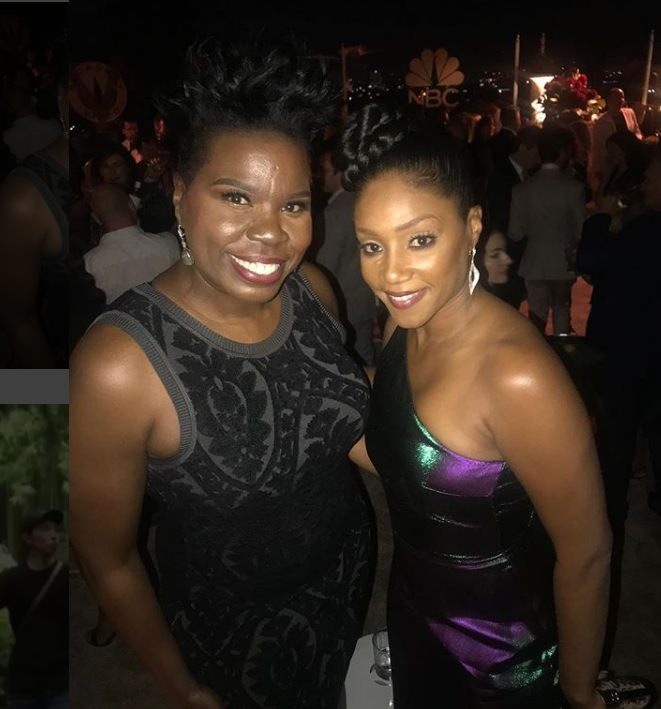 Forget Cardi B and Nicki Minaj. Never mind Kanye West firing off on Nick Cannon and Drake. Comedians are beefing more than rappers nowadays.
Comic star Leslie Jones unleashed her blowtorch on fellow funnyman Kevin Hart, calling him a liar shortly after he "bodied" Katt Williams and again when he famously blasted Tiffany Haddis this past weekend.
Whew! Are you tired and confused already? Join the club.
As rolling out reported, Hart went on "The Breakfast Club" in New York and absolutely destroyed Katt Williams over his devastating dismissal of Tiffany Haddish's comedic skill set on Atlanta's "Frank & Wanda In the Morning" show.
During the time he was lambasting Williams into oblivion, Hart also said that he was the one who helped put Leslie Jones in the comedy game along with other comediennes.
And that's when Jones slammed on the brakes.
The "Saturday Night Live" star told Bossip that both Hart and Williams are lying and name-dropping about whom they helped in the business and that they both need to shut up and use their mouths for … well … just read Jones' comments as she is at her vulgar best:
"Real talk both of them n—-s need to keep my name out they mouth unless they using it to eat my p—-. Real talk! None of those n—-s put me on or any woman," she seethes in the interview.
"While he talking about Katt what did he do to put women on he didn't help females they wasn't on his tour. F— THAT N—-!!
"At least Katt put me on his tour. Kevin could have put me on a long time ago but he never respected me or my comedy and trust I can call his card he know I can. Both Kevin and Katt was the same to women like all these n—-s in this game. Sh—y. and still is. Women have never had it good. At least Katt put women on his tour or shows. How many shows back in the day didn't have a woman on them. Kevin that mf told me one time I would never make it. (sic)"
Ouch.
If anything, Jones credits superstar political comedian Chris Rock for helping to open a few doors for her, not Hart or Williams.
"So I'm calling all cards I ain't got to lie I made it without either one of them. Chris rock was the one who put Me on and Neal Brennan a WHITE comic/writer. Not them!! And I still had To work my f—ing a– off to make it happen!! So nobody is telling the truth! everyone need to shut the f— up!! Before I tell whats really real!! And they all know I know. I haven't said s— about anyone and if I do I keep it real and respectful and honest. What's upsetting me is anybody SAYING ANYTHING!! Shut the f— up and do your f—ing job cause this ain't it. While y'all on columns downing each other and lying on each other no one is telling jokes. SHUT UP AND DO YOUR F—ING JOB!! Keep my name out your mouth I dont talk about any of you!! (sic)"
There are too many swinging fists to get in the middle of this comedy brawl. Besides, the warring factions just keeps growing in this escalating fight over who put on who, and who dissed who, and who lied about whomever.
What do you make of Jones' comments? And does that make you look at Hart a little differently since he said he is the star who put people on?