A Shakespearean tragedy has just concluded with a once powerful Hollywood power broker now a broken and brittle elderly man, seemingly resigned to a fate he knew was coming.
Legendary comedian Bill Cosby, the architect of the historic and transcendent "Cosby Show," was expressionless as he was perp-walked from the courtroom, handcuffs and a cane in front of him, and escorted straight to prison after being sentenced to 3 to 10 years in prison for drugging and sexually assaulting a former Temple University employee, Andrea Constand.
The decision created tremors that reverberated throughout the country around the globe and was as varied as the nations occupying the globe.
Some see this as an appropriate punishment after decades of alleged sexual abuse of innocent women by a powerful predator who preyed on the flesh of the innocent and naive. As far as they are concerned, it was apropos that Cosby was unable to even go home to get his affairs in order and kiss his wife and surviving three children before trading in a massive mansion for a claustrophobic-inducing 6-by-9 cell.
"This has been a long journey to justice," said celebrity attorney Gloria Allred who represented some of Cosby's victims as she spoke to a mob of media members outside the courtroom.
"This is a serious crime he was convicted for. This is a sexual assault crime," said Judge Steven O'Neill.
For some victims, this verdict and sentencing serve as a cathartic cleansing that enables them to scrub the sexual abuse from their souls.
"Just listening to this is stirring up some very difficult and deep emotions for me because I was a part, I saw the violence in Bill Cosby when he attacked me," says Cosby accuser Kathy Mckee, according to CNN.
Others still remain incredulous that Cosby has been convicted while Harvey Weinstein, Matt Lauer, superstar actor Kevin Spacey and the occupant in the White House all remain free.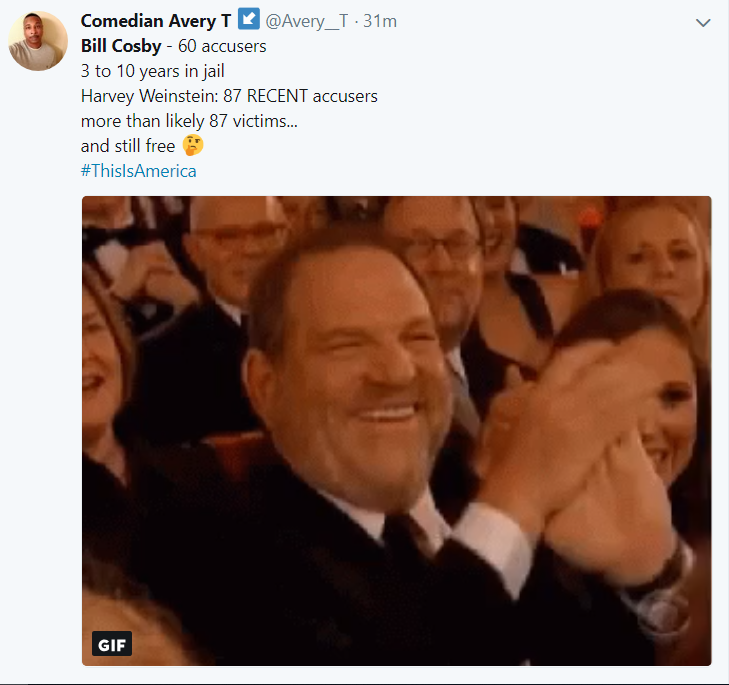 As you might expect, the reactions on social media were passionate, partial and as different as the colors in the spectrum. Check them out below: