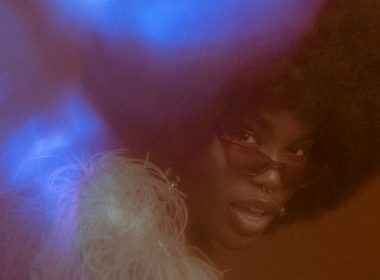 Meet rookie singer, model and instrumentalist Tanerélle Stephens. The triple threat ignited a following for her music on Spotify with more than 3 million streams and took social media by storm when she introduced the voluptuous liberation of her body in her posts.
This year, her new single, "In Women We Trust," has been in rotation in H&M stores internationally, and MTV has featured three of Stephens' singles on their hit show "MTV Teen Mom."
During her childhood, Stephens was introduced to a variety of artists: Sade, Paramore, Michael Jackson, Destiny's Child and Stevie Wonder. Over the years, streaming services have labeled her music as pop, R&B, soul and electronic, but Stephens says she welcomes it. "I make everything. Music is so much more grand than that. My childhood was more versatile than that. I'll probably have a rock album at some point."
Artists are too often placed in a box and labeled as only being able to produce one sound or look, which makes them boring, she says. "I want my music to be able to reach different people. I want my music to aspire as wide as possible. Actors don't make just one type of film. And when some do, we get tired of that s—. I won't limit my capabilities."
The Atlanta native moved to L.A. when she was 18 after convincing her mother, a single parent, to let her live on the West Coast. "And I am the only child. … I knew my mother wouldn't let me just move to L.A., so I ended up going to school there", says Stephens. "I had to leave. I felt suffocated and being [in Atlanta] was holding me back from true potential. It felt like stalling your evolution for people."
Stephens stepped into the music industry with her futuristic vibes in 2015 with her debut single "Siren." Not long after, she started working on more music, but not without needing financial help. Being a struggling independent artist, she created an online funding campaign on Kickstarter to bankroll her EP. She raised beyond the campaign request and released her seven-song EP called 11:11 in 2017. 
During the process of making her music, the 24-year-old says her passion as a Black woman grew as well as her personal definition of feminism. "My feminism is every woman having the right to herself. That encompasses everything within itself," she explains.
"Society has made all the decisions about me and has given that decision to men, and I don't like that. Everyone is making decisions for us about us. I don't have to answer to anybody. And I'm passionate about my Black. We don't matter within certain realms of femininity. All of those women who were at the women's march should've been at the Black Lives Matter march. A huge part of my art is uniting women and uniting Black people, and the basis of my music is to heal, feel and celebrate."
After releasing two singles this year, "Dreamgirl" and "In Women We Trust," Stephens is already shaping up for a busy 2019. She didn't seek a large music label previously because she didn't feel as though she "had enough negotiating power." Now that her profile is rising, she is shopping for a major label.
"It has been difficult as an independent artist but very rewarding. The outside noise doesn't bother me," says Stephens.
"This year I released two singles, and I have a lot more music I want to release. I am looking to sign with a label now. A label will push my art in a major way. I just want to keep creative control over my craft. I want to grow, but I don't want to change my ways of being an expressive artist. I have a lot planned for next year."