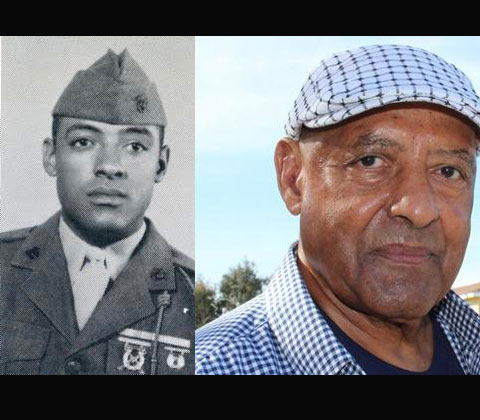 On January 30, 1968, the United States Marine Corps took part in what became known as the Battle of Hue. The city of Hue was the ancient capital of Imperial Vietnam and was not only a historic city but also of strategic importance because it provided access to the Perfume River and NVA supply lines. During this battle, Marines were vastly outnumbered by the North Vietnamese Army (NVA) and Vietcong forces. Sgt. John Canley, at the time 19, proved the Marine Corps adage that among the Corps "Uncommon Valor was a Common Virtue."
Gunnery Sergeant Canley found himself in command of 140 Marines when his commanding officer was seriously wounded. The young Marine did not despair but instead rose to the occasion, leading his men against an estimated 10K NVA regulars who had taken position in the city. According to his fellow Marines, Canley carried wounded Marines under intense fire to safety repeatedly. In addition, Canley dodged enemy fire and was able to get above an NVA strong point and drop a heavy explosive satchel charge on top of the enemy, resulting in large casualties. Even after being wounded, he encouraged his fellow Marines and after the battle was awarded the Navy Cross, the military's second-highest decoration awarded for valor in combat.
But other Marines felt Canley's award should have been upgraded to the Medal of Honor. For decades, fellow Marines who fought with Canley that day wrote letters and sent in testimony asking that his medal be upgraded. One Marine who at the time was Pfc. John Ligato, told Military.com, that "The Medal of Honor was rejected 10 times — never on the merits of what he did, it was always procedural. There were times I gave up. … But the irony is he's one of the most deserved Medal of Honor recipients ever in the history of our country."
Apparently, it was something that Marine Corps higher ups finally agreed to and to the shock of Canley, he will be presented the Medal of Honor by President Trump on October 17, 2018, at the age of 80. As with many true heroes, Canley was humble and is quoted as saying, "I am accepting this on behalf of all the Marines I had the honor of serving with in Vietnam and who continue to be an inspiration to me everyday. Their bravery and sacrifice is unparalleled. I also want to thank Congresswoman Brownley and her staff for their continued work to help make this happen."
The effort to get Canley the Medal of Honor was led by Congresswoman Julia Brownley-CA, who stated, "Sergeant Major Canley is a shining example of why our Armed Forces are the best military in the world, and his heroism and bravery showcases what being an American hero truly means. I am so happy that the White House has announced that he will receive the Medal of Honor for his gallantry during the Vietnam War. It was my great honor to have him attend the State of the Union with me this year, which fell on the 50-year anniversary of the start of the Tet Offensive, where his extraordinary actions saved so many lives. I look forward to Sergeant Major Canley finally receiving this much-deserved honor, and thank him for his unwavering dedication to our nation and his fellow service members. This is truly an example of how bipartisanship is possible, and I hope we can continue to work in that manner going forward."
The US Marine Corps was the last branch of the military to fully desegregate and it was only during the Vietnam War that a Black officer was allowed to lead combat troops. Canley's medal is a victory that continues to show that in all wars that America fought, Blacks were present, active and heroic. As a Medal of Honor holder Canley is now eligible for the following benefits:
A Special Medal of Honor pension of $1,329.58 per month above and beyond any military pensions or other benefits for which they may be eligible.
Special entitlements to Space "A" air transportation.
Enlisted recipients are entitled to a supplemental uniform allowance.
Commissary and exchange privileges (includes eligible dependents).
Admission to the United States military academies for qualified children of recipients – without nomination and quota requirements.
10 percent increase in retired pay.
Medal of Honor Flag.
Allowed to wear the uniform at anytime as long as the standard restrictions are observed.
Many states offer Medal of Honor automobile license plates.
Interment at Arlington National Cemetery if not otherwise eligible.