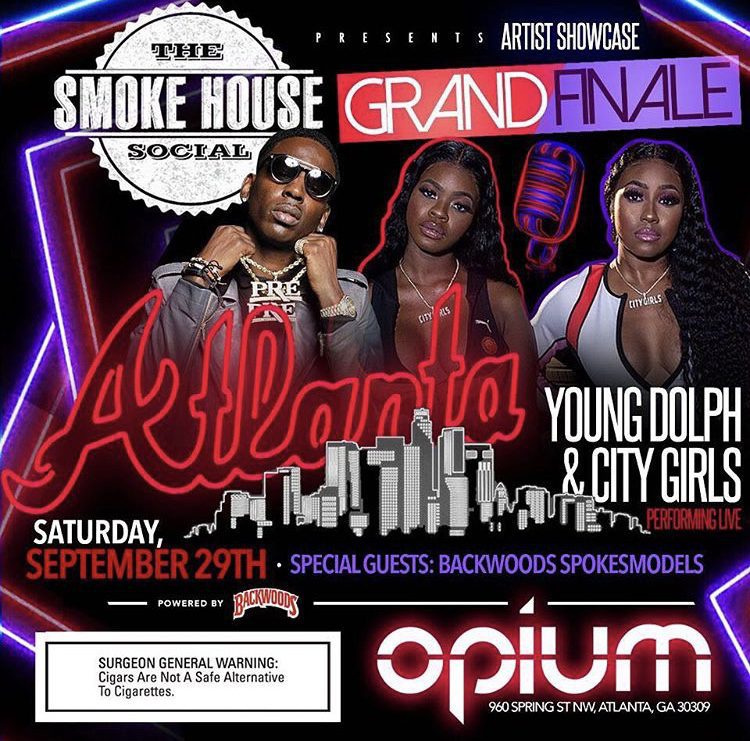 Following a deep nationwide search that exposed some of the hottest aspiring artists from city to city, Smokehouse by Backwoods has selected 12 finalists for the Smokehouse Social Artist Showcase. The grand finale will take place Saturday, Sept. 29, from 10 p.m. to 3 a.m. in Atlanta at Opium.
This event will be hosted by "Love &  Hip Hop: Atlanta" star K. Botchey, with DJ Quest spinning all the crowd's favorite hits. To make the night even better, hip-hop giants Young Dolph and the City Girls will be performing live. There will also be giveaways and 360-degree photo booth fun for attendees to enjoy between performances. 
All 12 finalists will have the chance to lay there artistry on the line and put on for their respective cities as they take the stage one last time and compete for the Smokehouse Social Artist Showcase crown. Audience members will participate in selecting the winner by "text to vote." The grand-prize winner will receive studio sessions, a sponsorship and a chance to sign with a record label. The runner-up will receive access to studio sessions.
Best of luck to all of the contestants:  @E_2chapo, @LeegitLive, @Drecks_gg, @OfficialBFree, @Alchapo_99, @ThaVilleSide, @ImKrisJ, @MvilrtMicki. @Bossedup_MarleyG, @Aroneaston, @_Dreci, and Trajiworld!