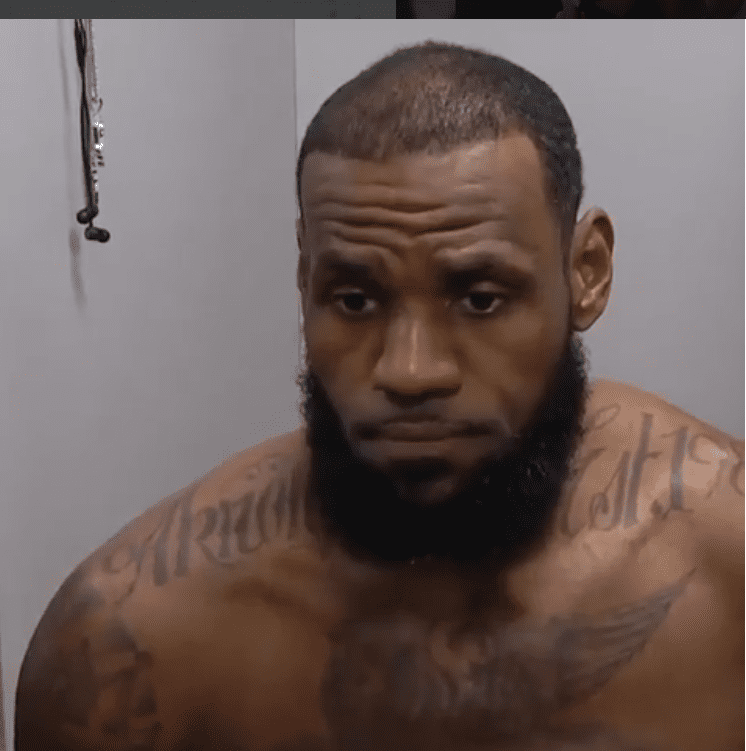 The nation's most famous athlete stands alongside its most controversial. LeBron James says without equivocation that he agrees with what Colin Kaepernick stands (and kneels) for.
King James, 33, flossed a Colin Kaepernick shirt to the latest Lakers preseason game at Staples Center in Los Angeles on Thursday night. The name "Kaepernick" was emblazoned clearly on the upper part of the T-shirt, as reported by TMZ and other media members.
To boot, LeBron's Instagram post was liked by New York Giants wide receiver Odell Beckham, former Dallas Cowboys star Dez Bryant and Los Angeles Rams award-winning running back Todd Gurley.
This is not just a throw-away shirt, either. It was made by Nike — the same company that featured Colin as the face of its "Just Do It" 30th-anniversary campaign.
Nike is also the company that Donald Trump hoped would tank after Nike used Kaep as the endorser for its legendary commercial. However, after tanking in the first few hours, Nike's stock market shares rebounded with unprecedented ferocity and ended with the highest stock market value in the history of the shoe and apparel company.
LeBron also has a lucrative deal with Nike. LBJ publicly praised the company for having the intestinal fortitude to feature Kaep in its promotional TV campaigns, despite being hated by the far right and White racists.
This is not the first time LeBron has taken a bold political stance on issues related to minorities. He and his former Miami Heat teammates wore hoodies after the murder of Trayvon Martin by George Zimmerman. A few years later, King James also wore a "Can't Breathe" T-shirt after Eric Garner was killed during an illegal chokehold administered by a police officer in the Staten Island borough of New York City.
King James, who has endured his share of hate for taking strong political stances, was clearly not worried what his critics might say. This, he intimated, was a principled stance he was taking.
"I wore a Kaepernick shirt tonight, one, because it's Nike and I'm a Nike guy. And then, two, I support Kap. I've always supported Kap and what he stands for and what he believes in."