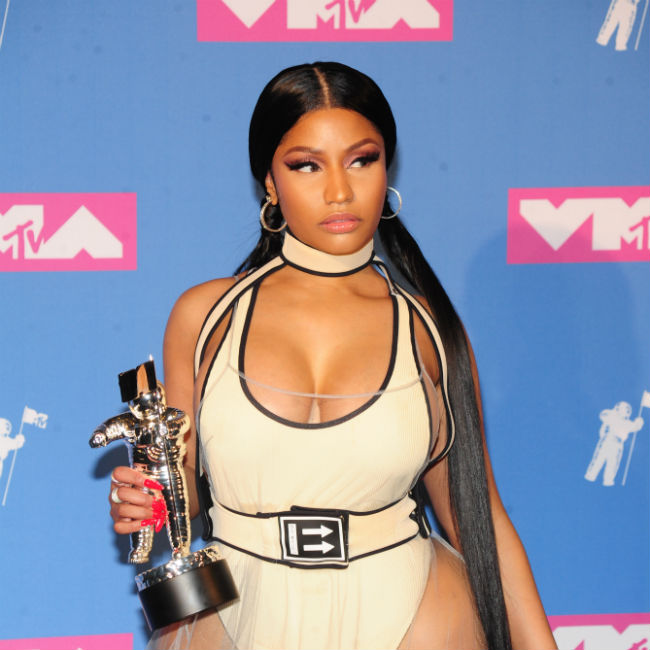 Nicki Minaj is being sued by her former stylist over $74,000 worth of clothes.
Maher Jridi claims he was a stylist for the rapper in 2017 and alleges he spent thousands to rent clothes for her to wear to numerous events.
According to TMZ, Jridi alleges Nicki wore the clothes but never returned them, and he now owes $74,000 after being sued over the missing items. He is suing her for the bill.
Meanwhile, Nicki has released a new fashion range based on her fight with Cardi B.
The "Chun-Li" hitmaker clashed with the "Bodak Yellow" rapper at a New York Fashion Week party last month and after their feud escalated following the row, the 35-year-old star has used Cardi's own words as a slogan on some new merchandise.
The collection features a fluorescent pink backpack, T-shirts and a bright purple jacket, all with the phrase "Nicki Stopped My Bag" written across it.
The wording comes from Cardi's choice of language when she defended herself after the fight after being escorted out of the party.
She fumed on Instagram: "I've let a lot of s— slide. I let you sneak diss me. I let you lie on me. I let you attempt to stop my bags, f— up the way I eat! You've threatened other artists in the industry, told them if they work with me you'll stop f—ing with them! I let you talk big s— about me. (sic)"
The "Barbie Dreams" hitmaker later lashed out at Cardi, who has been recording new music with Nicki's former boyfriend Meek Mill, after footage of their fight surfaced online.
She said: "You knew that when that footage came out, you were about to look dumb. So your team, they hurry up and put out a statement. I didn't stop anyone's bags."
Nicki previously confessed she was "humiliated" by her fight with Cardi and was embarrassed by the brawl, which allegedly included her rival throwing a shoe at her.
She shared: "The other night I was a part of something so mortifying, so humiliating to go through in front of upper echelon people — it's not about black or white — people who have their lives together. I was mortified … I could not believe how humiliated I felt …. how we — and I use the term 'we' loosely — made ourselves look."