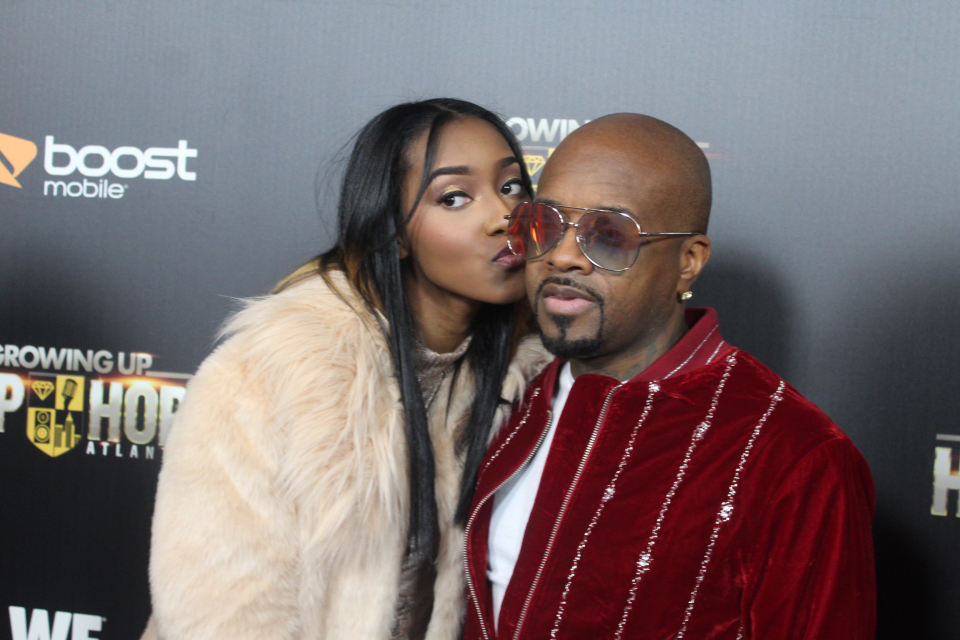 Most of the dates on the long-awaited So So Def 25th Anniversary Tour have been cancelled, and fans are mystified as to what happened.
The concert tour was set to begin in Washington, D.C., on Oct. 14. Fans were getting geeked that they would once again see the likes of Xscape, Anthony Hamilton, Da Brat and Jagged Edge, among others, until Jermaine Dupri, the founder of the Atlanta-based record label, tweeted the following:
"To all my fans, I know what I'm bout to say is gonna create a very very big [flame emoji] but due to my schedule and creative changes I don't feel comfortable starting this tour on the 14th, I honestly believe I need another week to get this to where I want it to be."
Some fans are outraged because Dupri did not make an announcement in advance to let ticket-paying customers know they would no longer appear in many of the cities on the tour.
However, according to SandraRose.com, industry insiders are whispering that the postponement of many dates emanated from a lack of fan interest.
StraightFromTheA.com questions the authenticity of JD's Twitter explanation that he "didn't feel comfortable" starting the tour at the predetermined time because of scheduling conflicts and also insinuates a possible issue with lagging ticket sales.
A post on the website of the Staples Center in Los Angeles broke the news to fans this way: "Jermaine Dupri has announced that in order to give his fans the show they deserve for the So So Def 25th Anniversary tour, he needs more time to properly produce his vision. Because of the additional time needed, the first and only confirmed date for the tour at this time is on Sunday, October 21st ‐ State Farm Arena in Atlanta, GA. Due to this change in the advertised tour schedule, for the time being, the other remaining dates scheduled for the tour have been cancelled until further notice, including the show at STAPLES Center on November 2, 2018."
StraightFromTheA.com wrote that a Ticketmaster search revealed that most of the dates have been cancelled, sans Atlanta and Los Angeles. No word yet on how long the other dates will be postponed, or if they will be resurrected at all.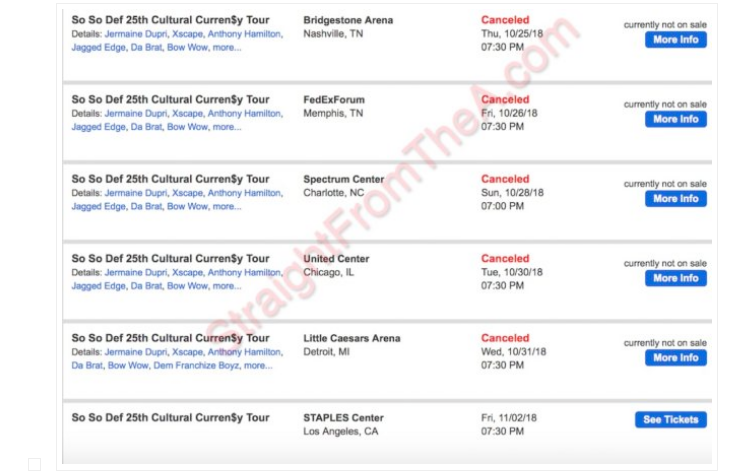 Fans who did buy tickets to the tour took to social media to complain over the weekend.
"He could have rescheduled the dates for a later time and let the tickets that were already purchased, still be good for the new date," one fan said on Twitter.
Another fan added: "It's f–ked up tho [sic] that JD didn't say something about the tour being canceled or nothing. We as supporters should have been informed."
Even "Growing Up Hip Hop" producer Bow Wow, a So So Def artist back in the 1990s, took to Instagram to help clarify the confusion, but to little avail.