Stacey Abrams seeks to make history as America's 1st Black female governor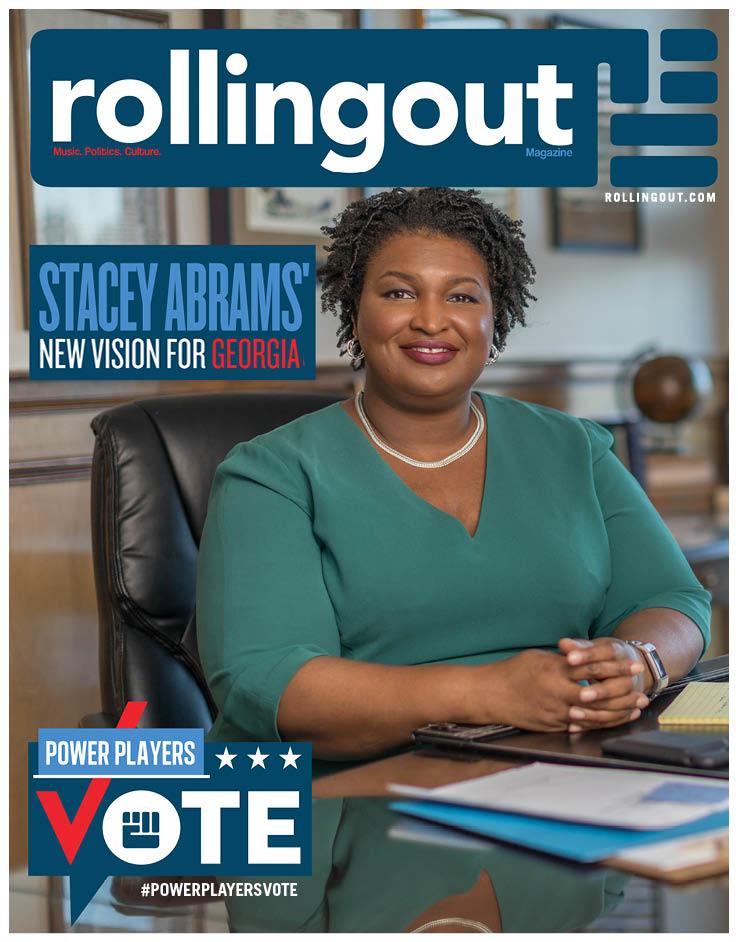 Standing in front of 20,000 festivalgoers at ONE Musicfest on a Sunday evening in early September, Stacey Abrams shared her vision for the future. With less than two months to go before one of the most important elections of this generation, Abrams took full advantage of the moment to motivate thousands of millennials gathered in Atlanta's Central Park to embrace an opportunity to be a part of making history.
"We know that there are over 600,000 African Americans in the state between the ages of 18 and 35 who can change the direction of this election," Abrams told rolling out after she finished speaking to the crowd. "It's a chance to have a conversation about why politics matter. Whether you think politics is about you or for you, I can tell you that politics works on you. We're excited to share this message."
But to become the first Black female governor in American history, Abrams, a Democrat, will have to motivate a majority of voters in a state that has voted for a Republican for the past 15 years not only to get out to the polls but also to cast their ballots for her.
It will be a challenge, but nothing ever came easily to Abrams, who seems to have prepared for this moment her entire life.
Born in Madison, Wisconsin, and raised in Mississippi and Atlanta, Abrams was introduced to politics at the age of 17 when she served as a speechwriter on a congressional campaign. She later worked under Atlanta's first Black mayor, Maynard Jackson, during his third term while she was a student at Spelman College. She was hired as one of two student employees in Jackson's Office of Youth Services. Abrams graduated from Yale Law School in 1999 and served as a tax attorney before running for the Georgia House of Representatives in 2006.
She would make her biggest mark in Georgia politics in 2011 as the House Minority Leader, working on issues such as criminal justice reform. Following her term, Abrams opened several businesses and became a romance novelist.
In 2014, Abrams founded the New Georgia Project, which launched an ambitious voter registration program garnering roughly 69,000 new voters. Their goal is targeting 700,000 unregistered citizens of color in Georgia.
On May 22, 2018, Abrams faced off against former Georgia State Rep. Stacey Evans in the Democratic primary. The race wasn't even close. About an hour after polls closed in Georgia, Abrams was declared the winner, having received more than 75 percent of the votes.
Following her victory over Evans, Abrams began to garner national attention as powerful voices in the Democratic Party, including former President Barack Obama, U.S. Sen. Kamala Harris from California and U.S. Sen. Cory Booker from New Jersey, gave her their endorsement.
Political commentator and CNN analyst Angela Rye even traveled to Atlanta on primary day to stump for Abrams, who shares Rye's views on ending mass incarceration, reforming the U.S. justice system and improving access to education for all.
"This election is important to me because from the first moment I heard about the New Georgia Project it was something that I wanted to support," Rye said. "And so everything that I've learned about Stacey over the years, she is about that life for us, and it's so important that we support our own, that we make history, not just in Georgia, but in the United States. We have the opportunity to elect the first Black woman governor in the history of the United States — and it's just time."
Rapper and business mogul T.I., who grew up in Georgia's capital city and still calls Atlanta home, agrees.
In July at The Gathering Spot, a Black-owned private club and networking hub geared to artists, entrepreneurs and executives, co-owner Ryan Wilson moderated a panel discussion between T.I. and Abrams about prison reform and the value of the music industry to Georgia's economy. According to a study conducted by the U.S. Bureau of Economic Analysis and National Endowment for the Arts, the music industry generates almost $20 billion in economic activity and provides more than 130,000 jobs in Georgia.
T.I. says Abrams is the right person at the right time to lead the state.
"I was impressed by her commitment and passion for the needs of the community," he shared with rolling out. "For any community to become self-sustaining, you must improve the education, the opportunities and experiences within the community. Leader Abrams has shown that she's committed to both. And that's why I'm here to support her … I'm very passionate about my community and would only align myself with the right person who is seeking a political office."
But while Abrams is a qualified candidate, some believe that her opponent, Republican Brian Kemp, may attempt to steal the election through voter suppression tactics. Kemp, who serves as Georgia's Secretary of State, is overseeing the election.
According to a report by The Associated Press, more than 53,000 people are not being allowed to vote because Kemp's office says their applications did not pass the "exact match" verification process.
Black people are being affected the most. Georgia's population is 32 percent Black, but the list of voter registrations on hold with Kemp's office is nearly 70 percent Black. That means that nearly 40,000 Black people may not be able to vote.
Kemp, who has faced legal action for his voter suppression tactics, blamed Abrams and the New Georgia Project for not properly completing voter registration forms.
Abrams' spokeswoman Abigail Collazo said in a statement, "As he has done for years, Brian Kemp is maliciously wielding the power of his office to suppress the vote for political gain and to silence the voices of thousands of eligible voters — the majority of them people of color."
When asked by rolling out about Kemp's negative campaign tactics, Abrams said she plans to stay on message.
"I can do nothing about how my opponent plans to run his race. I plan to talk about the issues, going to communities and treating them with dignity and respect," she said. "This can't be a campaign about slogans, it has to be a campaign about solutions, and I'm the only candidate who has the solutions to the problems facing Georgia."
Abrams also believes that the Black vote will be key to the 2018 election. With strong voter turnout at the polls on Tuesday, Nov. 6, Georgia could go down in history as the first state to elect a Black female governor.
"We know that this is a community that, if they bonded together, they would be able to shape this election," Abrams said. "It's not just about my campaign, it's about being able to shape the state for the next 30 years. I need everyone to lift their voices."