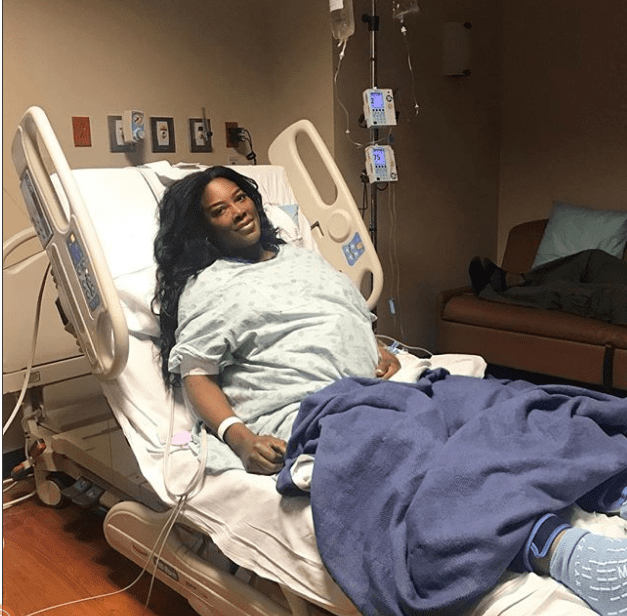 After spending decades craving to become a mother, Kenya Moore finally gives birth to her daughter, Brooklyn Doris Daly.
Moore and her husband, Marc Daly, welcomed their newborn baby on Sunday, Nov. 4 at 9:31 a.m.
This is the best possible news for the family considering what had recently transpired. Moore revealed on Wednesday, Oct. 31, that she was being forced to deliver her baby early as she was suffering from preeclampsia.
Moore, 47, posted a photo of herself lying in a hospital bed. On Saturday, Nov. 3, on the eve of giving birth, Moore wrote a caption to the above photo that read: "If you want to make God laugh have a plan… won't be long now. Pray for us."
Since Moore was not due to give birth until around Thanksgiving, Brooklyn has a weight of 5 pounds and 12 oz.; however, the doctors predict the baby to be healthy.
Moore's fans have taken to her Instagram page to congratulate her:
pabotsi80: Congratulations Kenya! So happy you finally have your baby after all the years of waiting and naysayers!!!! God Bless!!!
Moore told fans that having a family of her own after growing up abandoned in Detroit is all she ever wanted. During her RHOA journey, she made it clear to her boyfriends and her fans that she was looking for husband and father material.
Moore finally has both.
Moore was introduced to New York restaurateur Marc Daly whom she married in secret on a luxurious Caribbean beach in the summer of 2017. Most pop culture observers believe the secrecy with Daly is the reason for her ouster from Bravo's franchise show.
During the Season 10 reunion shows, the Queen of Twirls announced that she and her husband were expecting a baby. And, for the most part, Moore's pregnancy has been trouble free until last week when she announced on Instagram that she will have to deliver early.