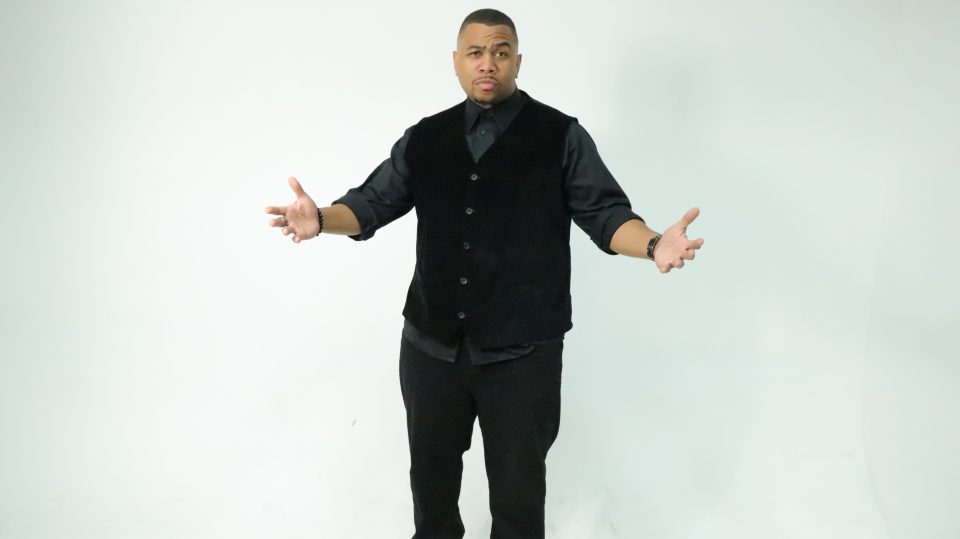 Omar Gooding is a chameleon whose alter ego, Big O, is a conscious hip-hop emcee. The multitalented actor transitions between comedy and drama via multiple platforms. His roots come from film and music industry royalty, yet he is grateful when fans ask him for selfies.
Along with starring in Bounce TV's hit comedy, "Family Time," Gooding is on tour in JeCaryous Johnson's latest stage play, "Redemption of a Dogg."  The dynamic cast features Snoop Dogg, Tamar Braxton, Eric Benét and Demetria McKinney. Performing live on stage is a "different beast" for Gooding, but his older brother, Cuba Gooding Jr., who stars in Broadway's "Chicago," gave him some tips.
During a recent stop in Detroit, he spoke with rolling out about "Family Time," working with Snoop, his artistry and more.
You've been grinding for more than 20 years. Explain your longevity.
Thirty-two years, actually. I started when I was 10, had a regular series at age 12, and just celebrated my 42nd birthday. God is good. I come from an entertainment family, so it just comes naturally. I've seen both sides, and I've been everywhere.
In high school, I did a couple [of] drama festivals, and I won one. It was [a] Shakespeare festival at that, drama and comedy, which kind of foreshadowed my career. Back then it was harder to cross over from movies to TV. That's why it was such blessing that I got the call from John Singleton after he saw me in a film called Freedom Song. I played one of the kids who was a part of the first Mississippi sit-in. He called me for [the 2001 movie] Baby Boy, and that's when I was able to get into more serious roles.
Tell us about your role in "Redemption of a Dogg."                                                                      A few months ago, I got a call from him [Johnson], and he asked my availability and what not and lined me up personally with this project. We built the cast around Snoop. It's about his life, and I play his best friend [and] DJ.
You and Snoop Dogg have a history together. You were both in Baby Boy and ESPN's "Playmakers." How is it working with him again?
It has been so surreal because it's Snoop. I hung with him, I have seen him at concerts, but now I'm literally onstage performing with this icon. We've got these powerful actors that can sing, dance and rap doing the theatre thing … and we get a concert — a Snoop concert.
It's a strong message about redemption hence the name, "Redemption of a Dogg," because it takes you through his life, his actual personal journey of being a superstar and finding his way back to God. It's awesome.
Describe your style of music.
I've been doing hip-hop since the first song I ever memorized when I was 9 years old. It was "The Show." We used to have content where we would try to make a person think about what we said. I've always been a perfectionist, I've always been a lyricist, and I've always had the ability to speak very quickly, which you can probably tell. I did the Twista thing. I actually did a song with Twista that I never released. I am working with [music producer] Focus from Aftermath [Entertainment], and I had a meeting with the Dr. [Dre].
I've got some goodness coming; I'm going to drop two songs that are already done. I'm going to finish these off, and I'm going to drop them before the end of the year.
So what happens on this season of "Family Time"?
We're on season six, and we just got renewed for season seven. We're really rocking. This is one of our most polished, well-edited, well-written seasons, from the guest cast to the well-oiled machines of a head cast led by Angell Conwell and myself. You guys who are fans and watch us on Bounce and the people that are just now getting Bounce in their area, this is the season to watch. It's riddled with lots of fun.
Me and Tanjareen Thomas [who plays Rachel], we really go in. There were so many times we broke character and had to start over and say, "Make sure you say that same one again," because ["Family Time" creator] Bentley Kyle Evans is real good at turning us loose after he's got what he needs.
When you don't have a live studio audience, you want to keep it fresh, you want to hear laughter. You need that. You need to know when something is really that funny because you pause and you hold for that laugh and hope that everybody else that's in that scene falls in line.
It's more grown-up because the kids are out of the house and they are in college, and the younger daughter is dating, so now you know what all that is going to bring out.
Of the gamut of roles you've played, which is your favorite? 
My favorite was something I hinted at earlier,  a show called "Playmakers," because I never got the opportunity to play in sports like I wanted, and then this show came along with ESPN, where I'm playing a star running back.
And now, you're on "Family Time" alongside Angell Conwell, another Baby Boy cast member. Were you and she ever baes offscreen?
She's actually my ex-girlfriend, which wasn't very fun to have to tell my current wife, but she understands … I have to pay the bills.
"Family Time" airs on Bounce TV Mondays at 9 p.m. ET/8 p.m. CT.
Follow Omar Gooding on Instagram @omargooding.
Check out a hilarious moment from a recent episode after the cut.