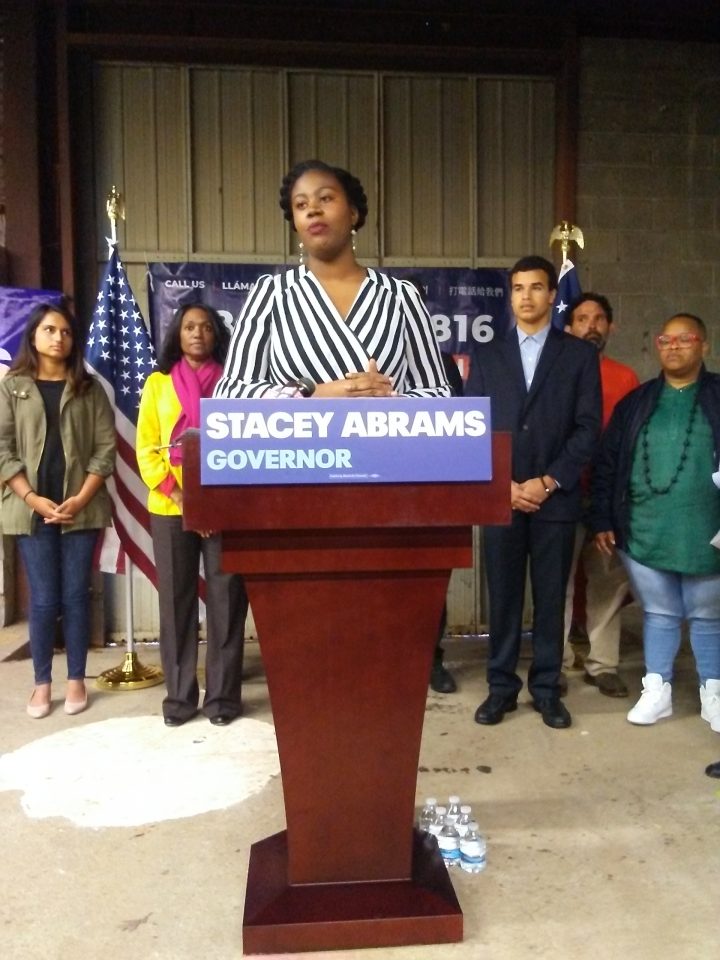 Former Secretary of State Brian Kemp is guilty of committing assault on the American democratic process during the contentious race for Georgia governor, members of the Stacey Abrams campaign and several voters assert.
A number of Georgia voters met at Abrams' Atlanta campaign office on Friday, Nov. 9, 2018, and described during a news conference numerous problems they faced that either prevented them from voting or made casting a ballot extremely arduous on Election Day.
The issues included outdated polling equipment, broken voting machines, abnormally long lines and other voter suppression tactics. They laid the blame squarely for such problems on Kemp, who was still serving as secretary of state and in charge of the statewide voting process during his hotly contested race against Abrams.
Abrams' team is accusing Kemp of "malfeasance" and "bullying election officials" to hasten the announcement of his victory.  This comes as Abrams' camp continued mulling possible legal options Friday and volunteers were dispatched far and wide to find enough ballots that will close the gap even more against Kemp, according to talkingpointsmemo.com.
Meanwhile, Kemp resigned his position as the secretary of state on Thursday after publicly proclaiming himself the victor in the Georgia governor's race. He has denied any wrongdoing and is proceeding with assembling his transition team with the blessing of outgoing Gov. Nathan Deal and President Donald Trump.
At last count, Kemp has 1,974,060 votes (50.3 percent) and Abrams 1,974,060 votes (48.7 percent), giving the Republican a reported 64,000 ballot lead over his Democratic opponent, the New York Times reports. If Kemp's percentage dips below the 50 percent threshold, it would automatically trigger a mandatory recount. This is Abrams' goal.
On Friday, some voters who spoke at Abrams' campaign office said they submitted absentee ballot applications and never received their absentee ballots in the mail. Others went to their regular polling precincts where they had voted during previous election cycles only to be turned away after being told that certain pieces of information were incorrect.
"Georgia voters were subjected to 15-year-old machines that would break down and cause unusually long lines," said Abrams' campaign manager Lauren Groh-Wargo. "And due to that lack of action on the machines, there were lines that would be up to 4 1/2 hours…in precincts with large Democratic voters, voters of color and students across the state. The machine breakdowns resulted in an unprecedented number of provisional and emergency paper ballots, and with some people not being able to cast a ballot at all."
As the Abrams team works to get a "restraining order on certification of the election," voters stepped forward with anecdotal evidence that is as startling as they are diverse. Groh-Wargo said they "are representative of tens of thousands of voters" who experienced varying degrees of problems while trying to cast their ballots on Election Day.
Here is a sampling:
Nedghie Adrien, a doctoral student at Boston University and resident of the Atlanta suburb of North Druid Hills, said she filed an absentee ballot long ago but never receive anything in the mail. "I'm among the thousands of Georgians who were denied their Constitutional right to vote," Adrien said despite her efforts to follow up with the DeKalb County Voter Protection hotline. "I find it discouraging that under Brian Kemp's tenure as secretary of state, there as so many anecdotes about Georgians not being able to vote, about it being difficult to vote."
Tate Delgado, a Gwinnett County resident, is a sophomore public policy major at the University of Southern California in Los Angeles. He said he applied for an absentee ballot, but his application was rejected due to a signature mismatch. However, he was only notified at his home address in Georgia, and by the time that mail was redirected to his correct address, he did not have time to address the mismatch issue. He was unable to cast his ballot and flew back from California today specifically to make his voice heard.
Cazembe Jackson lives in East Point and is registered to vote in Fulton County. He said he updated his address at least twice before Election Day. On Nov. 6, he went to his polling place and poll workers denied him a ballot, saying that he was registered at a different place, requiring him to drive 30 minutes to his old address to vote. Jackson credits social media for saving the vote. "I went onto Facebook and a few of my friends directed me to the Democratic Party of Georgia voter protection hotline, and they told me that I could vote," he said. "I know that I was lucky. I had the privilege to have a car to be able to drive 30 minutes away. I also have a job that was flexible to allow me to take hours to be able to vote."
Surabhi Beriwal, a new Georgia resident, went to the polls during early voting, but poll workers told her they couldn't find her in the system. Thankfully, the Secretary of State's My Voter Page said she was registered. The poll manager told her she could vote provisionally or provide different photo ID. Only after presenting a passport card was she able to complete the voting process.
"When you look at Brian Kemp's tenure over the course of his time as secretary of state he has purged an unprecedented number of voters, disproportionately impacting voters of color and young people," Groh-Wargo said.
Speaking on behalf of Abrams, Groh-Wargo promised voters that the team will exhaust all avenues of recourse available to them, legal or otherwise, until the process is reconciled completely, and a winner can be declared without any question in the minds of Georgians.
Voters who had trouble casting their ballots should call the Democratic Party of Georgia voter protection hotline at 888-730-5816.