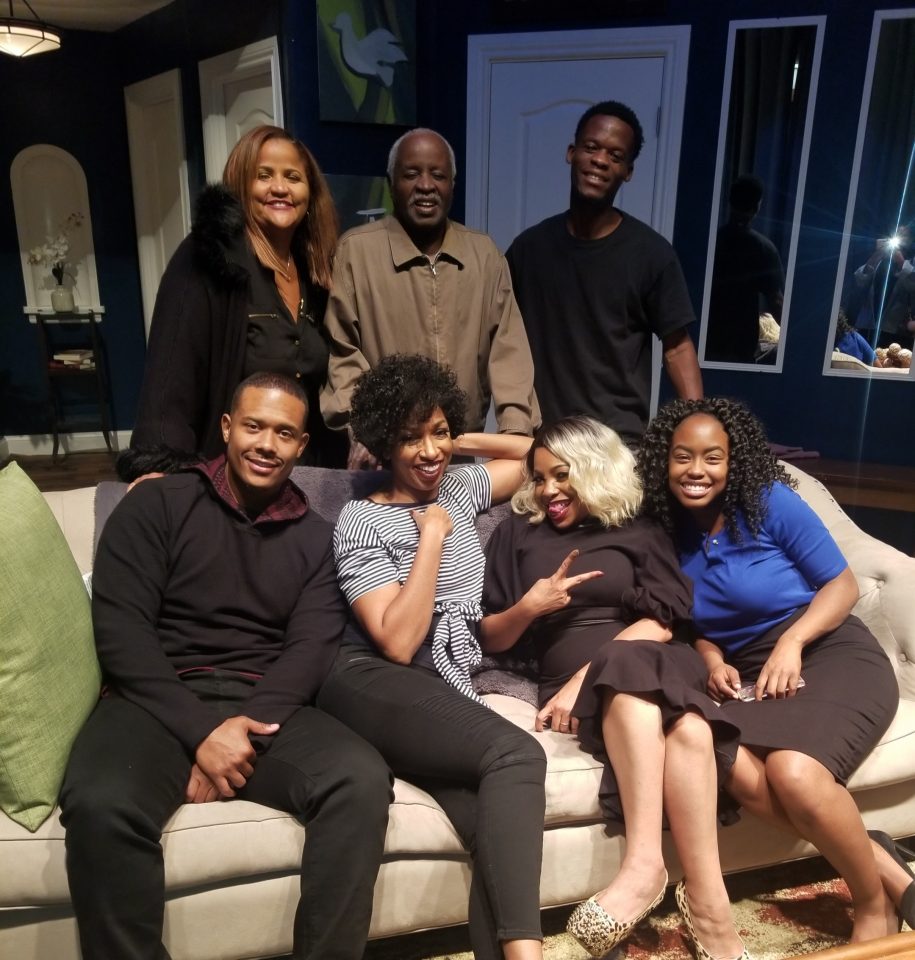 Actress Paula Jai Parker and the cast of the riveting stage play Feeding a Monster shine a light on sexual assault and the vicious cycle of molestation and abuse. The play focuses on telling the true story of Detroit native Veronica Loving of Loving Productions, a survivor of sexual assault who unknowingly married and built a life with a sexual predator.
This emotionally charged, urban drama unfolds as various revelations surrounding marital infidelity, alcohol abuse, and childhood sexual molestation come to a head. What happens when a sexual predator preys too close to home will leave audiences spellbound.
During opening night, Thursday, Nov. 8, rolling out chopped it up with veteran actor and director Art Evans; phenomenal lead actress Paula Jai Parker; supporting actress Doyin Domingo (who plays Paula's daughter), and executive producer Veronica Loving. They spoke about the importance of Feeding a Monster in the midst of the #MeToo movement.
How did Feeding a Monster come to life? What was your goal when bringing it to the stage?
Art Evans: Veronica and I met in LA. She introduced herself to me and told me about her play. I was in the process of doing a film and when I read her script, it was very provocative. I went through the script very easily because turning the pages wasn't difficult. When you are reading a script, if it doesn't affect you in the first eight or nine pages, I don't even finish it.
Veronica Loving: The goal was to share the story so that others can heal and know that it's ok that it happened to them. [It was] also to start the conversation. A lot of times we sweep things under the rug and no one talks about it, but that's how the perpetrator continues. I wanted people to be aware of the signs so we can stop it.
How did you select and assemble the cast for Feeding a Monster?
VL: Me, Art and the production crew did it together. We had some amazing actors come out. [Honestly] I think it got ordained. I got to know them and we started production, then I started expanding [certain] roles. I added Art to the script. He's the director but I told him to get in there. [We have] an amazing cast and they really brought it to life.
What drew you to Feeding a Monster? What was it about your character, Veronica Loving, that resonated with you?
Paula Jai Parker: First off, it was well written. The fact that [Veronica Loving] was able to bring something so in depth and so honest to the page, there was no way I was going to say no. This is the role I'm supposed to be in right now to not only take my craft to the next level but to mature me as a woman.
I was molested as a child and I felt like I didn't do my part in the #MeToo movement. Black women are not the same as White women nor the same as African women. For instance, Lupita Nyong'o did stand [up] for Black women in Hollywood that could not stand for themselves but I needed to, for my own peace of mind, find a way to support this issue by helping people. Not by snitching or trying to ruin someone's career but trying to uplift you or anyone else that you may know that this has happened to.
The last line in the play that [Doyin Domingo] says is "Me too." That's what this is about. Being able to own it and not be ashamed, because you are a survivor.
What do you want audiences to take away from seeing Feeding a Monster? What do you want to say to those who have been victimized or know someone that has been?
VL: I want them to speak up. Tell someone and then do something about it and don't carry the shame of your predator. I tried to intertwine that with how it could happen. We have to start having compassion for everyone. We have to stop it. The only way to stop it is to talk about it, acknowledge it and then start having compassion so that we can move through it."
PJP: We're not male bashing. Don't be afraid [to see it]. It's funny. It's the truth and I genuinely think it's a phenomenal night of theater.
Doying Domingo: I've known many women in my life that have gone through this. My very close friend came to see this in LA and she was in tears. She couldn't talk to me about it [immediately] after. Talking to her about her experience is part of what I bring into this. I hope we get to show this story in many other venues to many more people. There's a sense of healing that happens every time we do it.
For me, my goal is to tell stories of people that need to be told. The #MeToo movement is a very important part of that, today. A lot of women are telling their stories and I'm very happy to be a part of that.
Catch the final performance of  Feeding a Monster at the Northwest Activities Center in Detroit on Sunday, November 11, 4 p.m.