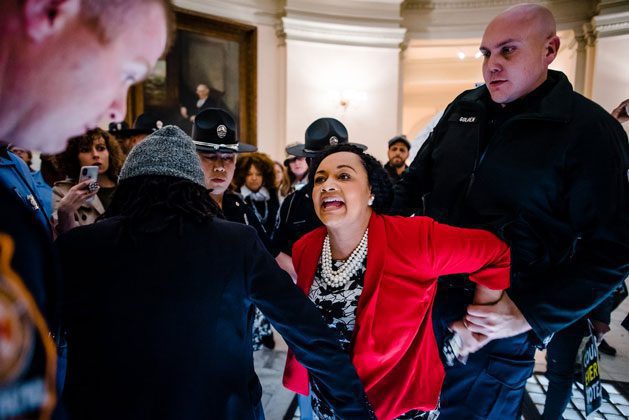 The recent Georgia election that featured a hotly contested gubernatorial race is still in the news. The state is on the verge of a mandatory recount and possible runoff between Democratic candidate Stacy Abrams and her Republican challenger Brian Kemp.
At issue are several thousand votes that have not been counted under Kemp's watch overseeing elections as Georgias' secretary of state. Kemp resigned from his office last week after he declared victory, however, some are calling that declaration unwarranted and protesting the way the state handled the election and the disenfranchisement of many Black voters.
The Georgia State Capitol building was the site of a protest that resulted in at least a dozen arrests. One of those arrested was Georgia State Sen. Nikema Williams (D-Atlanta), who was asking the state legislature to "count every vote" from last week's gubernatorial election. Williams was charged with misdemeanor obstruction of justice and spent about six hours at the Fulton County Jail in Atlanta. But her White colleague, State Rep. David Dreyer (D-Atlanta), who was at the same protest with Williams, was not arrested by Georgia State Capitol Police — a move that Williams claims was because of race.
In a press release, Williams stated: "There are countless Georgians who cast their ballots and still don't feel like their voices are heard. I joined them down on the floor, and I was singled out as a Black female senator standing in the rotunda with constituents."
Dreyer agreed as he waited outside the Fulton County Jail for Williams to be released. He said that he and Williams were both present at the protest, "but for some reason, Senator Williams was treated differently than I was treated…Because of our system, because of the bias and the way that our laws are enforced, just like I went down with Senator Williams to try to de-escalate the situation, Senator Williams was taken away. We understand she's been left in a van for a very long time on a cold and rainy day."
"For some reason, I saw Capitol police lined up three abreast, row after row after row, looking like they were trying to stop a riot when we were standing up for people's right to vote," Dreyer added. "So this is not democracy; this looks a lot more like an authoritarian government. And it seems like that's happening a lot these days, doesn't it?"
BREAKING: @NikemaForSenate just got released from jail after being arrested at today's #counteveryvote rally at the Georgia Capitol. "I am incredibly proud and will continue to stand with the citizens of Georgia to demand that their votes be counted." pic.twitter.com/SA5V3F1oAN

— Care In Action (@CareInActionUS) November 14, 2018
Williams is the first Black woman to represent District 39 in the Georgia Legislature, a seat once held by the late civil rights hero Julian Bond. Despite her arrest, she said she will still keep fighting for a fair election.