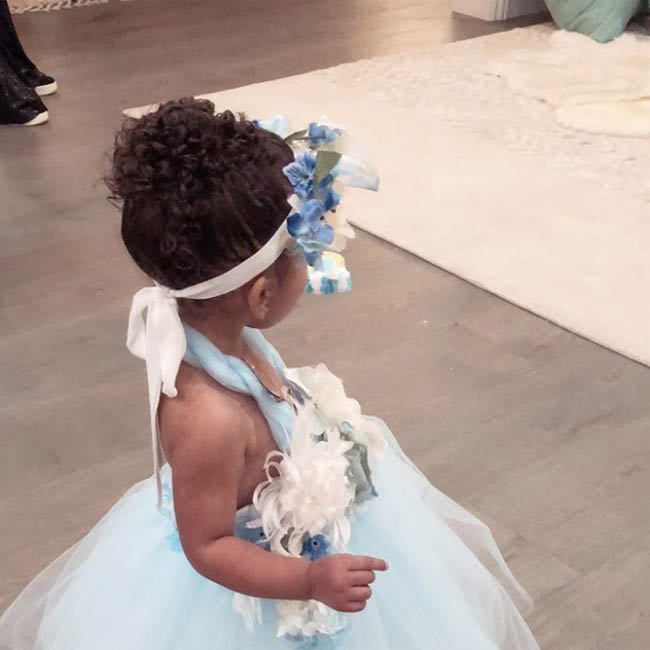 Dream Kardashian had a fairy-themed birthday party.
Rob Kardashian's and Blac Chyna's little girl turned 2 years old on Nov. 10, and members of the Kardashian-Jenner clan, including sisters Kourtney, Khloe, Kim Kardashian West, and Kylie Jenner, came together on Wednesday, Nov. 14, 2018, for the celebration at one of their homes, which was decorated with a blue and pink theme, a giant teepee, blue birthday cake and many more sweet treats, such as upside-down pink ice cream cones.
Dream was dressed in a baby blue tutu-style fairy dress with pretty flowers in her hair and around her waist, to match her favorite Powerpuff Girl, Bubbles.
Sharing a sweet selfie with her niece, who was holding onto a Bubbles lollipop, Kourtney wrote on her Instagram Story: "Happy birthday Dreamy girl."
Among the many presents was a mini glittery blue kids Bentley car. There was also entertainment in the form of two fairy godmothers, a dream come true for the little Kardashian.
Kris Jenner led the birthday tributes to Dream on her actual birthday last week. Alongside a photograph of Dream, the family matriarch wrote: "Happy 2nd Birthday to my beautiful granddaughter Dream!!!! You have brought such joy into our lives and I love you so dearly… what a special blessing you are my precious girl.. I LOVE YOU [love heart emojis] May you always have bubbles!! [love heart emojis] #happybirthdaydream #dreamgirl #dreamy (sic)"
Kim — who has kids North, 5, Saint, 2, and 9-month-old Chicago with husband Kanye West — published a picture of herself holding
her niece, and captioned the snap: "My baby Dream, Happy Birthday! We've come a long way since this pic lol! I love our snuggles. Saint loves you so much & so do I!!!! (sic)"
Chyna,  who split from Rob in acrimonious circumstances in 2017, added to her profile: "To my Dreamy, Today is your 2nd Birthday and one day when you are older you will read this and know how much I love and cherish you. I wish you the most fulfilling experiences on your
journey, blessings that overflow on your hands and the courage to pursue your "Dreams". As your mother, I hope happiness and peace will follow you every step of the way. Happy Birthday to my beautiful and smart baby girl!!!!! Love Mommy [love heart emoji] (sic)"