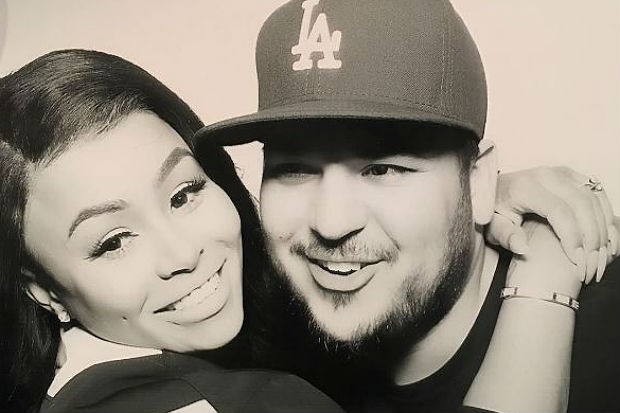 How is this possible? Before Blac Chyna met Robert Kardashian Jr, she was far from rich. Today, she is swimming in cash, and Kardashian is on the verge of complete financial ruin, he claims in court.
Kardashian is still in the throes of an emotional, physical and financial tailspin after emerging from his rockly relationship with stripper-turned-reality star Blac Chyna. The situation became so dire that Kardashian had to metaphorically move back into his mother's basement for survival.
Rob Kardashian, 31, as he is known, accuses Blac Chyna, 30, of plundering his bank account and then subjecting him to exorbitant monthly child support payments of $20,000 a month that sucked up most of his business and endorsement profits.
According to the child custody court documents obtained by The Blast, Kardashian complained that when his sock business "was struggling, my mother infused it with capital to keep it afloat." Kardashian became so desperate for cash that his mother, Kris Jenner, 63, had to keep providing capital to the point that she owned more than 50 percent of his company.
"Previously, the line's success was in large part due to my regular posting and general promotion on social media. Angela's request for a restraining order against me includes various prohibitions on what I could post online. In order to avoid any potential future issues, I nearly eliminated my social media presence," Kardashian said in the documents, according to The Blast.
The emotionally frail Kardashian said his psyche collapsed in the aftermath of his dealings with Chyna, whose real name is Angela Renée White. He also shut down his social media platforms, which stopped the earnings from product and brand promotions that resulted from his posting online.
With little income and limited affiliation with the "Keeping Up With the Kardashians" reality show, Kardashian reportedly said in the documents he has little to live on. "My income now is insufficient to pay for my expenses. As of Jan. 17, 2018, I am short nearly $300,000, which my accountant projects I will need to pay for my 2107 tax liabilities. I no longer own a home. I now live in my mother's home."
According to The Blast, Jenner apparently corroborated her son's story, telling the courts, "I helped Robert with his sock line business, Arthur George. I infused the business with capital, purchased goods and set up distribution and fulfillment centers amongst other tasks. In exchange for the work I did and the money I put in, I acquired 50 percent interest in the business."
Ironically, as Kardashian has gone broke, Chyna has become a multimillionaire, he claims. Kardashian told the courts that Chyna has $1.4 million in cash and checking accounts, another $1 million in stocks, bonds and other assets she could easily sell, and boasts more than $500,000 in other property.
Moreover, Chyna is raking in $60,000 a month in income from her various businesses, including Lashed LLC., and a women's accessories retail company.
Right after Kardashian's court filings went public, Chyna mocked him by flossing her fleet of luxury whips on her social media accounts. She captioned the video, "Work Hard, Play Harder!!! My s—!!! No Help!!! No Child Support!!! Stop the F—ing Lies!!!"
The lone male Kardashian and Chyna share a daughter, Dream, who he keeps 50 percent of the time. That alone should convince a judge to lower the monthly payments, Kardashian pleads.