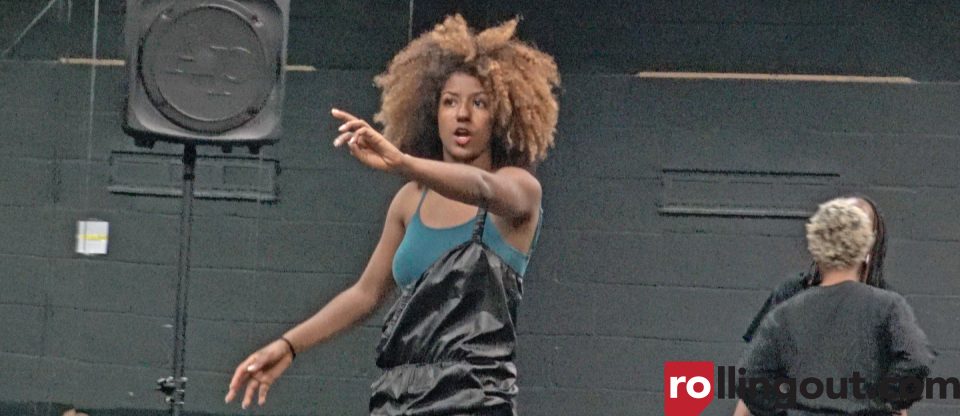 ATLANTA — It's nearly 11 p.m. on a Sunday at Dare Dream Studios.
One group is leaving, while another collective begins to take their place across the floor in front of the mirror that spans the width of the room. Cardi B's breakout single "Bodak Yellow" begins to play on a loop. This is the final quarter of rehearsals before Raianna Brown premieres her second show Skid next January.
"It's very stressful," Brown said. "Putting on a show is like having a child, but then you give it to other people to raise your child, and you just have to trust that they're going to do it. It's also very exciting."
Brown's debut show, In Human, was a visual portrayal of the many struggles that people in the Black community face on a regular basis. The playlist during the show spanned from Kendrick Lamar to Childish Gambino, and the curtain call ended with a theaterwide swag surf.
Skid is focusing largely on the homeless population in Atlanta, as well as the rising concerns of gentrification.
"It's so important to me because I feel like it's important for us as young people, and as citizens, to acknowledge marginalized communities," she said. "The arts should be focused on that. I'm heavily invested in this show, so that's why it becomes so stressful for me at times where I'm building it, and it's not there yet."
Skid is produced under Brown's professional dance company, Komansé Dance Theater and features an all-female crew running the show. Komansé is partnering with a local homeless shelter in Atlanta to volunteer, as well as make sure that the stories that are being portrayed in the show are authentic to homeless individuals' perspective in life.
Brown's dance company is also collaborating with 18-year-old 3-D print designer Shami Oshun to create the show's wardrobe to bring Brown's complete vision to life.
"The costume will help bring to light what is happening because of gentrification," Oshun, who's based in San Francisco, said. "I don't think everyone realizes we are in the 'future.' Our communities are changing now and we need to pay attention."
Oshun described her designs for the show as "futuristic" and "post-apocalyptic" without giving too much detail.
She gained notoriety in the fashion world when she 3-D-printed her own prom dress in 2017. The idea to enter the world of 3-D printing came from one of her high school teachers.
Brown received public attention last year when a picture of her kneeling on the field as a Georgia Tech dancer during the national anthem went viral. She plans on graduating from Georgia Tech with a degree in Industrial Engineering this December.
"I'm used to long nights at this point," Brown said. "It kind of takes that to invest in my talent, into my company and pushing out good art while still being in school. [It's] very tiring, but also very rewarding."
The average dancer in the show is in their 20s, and many are current or recent college students in the metro Atlanta area.
"One of the things that I graduated with was in international affairs, which has a lot to do with the political climate not just here, but abroad," said Kamaria Blocker, a 2016 Kennesaw State University graduate. "I think that using the arts and dance to send a message, getting people to identify, relate and being a part of that human form is beautiful to me."
Skid premieres Jan. 25 and Jan. 26 at The Ferst Center for the Arts. Tickets for the show are now available and can be purchased online at this link: http://arts.gatech.edu/content/komanse-dance-theater-skid.
A video recap of a rehearsal can be viewed on the next page.