50 Cent shuns jailed Tekashi 6ix9ine: 'Don't call me, call ya momma'
Music fans are still rebounding from the news that Tekashi 6ix9ine is facing the possibility of going to prison for most of his life — if not the rest of it — after being arrested by the feds on a host of felony charges last week. On top of that, the embattled rapper was dissed hard by the very man who'd endorsed Tekashi early on and embraced him as his "son" — rapper 50 Cent.
As rolling out has reported, 6ix9ine's arrest in his New York hometown came just one week after he suddenly fired his staff and canceled his tour without a clear motive. He did claim that people around him were stealing from him. Moreover, the last entry on Tekashi's Instagram page to his 15 million followers was as ominous as an approaching battalion of black storm clouds and is perhaps a portent of things to come.
Tekashi, 22, and a few of his fired associates are being charged with racketeering, drug dealing, conspiracy to commit armed robbery and shootings. If convicted, 6ix9ine faces a minimum of 25 years behind bars.
Rapper and "Power" producer 50 Cent, who was an ardent supporter of the fast-rising "Fefe" artist and who called him "son," is now telling Tekashi to keep his distance now that he is behind bars.
"My son got picked up, I told him don't call me," 50 Cent captioned a photo of him and Tekashi that has now been deleted but was screen captured by Hot New Hip Hop.
"S—. The Fed's on you fool, call ya momma don't put the FBI on my phone. Positive vibes only," 50 Cent concluded coldly on the IG post.
The New York natives had collaborated on the track "Get The Strap," which was reportedly going to appear on the cable show phenomenon "Power." Fifty was also one of the first marquee hip-hop heavyweights to trumpet Tekashi as a legitimate force to reckon with in the rap game.
Look at how much difference a week makes. A few days after federal agents got a hold of Tekashi, 50 Cent pretty much disowned him publicly.
This is not the first time that Curtis Jackson has trolled his "son" Tekashi after the young lyricist got into scrapes with the law. Back in October, when a judge threatened to throw Tekashi in jail for missing a couple of court dates related to allegedly assaulting a police officer, according to BET, 50 Cent came at Tekashi with these tweets: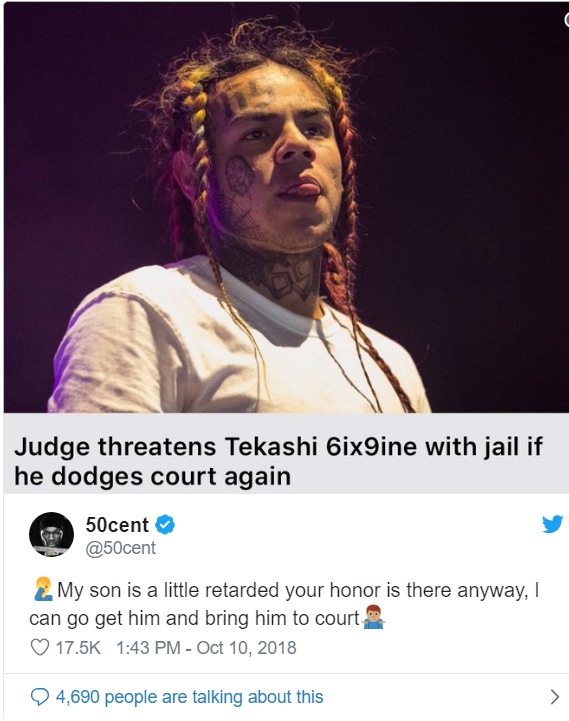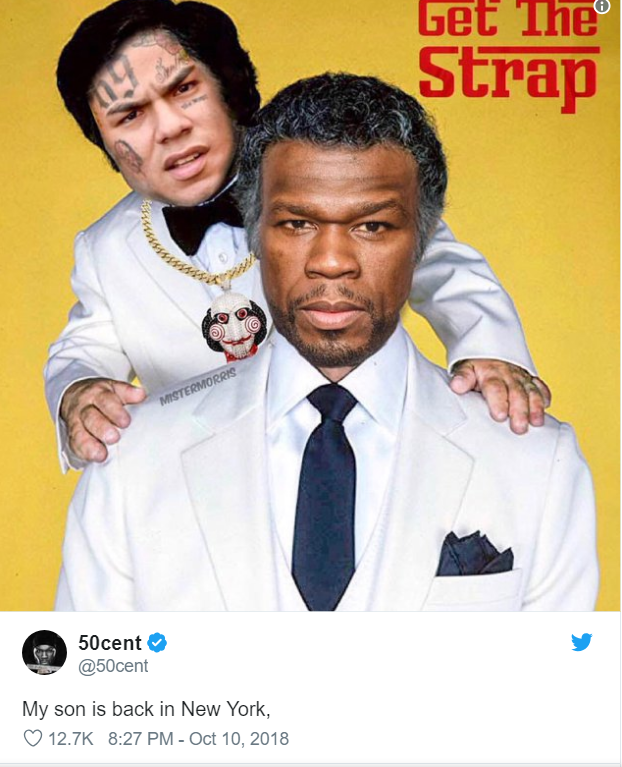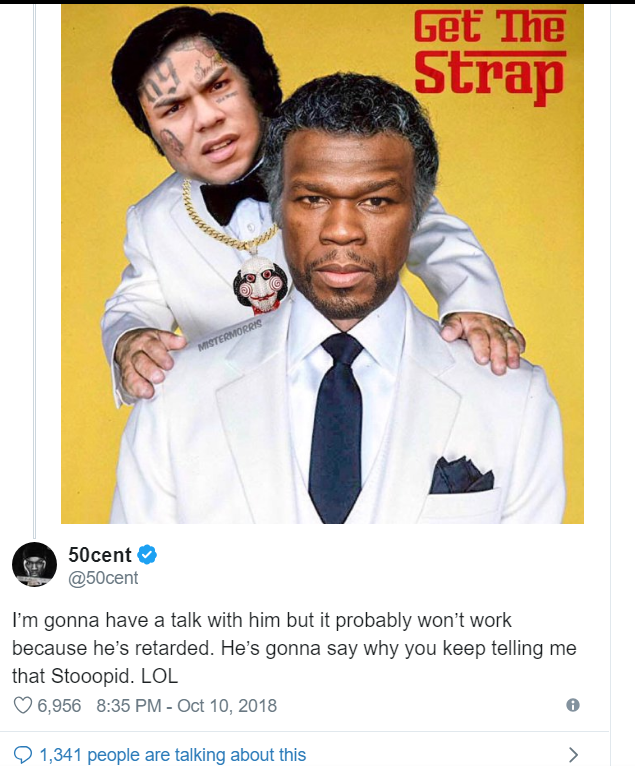 Earlier in the year, 50 Cent tried to clue the public in on how troubled 6ix9ine really is.
"[Tekashi] is working on his self, we all have things we should work on," 50 wrote in an Instagram post back in the summer.