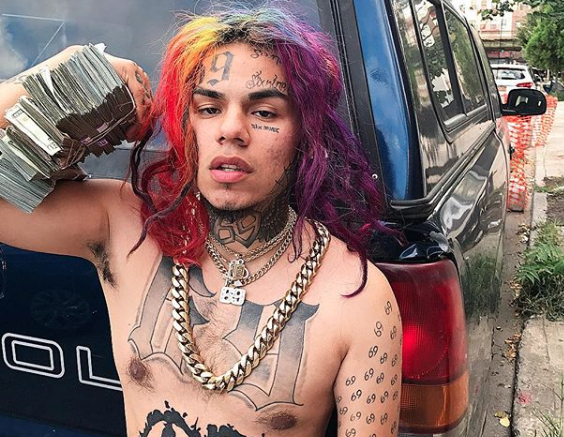 Tekashi 6ix9ine could be in prison for the rest of his life after failing to take heed to advice given by veteran rapper Fat Joe.
Nine months ago, Fat Joe sat down with Tekashi 6ix9ine, aka Daniel Hernandez, during his Coca Vision podcast on TIDAL and gave the young artist advice on staying away from prison.
"One million percent they are plotting on you," Fat Joe told Tekashi when speaking of the FBI. "The question is, do you want to be successful? Do you want to be the king? Do you want to be rich? Do you want to take care of your family? What do you want to do? Because I got to tell you as an OG, as a n—- who been around, I'd be lying to myself if I ain't tell you, one move, they gonna try and throw you in there."
On Nov. 18, 2018, Tekashi was arrested by federal agents on racketeering and firearms charges. The arrests were reportedly part of a joint investigation between the NYPD, Homeland Security, and the Justice Department's Bureau of Alcohol, Tobacco, Firearms and Explosives.
Federal agents believe that Tekashi was connected to the Nine Trey gang, which is a "violent" sect of the Bloods. Tekashi's ex-manager Kifano Jordan, aka Shotti, was also indicted along with Faheem Walter, aka Crippy, Jamel Jones, aka Mel Murda, Jensel Butler, aka Ish, and Fuguan Lovick, aka Fu Banga.
If convicted, Tekashi faces 25 to life in prison.
Click over to the next page watch the full interview with Fat Joe and Tekashi.