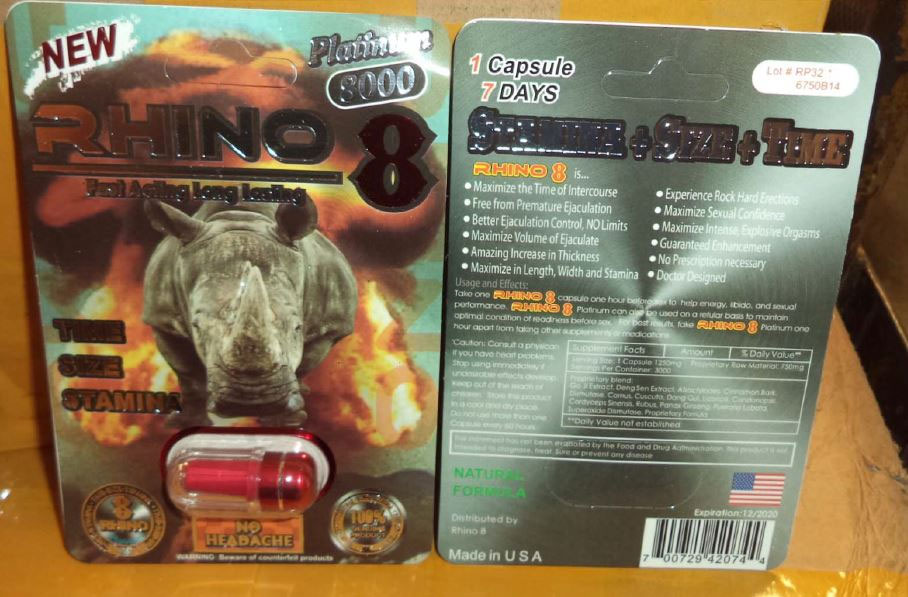 Some men with erectile dysfunction who cannot afford the price of prescription drugs like Viagara have turned to herbal supplements that have not been approved by the FDA. These supplements are marketed under different names, such as King of Romance, African Superman, Black Mamba and other descriptive titles that hint at sexual prowess.
The FDA is warning that many of these drugs come from China and can be deadly with prolonged use. The drugs often have hidden ingredients that exceed the recommended dosage of prescription drugs like Viagra. Take for example the Rhino brand, which was the subject of a warning in early 2015. The FDA has issued a new warning after finding that all Rhino pills contained an undeclared amount of sildenafil, the active ingredient in the drug Viagra.
On Nov. 27, 2018, the FDA issued the following warning on a popular brand known as Rhino. The warning reads, in part:
"The U.S. Food and Drug Administration is warning consumers not to purchase or use Rhino male enhancement products, due to a recent rise in reported health issues. Since 2007, the FDA has identified more than 25 products marketed with variations of the name "Rhino" that contained hidden drug ingredient(s). These products continue to be sold at gas stations and convenience stores, as well as on websites such as eBay and Amazon. More recently, these unapproved products have been discovered in international mail shipments to the U.S. These products are often sold in single-serving package sizes. Rhino products include names such as Platinum Rhino 25000, Krazzy Rhino 25000 and Gold Rhino 25000."
The FDA has received reports of people experiencing chest pain, severe headaches and prolonged erections after taking a Rhino product, which led to surgical interventions and hospitalizations due to extreme drops in blood pressure.
"Over the past few years, the FDA has been combatting the retail sale of male enhancement drug products that are frequently misrepresented as dietary supplements and that contain hidden and potentially harmful active drug ingredients. Distributing unapproved drugs, disguised as supplements, places the U.S. public health at risk," said Donald D. Ashley, director of the Office of Compliance in the FDA's Center for Drug Evaluation and Research.
The Rhino brand of sex pills are marketed across America and online. A person can find them sold behind the counter in many corner stores and gas stations in the Black community. On the surface, the pills appear to have various strengths, according to the labeling. For example, there is Rhino 69, Rhino Extreme, Rhino 12 and Rhino Gold, among others, but no actual way to determine their potency.
The truth is, according to the FDA, all of these products are made in China by multiple factories with no government oversight. The FDA has analyzed these products and found that they contain filler material and some contain various amounts of the prescription drug sildenafil. Men who have blood pressure issues or heart-related ailments can suffer a medical crisis that includes cardiac arrest, stroke, and a prolonged erection that lasts more than four hours and can permanently damage their genitals.