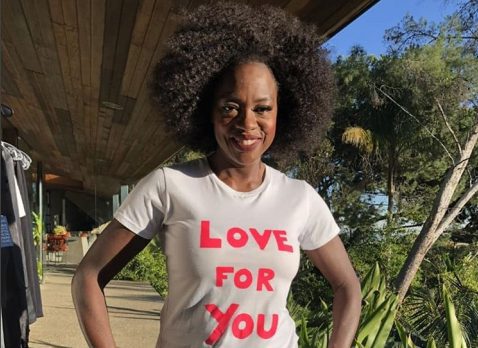 It is apropos that universally beloved actress Viola Davis would take on the role of a lifetime as the political pioneer Shirley Chisholm.
The politically conscious and Oscar-winning Davis is already moving the needle with her current movie Widows, while "How to Get Away With Murder" is churning out exciting episodes every week on ABC. Now Davis, who boasts an Emmy as well as her Academy Award, is set to produce and star in the historical drama The Fighting Shirley Chisholm for Amazon Studios about the trailblazing legend and her presidential campaign, according to Deadline.
The production company Davis runs with husband Julius Tennon, JuVee Productions, inked a first-look feature film deal with the streaming service.
The Fighting Shirley Chisolm is the first film project under the new deal but not Davis' first with the studio. Davis just wrapped production on the comedy Troupe Zero, which also stars Allison Janney and Jim Gaffigan.
Chisholm became the first Black woman to be elected to the U.S. Congress in 1968, arguably the most groundbreaking and tumultuous year of the iconic 1960s, which saw the assassinations of Dr. Martin Luther King Jr. (April 1968) and Sen. Robert F. Kennedy (June 1968) and the unprecedented protests at the Democratic National Convention that summer.
Four years later, Chisholm ran for the Democratic Party's presidential nomination. The New York-born Chisholm championed progressive causes her entire adult life, including the fight for civil rights, gender equity and for the cessation of discrimination against LGBTQ people.
Chisholm died Jan. 1, 2005, in Ormond Beach, Florida, near Daytona Beach, after suffering several strokes.
"JuVee Productions is beyond excited about our new relationship with Amazon Studios. We share the same vision of creating a vast and rich array of narratives that are inclusive and reflective of our world," Davis said in a statement about the partnership, according to Deadline. "We started this company with a fierce commitment to integrity and the encouragement of emerging and/or established artists who have the courage and talent to be disruptors. We are thrilled that we can continue to share our vision on a global scale alongside Amazon Studios. It is our legacy."
The autopsy on Chisholm's legacy has been examined many times before, most recently in the 2004 documentary Chisholm '72: Unbought & Unbossed about her presidential run.
In 2015, former President Barack Obama awarded Chisholm a posthumous Presidential Medal of Freedom.
Chisholm was also publicly honored by actress and writer Lena Waithe when she took to the 2018 MTV Movie and TV Awards red carpet flossing a black hoodie with Chisholm's image on the front.