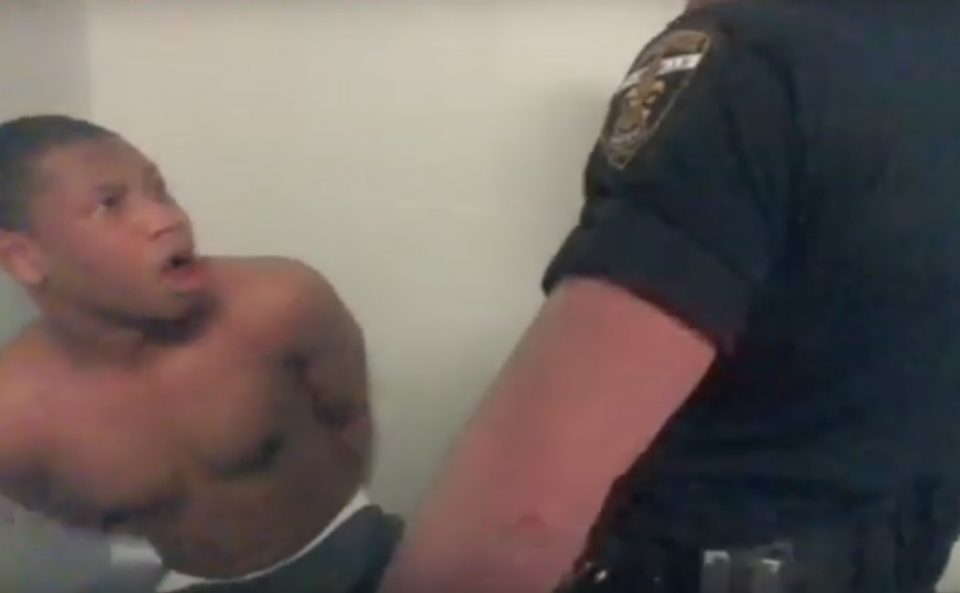 Video has emerged of a Black inmate being brutally beaten by White corrections officer while handcuffed. The incident occurred at the Louisville Metro Department of Corrections in April 2018, according to WAVE.
In the video captured by an officer's body cam, corrections officers Devan Edwards and David Schwartz surround inmate Terry Whitehead in a room. Whitehead is handcuffed and sitting on a bench.
Whitehead was reportedly in trouble for putting tissue in the window of his cell so that he could have privacy while using the restroom.
Without warning, Schwartz punched Whitehead in the face several times while he was still handcuffed. Whitehead's eyes began to swell and blood poured from his mouth.
Schwartz and Edwards were fired after Louisville Metro Department of Corrections Director, Mark Bolton, saw the video. However, the two were not arrested or charged with assault.
Whitehead decided to sue both officers. He revealed in a lawsuit that Schwartz and Edwards peppered sprayed him and took turns punching him while he was handcuffed.
LMPD began a Public Integrity Unit investigation that has yet to be completed.
View brutal video after the jump.