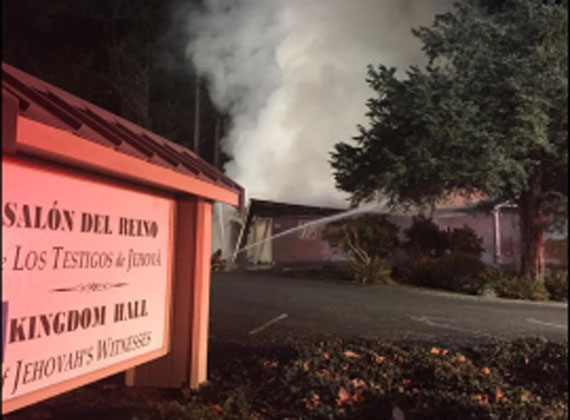 Law enforcement agencies in Washington state are concerned over a series of incidents against Jehovah's Witness worship centers. The attacks have occurred over a nine-month period and have resulted in extensive property damage and fear among the various congregations.
The latest incident occurred on Friday morning, Dec. 7, 2018, when a fire destroyed the Jehovah's Witness Kingdom Hall in Lacey, Washington. According to KIRO-7 News, it was the second fire at a Kingdom Hall in the Thurston County area and federal officials were on the scene to investigate. Officials from the Bureau of Alcohol, Tobacco, Firearms and Explosives have ruled the fire suspicious and declared it arson. According to the ATF, it fits the pattern of other attacks that have occurred in the area over the past nine months.
During this time period, no one has been arrested and no suspects have been identified. Authorities have noted that a surveillance camera picked up an image of a person in the act of arson at one incident. The image shows a man in a hoodie pouring gasoline on the side of a hall,  and then igniting a bloom of fire that resulted in significant damage to that worship center. At this time law enforcement officials have not determined a motive in these targeted attacks.
Bu the attacks against the Jehovah's Witness Kingdom Halls have not been limited to arson. On May 15, 2018, someone fired at least 36 rounds into a Kingdom Hall located in Yelm, Washington. That attack caused $10K in damages and struck fear into the heart of worshippers. ATF investigators have stated that the incidents were meant to send a message by someone who has some sort of problem with the Jehovah Witnesses in that area. Crimes against religion do not normally target a specific area, but rather the religion as a whole stated an investigator to KIRO. There have been no injuries reported during this nine-month crime spree. State, local and federal agencies are working together in a joint task force to find the culprit or culprits responsible for these attacks. Authorities are considering the attacks a hate crime.
The following Kingdom Halls have been set on fire in Thruston County, Washington, in 2018:
March 19: Olympia Kingdom Hall
March 19: Tumwater Kingdom Hall
July 3: Olympia Kingdom Hall
Aug. 8: Yelm Kingdom Hall
Dec. 7: Lacey, Washington