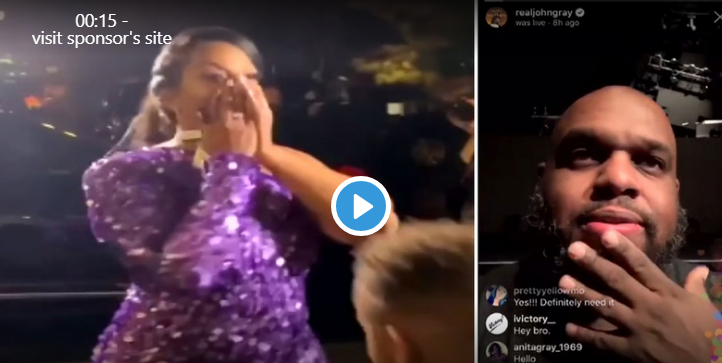 The subject of church pastors engaging in extravagant spending at the expense of their congregation has been a contentious subject in the Black community for decades. Even Dr. Martin Luther King Jr. once railed about some exploitative Black ministers, according to the book Martin & Malcolm & America: A Dream or a Nightmare:
"I'm tired of seeing Negro preachers driving big cars and living in big houses and not concerned about the problems of the people that made it possible for him to get these things," MLK said.
The topic of lavish spending by pastors torpedoes back to the forefront of people's consciousness as megachurch pastor John Gray defends buying a $200K Lamborghini Urus truck for wife, Aventer Gray, for their eighth wedding anniversary.
Gray's message was distributed via Facebook Live in a 20-minute video. And while Gray acknowledges that "there are some 'pulpit pimps' out there who take church money and do the wrong thing with it," he declares resolutely that "not a nickel, not a penny, from this church, Relentless Church, went towards the gift that I gave my wife."
Gray, 45, is the producer of his own successful four-season show on the OWN station, "The Book of John Gray," and also just signed a second book deal in addition to being the pastor of Relentless Church in Greenville, South Carolina. He explained during the lengthy soliloquy that he doesn't need anyone's permission to bless his family with expensive gifts since it was purchased with his own money.
He said, "You know, I want to talk about it for a second because there are a couple of things that matter, because that I hear – and I've tried to not listen to it, but one of them is…'Pastor buys his Wife this expensive car.' It wasn't a pastor that bought the car, it was a husband, that bought the car. Get that in yo spirit. I'm a husband first. Don't confuse with what I do with who I am. What I do is pastor God's people – who I am is a husband and a father, and I will do anything to honor them. And I won't ask permission from anybody to do it. No man should."
Gray also implored people to look at the facts of the matter and not rely on hearsay or emotions:
"What should concern people, who are actually genuinely concerned, is 'Did this man use any money from the church to do this?' And the answer is no, and God take my life on this live feed if I did. For those who don't know, me and my wife have a show on the Oprah Winfrey Network. Shh! Don't tell anybody. That's four seasons. And I'm not an actor on it, I'm a producer of it. Get that straight. Oh, by the way, I just signed my second book deal …I'm not going into detail, but the point is this, I have created and been patient for this moment. I'm 45 – I'm supposed to wait until I'm 70 to live my best life? My best life is seeing my wife happy; it's not like I'm sitting up trying to do something for me. I want my wife to be happy and every man should be able to do whatever is in his ability to do."
Listen to the entire 20-minute message below from Instagram Live (which is no longer on IG but was captured for YouTube):
https://www.youtube.com/watch?v=rUeevBFVucQ