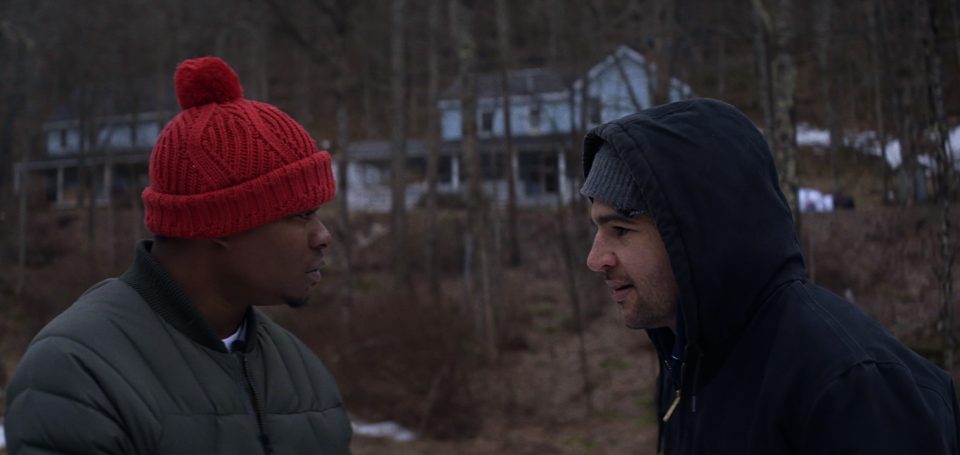 Since he burst on the scene in 2015 with his highly acclaimed turn as Eazy-Z in Straight Outta Compton, actor Jason Mitchell has been spending his time just murdering roles. From Mudbound to "The Chi," each role has further solidified the now inarguable fact that what you saw from him in the N.W.A. biopic was no flash-in-the-pan moment.
This guy is legit.
His latest big screen foray as the titular character in the Sebastián Silva-directed dark comedy Tyrel gives Mitchell the room to flex his acting chops. (Spoiler alert: His character's name is Tyler.)
The New Orleans native recently sat down with rolling out to discuss the power of this film.
What was it about this role that initially drew you to Tyrel?
I liked the fact that IT felt like a dark comedy and that it was going to give me a chance to take some chances as an actor. When you see a story like this, you have to jump at it because it gives you a chance to stretch yourself as an artist. In addition to that, it just allowed me to play a character that was real and relatable. To me, this is a very American story. People are used to seeing me play roles of people who feel larger than life like Eazy-Z. But this character, Tyler, could be any one of us. There are so many of us who have gone through what he deals with in this movie.
Let's talk about the microaggression within the film. There seems to be a ton of it. Was that intentional, and how does that mirror society?
Yeah, it was intentional because that's what people deal with on the regular. For me, smart nuances like that meant so much in this film. And I've got to say kudos to Sebastian for letting me be a co-writer on this. He actually came to my house and slept on my couch for like a week, and we rewrote it. He was just like, 'I want you to make it more black, and I want to make it feel more American.' So we just turned over every leaf and poured our all into really adding these nuances to the film, because on a day-to-day basis, that's what people deal with.
What genre would you categorize this film?
To me, it feels like a horror film, even though nothing crazy happens because, at times, Black people are scared for their life. But if you just tell someone that, they don't understand. Their mindset is, "Oh, you're just scared of the police, but if you didn't do any crime, then you wouldn't have anything to worry about." People don't actually feel the horror of what it can feel like to be Black until you watch something like this.
There was a scene within the film that really stood out to me, and that was the game that you all were playing.
Yeah, I don't want to spoil the movie for anyone, but that was probably the part that we put the most work in just making sure that it would feel right. You literally see him [Tyler] die on the inside. You see him completely die, and his soul just leaves his body. For Black people, I think that's going to be the part that touches them the most. I can't tell you how many people have wanted to talk to me about that scene in particular.
Why should audiences take the time to go and see Tyrel?
Because I think it's a great movie. Outside of that, though, I just think it's a movie that will create dialogue among people. There are so many times where, instead of having a real dialogue, we're just so quick to point the finger at others. This movie will have you take a real look in the mirror.
Tyrel is available in select theaters and on-demand now. Watch the trailer below.